Infographic
Back to basics for a healthy working environment
A downloadable infographic outlining key facts on the impact of hydration, nutrition, sleep and regular breaks on workforce wellbeing.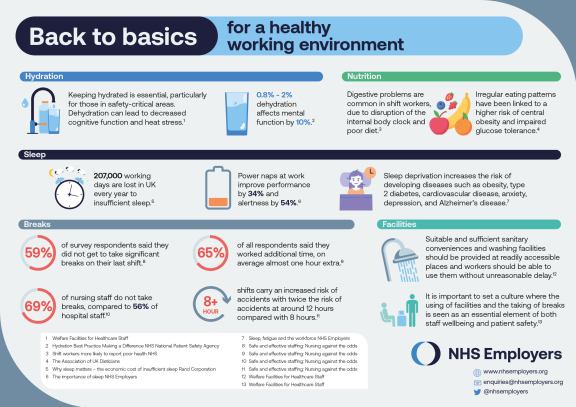 Our back to basics infographic, fully updated and revised for 2023, demonstrates the latest statistics and facts about the impact of hydration, nutrition, sleep, breaks and facilities on workforce wellbeing.
Over the last few years, the lack of basic facilities and provisions that enable our NHS staff to eat, sleep, rest, and hydrate has been called to attention as a significant and fundamental issue.
There is an urgent need for employers to prioritise and consider the impact of basic needs and a healthy working environment on supporting the wellbeing of NHS staff.
Employers can download the above infographic to raise awareness or as part of their business case to further the workforce wellbeing agenda at a strategic level with senior leaders.