Article
Flexible working common myths
The NHS Staff Council has busted a range of common myths around flexible working within the NHS.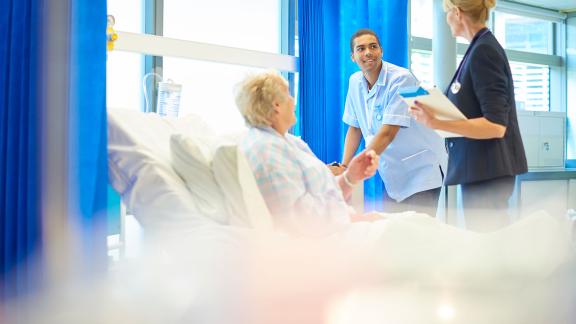 Allowing your staff to work flexibly is an important part of creating a modern and appealing employment culture across the NHS. It has been raised by our staff side and employer colleagues that there is a lot of misrepresentation around flexible working within in the NHS, regarding who can and cannot work flexibly.
Through engagement with Flex NHS, the NHS Staff Council has identified a range of common flexible working myths and facts that employers in the NHS should share with their people to encourage a more flexible workforce.
Who flexible working is for 
| | |
| --- | --- |
| Myth | Fact |
| Flexible working is only for working mothers, parents and parents with young children or those with caring responsibilities. | All employees covered by NHS terms and conditions (often referred to as Agenda for Change) have the right to request flexible working from day one of employment. |
| Flexible working is for staff with caring responsibilities. | All employees covered by NHS terms and conditions have the right to request flexible working from day one of employment. |
| Staff need a reason to request flexible working. | All employees covered by NHS terms and conditions have the right to make requests and have them considered regardless of the reason. |
Service delivery and teams  
| | |
| --- | --- |
| Myth | Fact |
| Flexible working is bad for team culture / teamwork. | Team discussions about flexible working needs and preferences can be a very successful way of arriving at shared solutions and supporting each other. |
| It will be a headache to manage within the team / I don't have time for that. | Flexible working can make a major contribution to retaining staff – having to recruit to replace staff who leave is more of a headache. |
| If I offer a member of my team flexible working, I won't have enough staff. | Offering flexible working will mean you keep staff and new processes for looking across organisations mean you should have options for filling gaps which may suit staff in other teams. |
| As a line manager, I can't request flexible working if my if my team already all work flexibly. | Why not? Talking to your team and to other line managers can lead to creative solutions which work for everyone. |
 
Impact on progression
| | |
| --- | --- |
| Myth | Fact |
| I can't progress or change jobs without losing my flexibility. | The new flexible working arrangements for Agenda for Change staff encourage discussions about flexibility within recruitment processes – so be prepared to say what you want and how you think it can work. |
| I should accept a lower banded role in order to secure a flexible working pattern. | Absolutely not – organisations should be guarding against any flexible working penalty and ensuring that it is considered in all roles. |
| Working less than full-time means that I have to give up any hope of being able to apply for promotion. | Absolutely not – organisations should be guarding against any flexible working penalty and ensuring that it is considered in all roles. |
| Staff undertaking leadership roles need to work full-time | There is no justification for this – it means organisations are losing out on talent and could be breaching equality and employment rights. |
 
Culture
| | |
| --- | --- |
| Myth | Fact |
| Flexible working means that I am less committed to my job. | Flexible working is about a work pattern that suits the individual's needs and preferences. Always being available to work can be damaging to staff and services which could, in-turn breach employment rights. |
| Flexible working is all about being selfish/for personal reasons. | Being able to work flexibly means staff are able to give more to their work and feeling supported creates greater loyalty and commitment to the job.  |
| People need to be present and be seen to know what they are doing. | Good management is about creating mutual trust and accountability for outcomes by regular communication and regular feedback on progress, which can be conducted remotely, facilitated by technology |
 
Types of flexible working 
| | |
| --- | --- |
| Myth | Fact |
| Part-time working is the only type of flexible work. | Flexible working can be done in a wide variety of different ways, including variable working patterns, condensed hours (such as nine-day fortnights), or annualised hours. |
| Flexible working is a way of avoiding unpopular shifts or working period | There is a very wide variety of circumstances which lead staff to request flexible working arrangements, and supporting flexible working arrangements as far as possible is a vital means of attracting and retaining staff |
 
Employment and HR
| | |
| --- | --- |
| Myth | Fact |
| I can't request flexible working from day one. | All employees covered by NHS terms and conditions can request flexible working from day one. |
| Flexible working should not be raised at job interview. | The new arrangements encourage employers to demonstrate openness to talking about flexible working during recruitment processes. |

Resources to support you to dispel these myths 
Tell us about how you are supporting flexible working
We are always keen to hear about the work you are doing to enhance flexible working for NHS staff. As you implement flexible working conversations into your organisation, please get in touch and share your good practice with us at: healthandwellbeing@nhsemployers.org