Article
Healthcare Science
Learn about routes into healthcare science and where these roles fit within your organisation.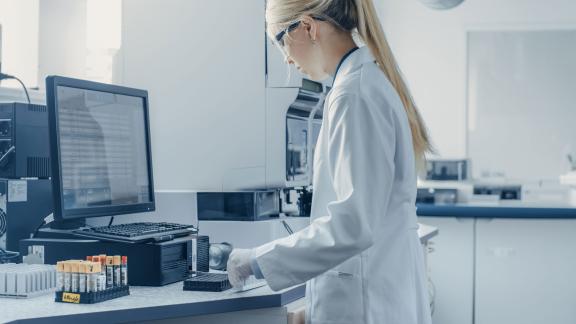 What are healthcare scientists?
Healthcare scientists play a big role in patient care and are involved in 80 per cent of all clinical decisions made in the NHS. There are currently over 50, 000 healthcare scientists in the NHS and public health services. They can be found in many areas of the NHS and are often developing new clinical and technological advances, from academic and translational research to patient-centred service transformation.
Healthcare scientists cover work in more than 50 specialisms, which can be categorised into four main groups:
Life sciences

Physiological sciences

Medical physics and clinical engineering

Bioinformatics
Within these groups, there are many different roles available including assistants, associates, practitioners and consultants, which can be used within the many specialist areas. Explore more about the specifics of different roles on the NHS England website and the Health Careers website.
Routes available into healthcare science
There are many routes into healthcare science to help build your workforce.
T Levels
T levels are two-year technical programmes, taught full-time by selected schools and colleges. They include an industry placement for a minimum of 315 hours (approximately 45 days) which is delivered in an employment setting.
T Level subjects include health, science and healthcare science which present an opportunity for employers to attract and develop future staff in healthcare science.
Although students will complete their industry placement in an employment setting, they will not be an employee and do not require to be paid. Employers can also claim a £1,000 incentive for every T level student they have on placement, up until 31 July 2022. For more information, including guidance, tools and resources visit employer industry placements and the NHS Employers website.
Healthcare science apprenticeships
Apprenticeships are a great way to attract and develop staff in healthcare science. The current available apprenticeships include the following roles:
Healthcare Assistant (Level 2)

Healthcare Science Associate (Level 4)

Healthcare Science Practitioner (Degree, Level 6)

Laboratory Technician (Level 3)
These apprenticeships cover a variety of specialisms, from pharmaceutical and biotechnology to life science, physiological science, biomedical science, or physical science. The levels of study do not reflect the NHS Agenda for Change banding levels; salaries are for the employer to decide on.

Find out more about apprenticeships and which field they can be used in using the Skills for Health pathways tool and the guidance on the National School of Healthcare Science website.
Scientist training programme
The scientist training programme is a three-year work-based learning programme, which is supported by a university-accredited master's degree. The programme is for well-qualified science graduates with the motivations, behaviours and values needed for the NHS of the future. It is a great option for graduate development and retention.
Staff on the programme are employed in a scientific department and follow a three-year training period with a mixture of academic learning and work-based, practical training. The training post is often salaried at NHS Agenda for Change Band 6 and upon graduating, staff will be eligible for clinical scientist registration with the Health and Care Professions Council (HCPC) and can apply for clinical scientist roles. More guidance can be found on the Health Education England website.
Higher specialist scientist training programme
The higher specialist scientist training (HSST) programme is a five-year workplace-based training programme, supported by a doctorate-level academic programme. It offers a route for clinical scientists to develop and train to become eligible to apply for consultant clinical scientist roles, which can help with staff retention.
The HSST programme aims to develop an increased number of very senior consultant clinical scientists for the future, who can lead the development and innovation of new research and technology and deliver world-class outcomes for patient care. The programme is unlike any other scientist training programme, as it requires the staff member and the employer to develop a suitable job plan against the demands of the specialism-specific curriculum.
Applicants are required to undergo a formal appointment and benchmarking process before the start of their training and must already be HCPC registered as clinical scientists at the start of their training. Additional guidance on eligibility and information for employers and supervisors can be found on the Health Education England website.
Consultant clinical scientist
Consultant clinical scientists (CCS) are trained to a high level of competence, combining years of scientific expertise and training in patient care, they oversee diagnosis of disease, lead services and guide a range of healthcare staff. Staff must firstly complete the HHST programme to be eligible to apply for consultant clinical scientist roles.
Find out more about the CCS role on the Health Education England website. Further information on CCS employment processes can also be found on The Royal College of Pathologists website.
Case Studies
Read our blog post from three NHS staff members on why they work in healthcare science and our blog from Donna Foster, a biomedical scientist who won the 2021 Advancing Healthcare Award as a healthcare science apprentice.