Blog post
How I approach compassionate leadership
For this blog, we spoke to Sue Ramsey, clinical specialist physiotherapist at East Suffolk and North Essex NHS Foundation Trust.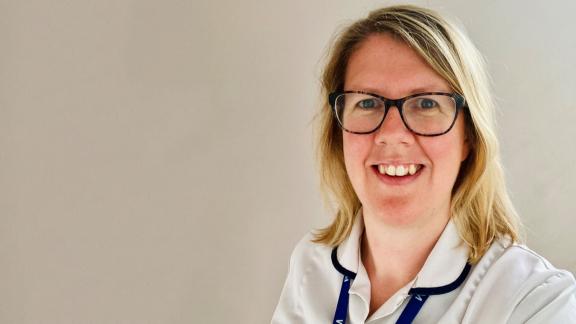 Sue Ramsey, clinical specialist physiotherapist was the 2021 winner of the Chief Allied Health Professions Officer (CAHPO) award for compassionate leadership. Find out how her role became invaluable at the height of the COVID-19 pandemic, how she supported her team and her approach to being a compassionate leader. 
Every organisation had to face COVID-19 and the uncertainty and fear that it brought. I sat in a trust wide meeting in March 2020 which I will never forget. We've experienced short-term situations when we struggled to plan for managing caseload and service delivery, due to things like vacancies, but I have never been so worried as when being briefed about possibilities such as community unrest in the face of lack of access to ventilators, infection of healthcare workers and the risk to our families. 
I am a critical care physiotherapist, who had skills that could make a difference during the pandemic. I normally work part time, but I went full time thanks to the lockdown measures and a very supportive husband. I was able to be absent from home and my childcare responsibilities to do what I needed to do.  
It helps that I'm very pragmatic, and I think that my team gets a lot of reassurance from well thought out plans that play to their strengths. I feel that I cannot ask people to do things that I'm not prepared to do myself as that's hypocritical, and I feel strongly that I should lead by example. 
My approach 
In my experience, health professionals are always willing to get stuck in; their whole ethos is to help people to the best of their ability, but they also need to know that someone has their back and that they will be supported and given the right training.  
My approach is always to try and match skills; a novice and a more experienced person working together. Staff who were familiar to the Critical Care Unit (CCU) worked alongside the redeployed and junior staff in pairs. 
I saw that staff were willing to adapt to change and I'm glad they felt confident that they'd never be put in a frightening situation alone. They were therefore much more willing to volunteer, and we never had any issues getting people to work different shift patterns such as twilight or night shifts.  
I was so proud of everyone. An upside of rising to an unprecedented challenge was that a lot of staff gained great skills in critical care and knowledge of helping complex patients rehabilitate on the wards.  
Having the shared goal of giving quality care fosters a strong bond in a team. None of us can do this on our own. I think we forged great working relationships between multi-disciplinary team members.  
Keep your eyes and ears open
To help develop trust among team members, I try to have my eyes open to observe and listen to what is going on. Who is an introvert? Who is having a bad day? Who takes new staff under their wing? As a senior member of staff, I have been offered a desk in the office on several occasions, but I like to sit out with the team so that I can act on any worries or concerns in a timely and effective way. I have never regretted this decision.  
If someone is struggling with something in the workplace, then we can find out together what needs to be done for job satisfaction. Maybe they need to go in a different direction? Maybe they need short-term support because of something in their personal life affecting their ability to be happy at work? 
When I'm feeling under pressure myself, I really appreciate some of my colleagues who I can let off steam with, in a safe space. We all need to do this. This can be challenging in the NHS due to something as simple as lack of private space. I really like the notion of walking and talking to get away and think we should do this more. 
How I deal with feeling overwhelmed
It's important to recognise that members of my team can feel overwhelmed – as I have from time to time. I felt very overwhelmed with the constantly changing evidence and knowledge that was literally non-stop during the pandemic. We had numerous WhatsApp groups and MS Teams groups, department wide emails and this was happening well into the evenings and weekends to numerous people. 
It took a while for me to realise that I needed to set boundaries, asking staff and reminding myself to communicate during core hours only. I still have to pause and think 'tomorrow will be fine' and when I see a free course advertised which I want staff to take advantage of - we find the time to let them attend.  
When I notice a member of my team is overwhelmed, it helps that I'm a mental health first aider, so I know what resources are available if needed. Often feeling overwhelmed could be avoided if we have regular communication and a sense of each other. 
Shared goals
It's essential that all members of the team have the same shared goals. On-going conversations through team meetings, regular supervision and appraisal is essential for this. There needs to be clear messages and shared values from the organisation which inform the setting of individual and team goals with monitoring and celebration of success. Laughter within the team keeps morale high and staff motivated to go out and do their best.  
I encourage team members to take time out to deal with stress, grief, and other negative emotions. We spend a lot of time supporting staff who are finding life and work hard. Our trust prioritises wellbeing and I feel confident that this is an ethos that is reflected through the teams. 
I facilitated debriefs with a colleague after the first wave and found this to be really useful for staff to speak up about personal concerns and learning together. We have recently discussed reviewing culture and thinking about how differing team practices can have an impact and what we can do to understand each other's pressures and maintain equity and support. 
Proud to be an introvert leader
I still try to remember what it feels like to be a junior allied health professional (AHP) when I am leading and to listen to what is really being said between the lines. I am an introvert leader and would like to fly the flag for all types of amazing leaders driving change and supporting their teams in the NHS. 
To receive the award from my peers was an absolute honour – it was so totally unexpected as there are many AHPs like me, who did, and do what I did. We aren't anything without the teams we are part of and who make our working lives enjoyable and fulfilling every day.