Article
Improving staff experience across the NHS conference - resources
Information and resources from our recent event on improving staff experience in the NHS.
On 1 December 2021, we held our second virtual staff experience conference to provide NHS professionals with an opportunity to connect share and learn. 
Over 500 NHS staff in health and wellbeing, staff engagement and staff experience came together virtually to hear examples of good practice from across the NHS and learn from keynote speakers who are leaders in their fields.
Our chair Jen Gardner, assistant director of staff experience at NHS Employers, began the day with lots of energy and enthusiasm, discussing the theme of adapt, innovate and lead and what this means for those who are working to support the experience of our NHS people.
Take a look at #InnovateNHS on Twitter for highlights of the day.
Debbie Lamkin, a staff nurse at Alder Hey Children's NHS Foundation Trust, shared her deeply personal reflection about the impact that the COVID-19 pandemic had on her experience at work. Watch Debbie's video to find out more about her story and how her organisation provided support throughout this challenging time.
Watch this video from Northumbria Healthcare NHS Foundation Trust to learn about what the trust has been doing to enhance the experience of its staff since our last conference, tailoring local, regional and national support to ensure the wellbeing of staff is supported.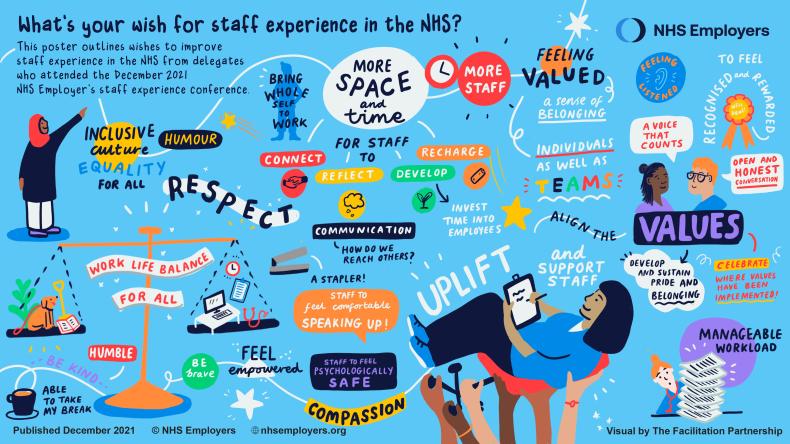 Throughout the day we asked our delegates and speakers to each share with us what their wishes for staff experience is. This visual summary of the wishes was captured throughout the day.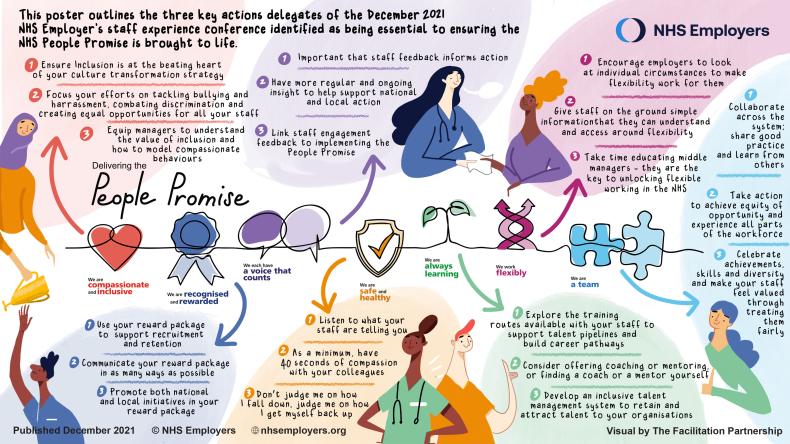 The afternoon of our conference was split into six breakout sessions that aligned to the seven elements of the NHS people promise. This poster outlines the three key actions delegates at the conference identified as being essential to ensuring the NHS People Promise is brought to life.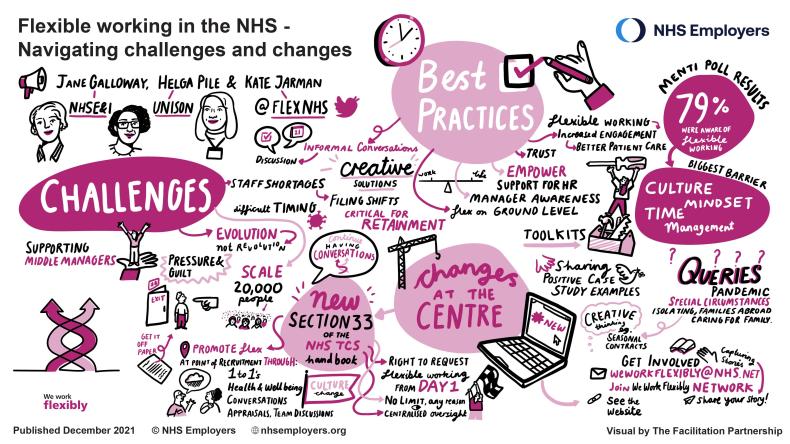 Kate Jarman, co-founder of Flex NHS, Helga Pile, deputy head of health at UNISON, and Jane Galloway, head of flexible working at NHS England and NHS Improvement, ran a session discussing the legislative changes put in place in September 2021 that enable all staff to request to work flexibly from day one of their employment. Attendees explored what this means for the future of flexible working and how best to put the NHS People Plan commitments into practice.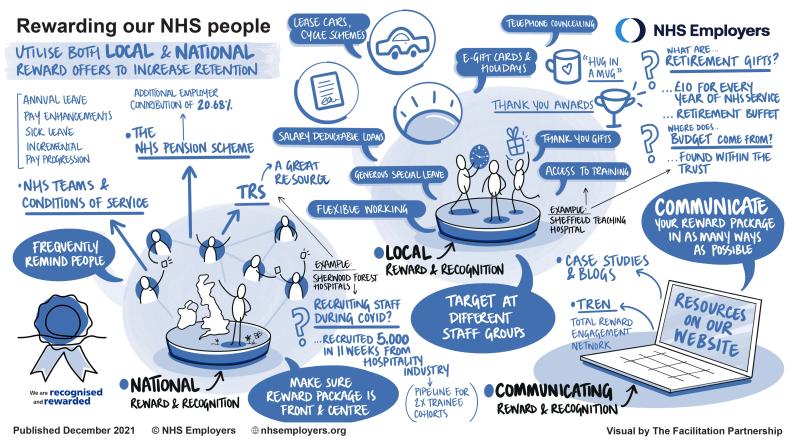 NHS organisations provided some of the most comprehensive and attractive employment packages available in the UK. This session gave delegates the opportunity to hear how Sheffield Teaching Hospitals NHS Foundation Trust and Sherwood Forest NHS Foundation Trust use local and national reward offerings to recognise and reward their staff, helping with attraction, recruitment, and retention of staff.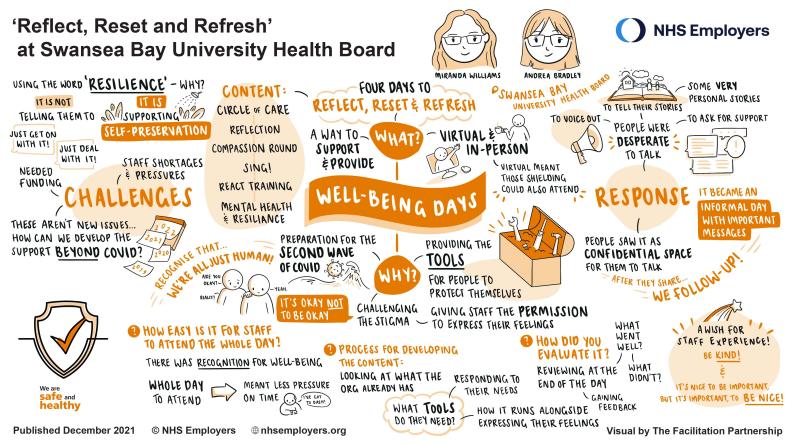 Andrea Bradley and Miranda Williams from Swansea Bay University Hospitals shared how they created wellbeing days as a pilot during four events within their organisation to support staff during the pandemic. In the session, Andrea and Miranda shared how they overcame working conditions that they had never before experienced in their careers. Attendees reflected on the past 18 months and discussed the importance of allowing staff time to reset and recharge.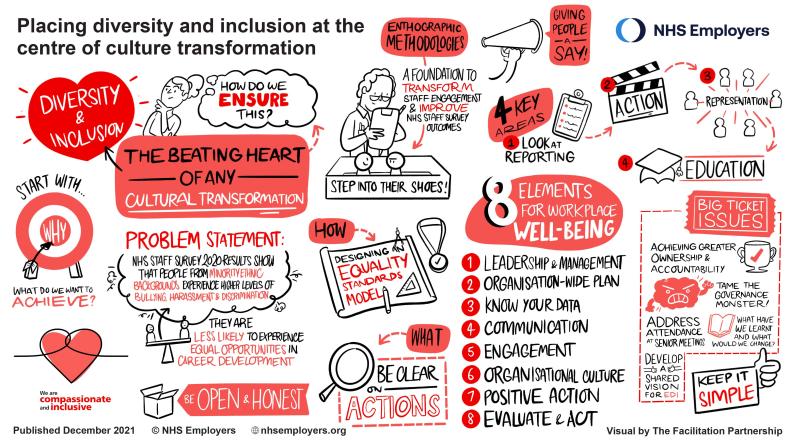 Ricky Somal, deputy director of organisational development and inclusion at Isle of Wight NHS Trust, explored how you can ensure diversity and inclusion is the beating heart of any culture transformation approach. The breakout session looked at how ethnographic methodologies can be used as the foundation of a well-led architecture to transform staff engagement and improve NHS Staff Survey outcomes.
Thank you to The Facilitation Partnership for capturing the event in the form of unique graphics.
We would also like to thank NSU media who ran a fantastic breakfast session with University Hospitals Birmingham detailing how the trust created Building Healthier Teams, a breakthrough engagement programme for over 2000 first line managers across the organisation.