Article
NHS Staff Survey 2021: staff experience
Learn more about the results from the 2020 NHS Staff Survey that relate to the wider staff experience space.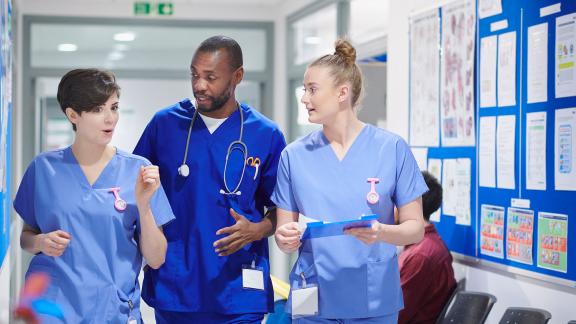 The 2021 NHS Staff Survey covers key areas relating to staff experience and each of these is linked to an overall score (out of ten) for the seven NHS People Promise themes. On this page we look at the themes relating to staff experience and explore them in more detail. 
Flexible working
The We work flexibly theme has an overall score of six out of ten.
The three new questions on this topic were relatively positive, for example, most respondents fed back that they are satisfied with their work-life balance, however, there is scope for improvement.
It is a cause for concern that the percentage of staff reporting satisfaction with flexible working opportunities fell from 56 to 53.9 per cent.
NHS Employers is working in partnership with the NHS Staff Council to support employers on these issues, and has published a range of resources including flexible working – enablers for change.
Raising concerns/Freedom to speak up
Everyone has a Voice that counts theme included a sub-theme on raising concerns which scored 6.5 out of ten.
There was an improvement in the confidence to speak up on issues of unsafe clinical practice with 74.9 per cent feeling secure to raise such concerns (up from 72.5 per cent in 2020).
However, there is still considerable scope for improvement on how these issues are handled, as 59 per cent said they were confident that their organisation would address the concerns.
NHS Employers works with the National Guardian Office on these issues. Take a look at our web pages for further information:
Violence, bullying and harassment
The We are Safe and Healthy NHS People Promise theme includes a sub-theme on negative experiences covering violence, and bullying and harassment which overall scored at 7.7 out of ten.
On bullying, there was an increase in bullying and harassment rates from patients and visitors up from 26.8 per cent to 27.5 per cent.
There was a small fall in rates of bullying from managers falling from 12.4 to 11.6 per cent. Levels of bullying from colleagues remained stable at 18.7 per cent as did reporting rates at 48 per cent. Violence levels remained stable at 14 per cent with a small fall in reporting rates (78 per cent).
NHS Employers work with the Social Partnership Forum and NHSEI on bullying-related issues and NHSEI has taken forward the Civility and Respect Toolkit to support action to tackle bullying.
NHSEI has developed a comprehensive violence reduction strategy whcih is being implemented through initiatives such as the extension of body cameras.
More information
Read our summary which details the initial analysis and highlights. You can view the full results of the survey via the NHS Staff Survey website.
Matthew Taylor, chief executive of the NHS Confederation, has responded to the results in a press statement.