Article
NHS Staff Survey 2022: staff engagement
Read more details about the staff engagement results gathered in the 2022 NHS Staff Survey.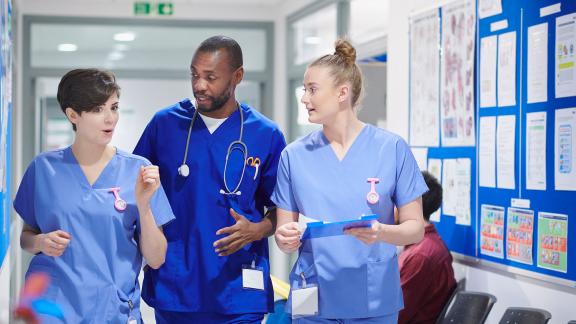 One of the key Staff Survey indicators for NHS organisations is the staff engagement score. The score for this theme in 2022 remained steady at 7, compared with pre-pandemic levels of 7.3.
The score for the staff engagement theme is derived from the nine questions, grouped into three themes: motivation; involvement; and advocacy.
Motivation
The level of motivation marginally decreased from 7 in 2021 to 6.9 in 2022. This is largely due to a small decline in staff feeling enthusiastic about their jobs, which fell from 67.4 per cent to 66.9 per cent. This reflects the wider pressures on staff, including concerns over workload.
Involvement
There has been a positive improvement in the involvement score, increasing to 6.8 in 2022 compared with 6.7 in 2021. This was driven by an increase in staff feeling able to make improvements happen in their area of work, rising to 54.3 per cent in 2022 from 53.2 per cent in 2021. The other involvement questions remained broadly stable.
These improvements reflect the range of activity being carried out in trusts on staff involvement, and may be linked to a greater focus on staff feedback. There is still considerable variation between trusts and scope for further improvement in these scores however.
Advocacy
The positive movement on involvement contrasts with the fall in the advocacy score. The score fell from 6.8 in 2021 to 6.7 in 2022. This is down from a peak of 7.2 during the pandemic in 2020.
There was fall in advocacy of the NHS as an employer and as a place to be cared for. Staff that would recommend their organisation as a place to work fell from 59.4 per cent to 57.4 per cent. The percentage of staff that would be happy with the standard of care provided by their organisation fell from 67.8 per cent to 62.9 per cent. 
These scores reflect pressure on staff and concerns over quality of care. It will take overall improvements in NHS staff experience and resourcing to make significant shift to these scores.