Blog post
Pledged to success: ULHT supports its local Armed Forces community to 'Step into Health'
United Lincolnshire Hospitals NHS Trust (ULHT) has recently pledged to support its Armed Forces community with Step into Health.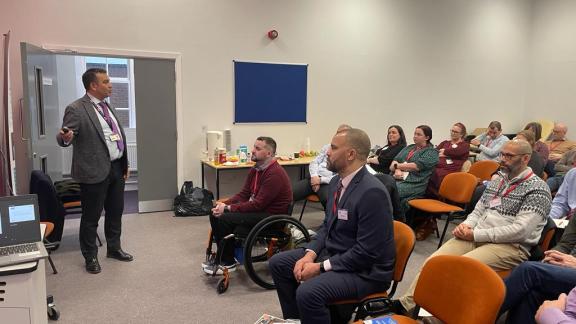 We spoke with Steve Martin, RAF Veteran, ULHT,  to see what the organisation has been doing since taking the pledge.
In late 2022 we took the proud step of re-pledging to Step into Health. Since then, the ULHT Armed Forces staff network team has developed policies and activities to increase support to those who perhaps had not previously considered a role within the NHS.
Our organisation is located deep in RAF Lincolnshire country, and the Armed Forces community form deep pockets within our local recruitment area and service user community. This was a key driver to pledge to Step into Health, as we wanted to provide a dedicated and supported route into employment for this community.
In January, we delivered our inaugural insight day. The inspiring and inclusive event was sold out and attended by delegates who represented almost all cohorts of the Armed Forces community; service leavers, veterans, reservists, cadet force adult volunteers, wounded, injured and sick and family members.
Andrew Morgan, our chief executive at ULHT, welcomed our audience and reiterated the importance of their transferable skills. He highlighted their resourcefulness and ability to cope with ambiguity alongside their leadership, management and communication skills. Andrew also said:
"[your] embedded values link well with those of ULHT. "[they] make a recognisable difference to the workforce and the patients"
The day showcased the employment and training opportunities within ULHT, East Midlands Ambulance Service NHS Trust, the NHS Reserve and wider NHS. It included top tips on the application process from our HR specialist and personal stories from those who have made the transition from the Armed Forces into the NHS workforce. 
Abbi Quinn, vice chair of the Armed Forces staff network, explained how trust policy has been reviewed and developed to support family members of regular personnel and highlighted the benefits of flexible working opportunities.   
We recognise our role as an anchor organisation, and we understand the importance of reducing barriers to employment and the difference this makes to our community. For members of the Armed Forces community these barriers can include: 
gaps in employment resulting from multiple relocations in support of regular service 
the inability to translate or recognise where skills and experience fit within an organisation.   
The next step for us is to offer work placements and roll out a guaranteed interview scheme in the coming weeks, with more Armed Forces insight days planned as biannual events to build on our success and broaden participation within the community 
If you would like to find out more about how the ULHT team planned and hosted its insight day, I'll be running a session on this at the NHS and Armed Forces conference on 14 March 2023. 
To find out more about how the Step into Health programme can support your integrated care system (ICS) or organisation please visit our Step into Health website.