Article
Signing the Armed Forces covenant
An overview of the Armed Forces covenant, what it means to sign and the expectations.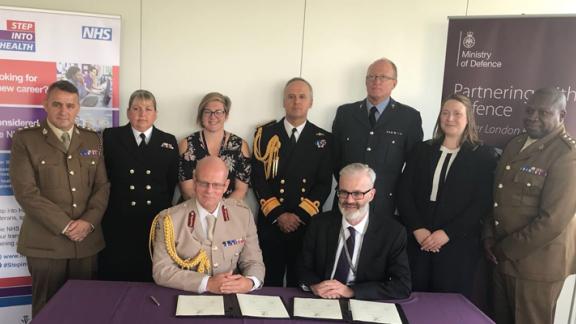 The Armed Forces Covenant is a pledge to acknowledge and understand the needs of the Armed Forces community and aims to build a more open and honest relationship between employers, the Ministry of Defence and reservists.
Organisations pledge to recognise the transferrable skills developed through military service and training and ensure that members of the Armed Forces community are treated with fairness and respect in all aspects of their life.
Signing the Armed Forces Covenant will help you to build your reputation as a forces-friendly employer through publicly asserting your commitment to ensure that members of the community do not face discrimination during recruitment or in employment in your organisation.
Requirements
To sign the covenant, you must agree to demonstrate two core principles:
no member of the Armed Forces Community should face disadvantage in the provision of public and commercial services compared to any other citizen in some circumstances
special treatment may be appropriate for members of the community especially the injured or bereaved.
The covenant can be tailored to your organisation's needs and capacity. You decide how you will demonstrate your support by writing your own pledges or by choosing pledges from a provided list of suggestions. Examples include:
offering support to service leavers, veterans, reservists, cadet force adult volunteers, spouses and dependants within your organisation
recognising national events, such as Armed Forces Day and Remembrance Day
supporting Armed Forces charities.
Signing the Covenant
If you are interested in signing the covenant, get in touch with your local Regional Employer Engagement Director (REED), who will be able to guide you through the signing process. After expressing interest, you will receive a pledge certificate by email to print off and sign. Check whether your organisation has already signed the covenant on the Armed Forces Covenant website.
Many organisations choose to hold a signing ceremony to publicly demonstrate their commitment to support the Armed Forces Community and sign the document in the presence of Armed Forces representatives, such as the local REED and representatives from local military units.
After signing the covenant, display your pledge certificate and include the Armed Forces Covenant logo on communications and job advertisements to further publicly demonstrate your commitment and make sure to share your pledges with your employees. Once signed, you will become eligible to self-nominate for the Ministry of Defence Employer Recognition Scheme Bronze Award, provided you meet the award criteria.