Article
What apprenticeships are and how to use them
Find out how apprenticeships can support with attraction, development and retention in your organisation.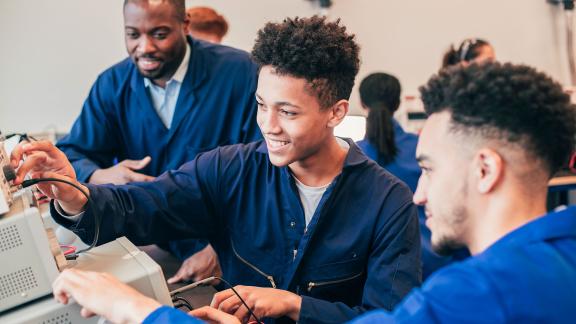 In recent years, the government has reformed the way apprenticeships are delivered and funded in England. As part of these reforms apprenticeships are more robust, better structured, and independently assessed to ensure apprentices gain the skills that employers need for their workforce.
There is a wide range of apprenticeships now available, including higher and degree level apprenticeships. Not only can they support with addressing skills shortages, but they are an excellent means of attracting new talent, developing and upskilling existing staff, and retaining the workforce within the NHS.
What is an apprenticeship?
The government defines apprenticeships as a job with training. They incorporate skills development, technical knowledge and practical experience through a work-based training programme. Apprenticeships are available to anyone over the age of 16 and enable learners to demonstrate competencies while gaining a recognised qualification. Individuals can undertake an apprenticeship at any level (this could be higher, equal or lower to a qualification they already hold), if it allows them to acquire substantive new skills. We talked to three trusts to find out how  have been utilising apprenticeships within their organisation to support workforce supply.
Employment is a fundamental part of an apprenticeship and an apprentice must be employed in a job role with a productive purpose. In addition, the minimum duration for an apprenticeship is 12 months and the apprentice must spend at least 20 per cent of their time on off-the-job training (for some roles such as nursing, the requirement may be more). Apprentices must be paid for time spent training or studying for the relevant qualification, whether this is while at work, attending college or a training organisation.
What is the apprenticeship levy?
The apprenticeship levy was introduced in April 2017 and is paid by all employers who have an annual pay bill of £3 million or more. The rate of the levy is set at 0.5 per cent of the total pay bill and is paid to HMRC through the PAYE process. Those with a pay bill of less than £3 million don't pay the levy and use different arrangements to pay for apprenticeship training.

Levy-paying  employers set up an online account to access levy funds which are paid in each month. The levy funds are used to pay for apprenticeship training costs, but not employment costs. Any funds that are not used expire 24 months after they enter the account. To help minimise the risk of funds expiring, the funding works on a first-in, first-out basis, with payments taken from those funds that entered the account first.
In order to prevent levy funds being left unused, organisations can transfer up to 25 per cent of their contributions to another organisation for them to use. 
Additional funding and access to work
Employers could be eligible for a payment of £1,000 for young apprentices, aged 16-18 years old, or apprentices aged 19-24, who have previously been in care or who have a local authority education, health and care plan and may need extra support. Read more on the government's apprenticeship pages.
The national learning disability nursing team is offering an employer training grant for each learning disability nursing apprentice who starts training in 2022/23. The value of the grant is £8,300 for each year of the apprenticeship will be available to each employer employing each apprentice who commences on programme by 31 March 2023. The eligible routes include:
Undergraduate and postgraduate learning disability nursing apprenticeships
Nursing associates moving to a learning disability nursing apprenticeship
Apprentices starting this year as a Trainee Nursing Associate (TNA) in a learning disability service identified to continue to an undergraduate learning disability nursing apprenticeship upon successful completion of their TNA course.
Access to Work is a government scheme available to all disabled members of staff, or staff with learning difficulties and disabilities (LDD), including apprentices. It provides extra support to ensure that disabled people or those with LDD are not substantially disadvantaged in the workplace. Support might be in the form of specialist equipment, adaptions, support worker services, or help getting to and from work. Access to Work is available to those working as little as one hour per week. While individuals should apply for Access to Work themselves, it would be useful to signpost employees to the application and offer support. You can find out more about the scheme on the Access to Work web pages.
Government support for apprentices with a learning difficulty or disability
The Department for Education (DfE) has published guidance on how to support apprentices with a learning difficulty or disability, including the funding options available. The guidance outlines:
how providers should assess and identify the needs of their apprentices

how to make a claim in line with the apprenticeship funding rules
Employers can receive up to £150 a month for additional learning needs, with the possibility of making further claims. There is also additional funding available which can go directly to the apprentice.
Building apprenticeships into the workforce strategy
Apprenticeship qualifications or standards range from levels 2-7. This is the equivalent of GCSE level up to master's degree level. Apprenticeships are also available in a range of subjects and can develop individuals in many occupational competencies. These include but are not limited to, clinical apprenticeships such as nursing, advanced clinical practice, and radiography, and non-clinical apprenticeships such as senior leadership, clinical coding and facilities management.
Consider the following questions when developing your workforce plans.
How can a scaled-up apprenticeship offer act as an enabler of your workforce strategy?
How can apprenticeships enable you to meet key actions from the NHS People Plan, Workforce Race Equality Standard (WRES) and the Workforce Disability Equality Standard (WDES)?
How can apprenticeships enable you to be more representative of the community you serve?
Does your current apprenticeship offer align to the skills/talent pipeline you will need over the next five years?
How can the introduction/use of apprenticeships tackle your key workforce challenges?
The HASO website also shows the range of apprenticeships you could include as part of your workforce strategy.
There are a number of ways that apprenticeships can benefit your organisation
Apprenticeship pathways are now being developed to provide higher-level technical skills and provide a great option for retaining the existing workforce and, building talent pipelines. For example, Cambridge University Hospitals has created a pathway from traineeship to registered nurse, which has enabled the trust to retain talent. University Hospitals Southampton on how they've retained 100 per cent of apprentices on their nursing programme. NHS Employers have developed a poster than can be used to showcase the benefits in your organisation. The HASO website also shares a wide array of potential pathways that you could develop in your organisation, including apprenticeships that may not have been considered. To find out more about nurse degree apprenticeships watch the our past webinar focused on the  funding and support is available to help you to train nursing apprentices.

Retaining the skills and experience of existing employers is vital if employers are to avoid future skills shortages. Many employers are now offering apprenticeships at all levels to existing staff across a wide range of roles and disciplines as part of their strategy. Find out how trusts have used AHP apprenticeships.

When thinking about how they can redesign and shape the workforce in order to respond to, and anticipate service needs, many employers are ensuring that apprenticeships form a key part of their workforce supply strategy. Chesterfield Royal Hospital introduced band 4 roles by using apprenticeships to build a team around the patient based on what skills and activities they needed from their team.

An apprenticeship can be done in a flexible way based on business needs, or in an accelerated manner if needed.

If an organisation has non typical working patterns for example shift work or project-based employment, training can be adapted to better suit the business needs. For example, training can be offered in blocks which could offer the apprentice the opportunity to gain key knowledge and required skills early into the apprenticeship. This is particularly common in healthcare where health and safety and other important elements can be covered prior to entering the workplace.

If an apprentice has been recruited who has some prior knowledge or skills before starting the apprenticeship, it is possible to recognise this as prior learning. The employer can therefore remove some elements from their training plan given their previous understanding. This can then impact the time spent on the apprenticeship; with a reduction of three months or more considered an accelerated apprenticeship.

Those on an accelerated apprenticeship could be an existing employee using an apprenticeship to upskill into a more senior role, or those who have already completed a relevant qualification.

Apprenticeships present a genuine alternative to full-time college or university study to anyone aged 16 and over. They can widen access to employment to all areas of your local community. For example the nurse degree apprenticeship, which leads to the same qualification as the traditional route, can be offered to new or existing staff. Cambridge University Hospitals Trust has used this approach to strengthen its nursing supply.

Employers can open doors for the existing and future nursing workforce in their local community by building a nursing partnership with their providers. The Open University (OU) has worked with Kent Community Health NHS Foundation Trust to develop the local nursing workforce through the registered nurse degree apprenticeship and nursing associate higher apprenticeship, through the use of the innovative Nursing Academy. This allows apprentices to earn while they learn and the OU can give flexibility as a distance learning provider.

Inclusive recruitment to better reflect the community you serve is a key message of the NHS People Plan and inclusive apprenticeship recruitment can also lead to better retention rates and improved workforce supply. The benefits of establishing and maintaining a diverse and representative workforce are well understood. Teams are more innovative and creative. It is also found that patients have better experiences of care when the workforce mirrors the patient population.

Taking positive action during the recruitment process can enable you to diversify your workforce, and deliver against actions in the NHS People Plan, Workforce Race Equality Standard (WRES) and the Workforce Disability Equality Standard (WDES).

Positive action can support employers under the Equality Act 2010 to recruit and promote people from under-represented groups to help them overcome disadvantages in competing with other applicants. This positive action in recruitment guide from gov.uk (pdf) outlines all of the steps throughout the recruitment process where positive action can be taken, from shortlisting through to interview, and provides examples of tie-break scenarios. Your recruitment team can also provide you with data throughout the recruitment process on the protected characteristics of applicants, to support you with taking positive action during the process or to understand where barriers in the process may occur.

Ensure that your recruitment processes are accessible to all. Ask whether reasonable adjustments are required and if so provide them. This may be including hearing loops, accessible software for any computer-based activity, a wheelchair accessible space for all activities, papers in large print and colour filters available, or access to a computer for any written task for those who struggle with paper-based activity.

When Royal Berkshire Trust identified a gap in Ethnic minority group senior leaders at the trust they specifically invited and encouraged staff from Ethnic minority backgrounds to take up the offer of a senior leadership apprenticeship.

A costing tool has been developed to help work out the potential cost to your organisation of delivering apprenticeships and shows a breakdown of the annual salary costs and levy spend, enabling you to calculate a return on the investment made. The costing tool is part of the Apprenticeship Toolkit found on the HASO website.

This guidance is designed to support you through the procurement process for an apprenticeships training provider and will help you to ensure that:

your procurement process for potential bidders is accessible and inclusive 

the specification you set holds accessibility and inclusion at the forefront

the provider you choose is inclusive and accessible to disabled people and people with learning disabilities or difficulties.

Stage 1- ensuring that the bidding process is accessible, inclusive and diverse 
Here are some key suggestions to think about when preparing the bidding process.

Consider the diversity of those assessing bids from training providers, including age, gender identity, ethnicity, religion/belief, sexuality and disability status.

Advertise the opening of the bidding process as widely as possible to reach a diverse range of providers, for example, ensuring special education needs (SEN) providers have access to the bidding process.

Ensure the bidding process is accessible and compatible with e-readers, available in easy read or alternative formats.

Provide support to any potential bidders who need any extra help due to accessibility needs.

Highlight the requirement for any bidding training provider to demonstrate commitment to your organisational values and vision, including a specific commitment to supporting and promoting inclusivity around disability.

Promote your commitment to inclusive recruitment of apprentices by holding an open day where you promote this to potential training providers.

Stage 2 – setting a specification
It's important to set some minimum criteria for those applying to bid and establish whether the training provider is committed to being an inclusive and open organisation and can demonstrate the following.

Their organisational priorities and vision - are they a Disability Confident employer?    

What kind of support do they already offer disabled staff/ staff with LDD?

Where do they advertise opportunities? Do they provide training support including end point assessments?

Are their entry requirements inclusive and are there clear pathways into an apprenticeship?

Do they offer accessible learning and training spaces?

Stage 3 – choosing the training provider

You would need to consider whether all bidders have met the specification you set. You could calculate this through attributing a scoring system based on how important they are to you. Ask for evidence that demonstrates how inclusive their recruitment processes are.

Do they provide learning support to individuals with an education, health and care (EHC) plan or disclosed disability/ learning disability or difficulty?

Do they have established links with special educational needs (SEN) schools locally? Do they offer guaranteed interviews for disabled applicants? Is financial support available to help disabled individuals full access training?

Stage 4 – working with the training provider
Once you have a chosen your training provider, it's important to maintain high standards of inclusion and accessibility.

Ensure you have regular discussions with the training provider to understand the progress of disabled apprentices or apprentices with LDD.

If issues arise for learners relating to their disability or LDD, be ready to signpost to local organisations, such as a local Mencap, that may be able to provide specific training on raising awareness around learning disabilities within the training provider organisation. 

Where adaptions may need to be made, ensure you have information on:

Access to Work – learners can apply for this support, which can either be in the form of equipment, transport or travel expenses reimbursed
job coaches – available via Jobcentre Plus, they can support disabled apprentices/apprentices with LDD into an apprenticeship or workplace.