Case Study
Celebrating SAS doctors at Harrogate and District NHS Foundation Trust
Harrogate and District Foundation Trust (HDFT) used its SAS development funds to hold a celebration day for its SAS doctors.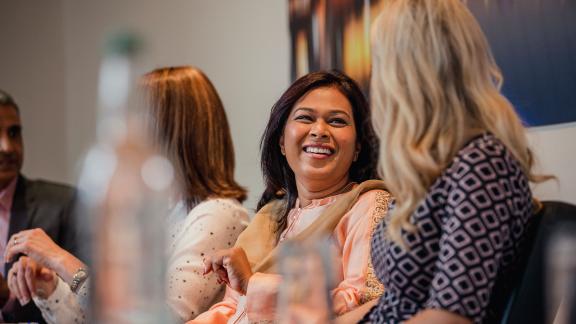 Overview
A SAS celebration day was held to raise the profile of SAS doctors at HDFT and show how important and valued this workforce are. The day focused on celebrating achievements and considered the different ways a SAS career is fulfilling and rewarding.
Key benefits and outcomes
SAS doctor development.

Networking with peers.

Raising the profile of SAS doctors across the organisation.
What the organisation faced
NHS England paid SAS development funds to NHS organisations in 2021/22 when implementing the 2021 SAS contracts. The funds are provided to support the development of SAS doctors. Dr Natalie Lyth is the SAS tutor and a clinical director at HDFT and leads the trust's SAS forum, she put the question to the forum on what they would like to use the money for, and they expressed having a day to be able to come together and celebrate SAS doctors.    
What the organisation did
Dr Lyth, together with Philippa Croft, deputy medical education manager at HDFT, Zoe McKenzie, medical education assistant and colleagues began to plan a day dedicated to the trusts 80 SAS doctors and dentists. The aim of the event was to make sure that the SAS workforce know how valued they are and to have as many SAS doctors as possible to attend the event.
To achieve this, planning started six months in advance and Dr Lyth liaised with clinical directors to ensure that rotas were setup so SAS doctors could be released from clinical work. The trust offered CPD points for the event and encouraged doctors to use their study leave to attend.
Getting the content right for the day was important. The organisers recognised that while some SAS colleagues want to move through the SAS grade onto consultant positions, others want to remain in a SAS position enhancing the role and creating a better work/life balance.
The day included SAS bitesize inspirations where SAS doctors shared their own experiences. This inspired other colleagues and showed what is achievable within the SAS grade. An example of this was a talk about secondments and using this for additional experience or to help achieve a Certificate of Eligibility for Specialist Registration (CESR).
The day was attended by some of the trust's senior leaders, the chair, the chief executive officer, the executive medical director, and the deputy medical director. Each had time on the agenda to introduce themselves and were available to speak to attendees during the breaks. Having senior leaders present helped to demonstrate the trust's commitment and support to its SAS workforce and gave the opportunity to have in-depth conversations away from the usual working environment.
The event took place in a local hotel to ensure that there were no distractions, and the room was decorated with banners and balloons incorporating the trust's branding and values to create a celebratory environment. HDFT's charity also provided goodie bags for delegates.
Results and benefits
The event has received a lot of positive feedback. The bite sized talks were well received and added a personal perspective to the event. The speakers felt empowered by having the confidence to share their lived experiences and as a result, some have been asked to present training in other departments. All attendees stayed until the end and were fully engaged. It was also a great opportunity to network with peers from other departments.
An evaluation form was sent to delegates after the event using a QR code and certificates of attendance were sent when feedback reached 75 per cent. Out of those that responded, 93 per cent of attendees really enjoyed the event and 79 per cent felt the day met their expectations. Attendees expressed how useful they found the event and felt it was insightful and helpful, entertaining and provided new learning.
Overcoming obstacles
Arranging a large event took time and there were a lot of factors to consider including booking external speakers and arranging catering for different dietary requirements. Regular steering group meetings were arranged and attended by SAS British Medical Association industrial relations officers, the trust's SAS advocate and deputy medical director as well as Dr Lyth, Philippa and Zoe who managed the overall event.
HDFT didn't come up against any specific barriers when organising its event but for future planning they will consider budget accessibility. The trust used its SAS development monies towards the event which helped overcome any financial concern.
Take-away tips
Empower your SAS doctors to help them realise how great they are and give them the confidence to speak up and celebrate their success.

Create an atmosphere of celebration when holding events to increase engagement.

Ensure there is support and representation at board level present.

There needs to be someone overall who takes ownership of organising, this helps keep momentum and attendees know who is their key contact.
For further information regarding this case study, please contact Natalie, Philippa or Zoe.