Case Study
How Dartford and Gravesham NHS Trust introduced "Joy at Work" to their staff
Dartford and Gravesham NHS Trust have developed their people strategy to strive for the strategic objective of their staff finding joy at work.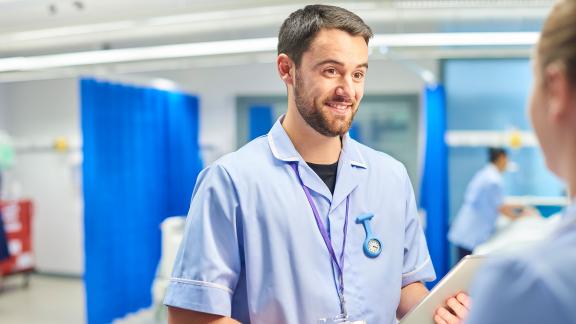 Overview
Dartford and Gravesham NHS Trust is one of the largest hospital trusts in North Kent, with three sites serving a local population of over 500,000 people.  
Their five-year (2020-2025) people strategy, Happy Healthy and Heard was "Highly Commended" in the Workforce Initiative of the Year at the 2021 HSJ Awards and sets out a programme of work that will help staff to feel happier at work, live healthier lives and have their views heard.  
The Happy Healthy and Heard people strategy is delivering the trust's overall strategic objective 'Joy at Work', emphasising engagement, equality, diversity and inclusion to ensure staff have a sense of belonging and fulfilment in their roles. 
Key benefits and outcomes
The judges at the HSJ Awards felt this initiative was a great role model and blueprint for approaching health and wellbeing, and therefore was highly commended.  

Reported increased job satisfaction has improved retention and reduced vacancy rates.  This resulted in a monthly decline in agency spend with almost £500,000 saved since December 2020, giving the trust both a qualitative and quantitative benefit. 

The trust is in the top quartile for health and wellbeing in the latest staff survey and has improved its position with regard to staff engagement and morale from 57th to 35th and 58th to 23rd respectively. 
In April 2022 work related stress/anxiety sickness were at their lowest for a year at 0.6 per cent (the target is <1 per cent) 

Cultural events celebrate and share the diversity of staff, in partnership with local community groups.     
What the organisation faced
The stress of the COVID-19 pandemic was affecting staff mental health and morale and the increased vacancy and sickness rates led to a significant increase in agency costs. Like a lot of the general public, some staff also experienced the loss of loved ones as well as patients and colleagues and then were not able to attend their funerals. This had a huge effect on physical, psychological, emotional and mental wellbeing. 
What the organisation did
Their ambitious strategic objective named, 'Joy at Work' began in the summer of 2020 as a three-phase approach with three strategic outcomes focusing on staff feeling happy, healthy and heard. 
Phase 1- Expanding their provision to take care of the physical wellbeing of staff.  
Phase 2- Ensuring all staff had access to wellbeing spaces.  

Phase 3- Reset and recover programme. 
The health, wellbeing and occupational health team oversees a holistic wellbeing programme that includes the six ways to wellbeing framework – this gives staff practical tips for their mind, body, spirit, how to connect with other people and personal growth.  
Phase 1 
Working with an organisation called Reset Heath, they delivered a programme to help staff to lose weight, reverse pre and existing type 2 diabetes, hypertension and cholesterol. They also increased the provision of mental health support by creating 'Time to Talk Team' (T2TT) - mental health first aiders who are first port of call for mental health support. This is a role staff volunteer to do in addition to their day jobs. 
Some of the T2TT are also trauma risk management (TRiM) trained practitioners who can be deployed across the organisations as required. TRiM is a peer delivered assessment tool, used to determine whether a colleague has been affected by a potentially traumatic incident, and to ascertain whether they would benefit from further support. If further intervention is required, the colleague will then be signposted or referred to the most appropriate source of help. 
The trust also ensures more specific mental health support is available to staff. Counsellors and clinical psychologists were on site throughout the pandemic to see staff face to face when needed. There is now some form of mental health support on site five days per week and a direct self-referral route to our mental health partners for those not wishing to access via occupational health. 
Phase 2 
They improved existing staffrooms and created new spaces, such as an outdoor wellbeing marquee. They engaged with local businesses and community groups to provide refreshments for staff. 
They also arranged cultural gatherings to celebrate the diversity of their staff and offered further opportunities for staff to get to know each other outside work.  These would include cultural food, dance and history. 
They introduced reflexology for staff to aid relaxation and reduce stress.  Staff can attend 45-minute sessions where they are able to relax and receive holistic advice to help build resilience. 
Phase 3 
In an effort to begin recovery from the early days of the pandemic, it was important to find new ways for staff to engage with each other in person, whilst improving their wellbeing and building relationships with the community. Developing social activities, such as the Dartford and Gravesham cricket team and a five-a-side football team, while being good for physical health, also increased team-building skills and most importantly, added fun.   
Phase 3 also focused on introducing a number of training sessions for managers, which sought to improve skills in having kind and compassionate conversations, raising awareness of unconscious bias, managing conflict and having good appraisals. These conversations build trust and get people to solve problems, understand and help people set goals around their personal health and wellbeing. 
The trust also introduced retreat days. Staff attend a retreat as a team, group or individual in Kent, which includes some reflective practice, forest bathing and support with sleep and rest. These have been transformational for staff and will continue. 
Funding for all three phases was largely from donations from NHS Charities Together and the local community.  
Results and benefits
One of the key priorities for the trust is delivery of high-quality care, but due to staff shortages the organisation had seen significant spending on agency staff in the last few years, which is often associated with poorer outcomes. Therefore, one of the key drivers of their new people strategy would be to reduce staff sickness and turnover by supporting staff, which would lead to better outcomes for patients. 
The introduction of a values-based interview process, supported by their inclusion ambassadors, has fundamentally helped to improve recruitment and retention of staff, resulting in a reduced vacancy rate, especially within the medical team. Staff engagement has also improved, as evidenced in the staff survey and demonstrated by staff who regularly make suggestions for improvements and are engaged in all major decisions the trust makes. 
Staff, both new to the trust and existing, are aware that their wellbeing is of utmost importance and comment on this frequently. Sickness levels due to stress have fallen below one per cent. Agency spending has been reduced and staff are genuinely happier at work and feel both their mental and physical health is supported. This is further evidenced by the successful introduction of over 50 wellbeing and engagement champions across the trust 
Conversations around mental health are no longer a stigma in the organisation. People are very open about talking and seeking help. The mantra has been "It's Ok to not be Ok".  Feedback from staff has been immediate, and long-term benefits have translated into improved staff survey results. Anecdotally, many people now say they joined the trust because they are aware of the success in staff morale and patient care. 
Alexandra Bode-Tunji, the trust's chief people officer, said: "How well staff are cared for by their employer is essential to providing holistic healthcare. Our wellbeing programme recognises the uncompromising compassion and commitment of them all and is designed to help them build up their levels of resilience and stay healthy in body and mind." 
Overcoming obstacles
Developing wellbeing champions sooner would have ensured greater awareness among staff of the help they could access.  
Takeaway tips
If your trust has one, engage with your wellbeing guardian and talk to your communications team about your plans. 

Ensure you have good mental health support provision that offers face-to-face support as well as confidential access.   

Remember to include offsite staff, night staff and those who work from home. 

Set up some psychological supervision for the team. Leading wellbeing can be exhausting and emotionally draining. 

Enjoy yourself and build in some joyous fun elements! 
Future plans
A trust-wide sports day is planned for the summer of 2022, which will be inclusive, allowing staff of all abilities to take part and have fun. 

Setting up a wellbeing social team to oversee more social events to support relationship building and inclusion.  

Further essential skills training for managers.  
The opening of a memorial wood for staff to have a place of reflection and remembrance for lost loved ones. 
Contact details
For further information about their work and objectives please contact Leslieann Osborn, Director of Wellbeing and Engagement, Dartford & Gravesham NHS Trust. Email: Leslieann.Osborn@nhs.net