Case Study
How we embraced the virtual world: Bridgewater Community Healthcare NHS Foundation Trust
Read how the trust marked 10 years to thank its people for their dedication during the pandemic.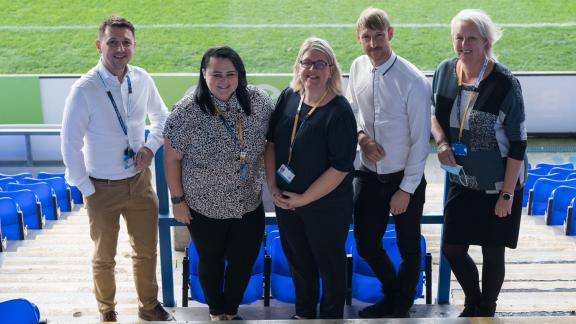 Overview
Bridgewater Community Healthcare NHS Foundation Trust (Bridgewater) marked its ten-year anniversary in 2021 using technology to host a successful virtual event. This provided a great opportunity to give thanks and to show appreciation to its workforce for the dedication and commitment shown throughout the pandemic.
What the organisation faced
Fatigue and low morale have been an issue for the NHS workforce throughout COVID-19. As a geographically dispersed community services employer of approximately 1,800 staff, the trust wanted to boost some much needed positivity back into the trust. Bridgewater used its ten-year anniversary milestone as an opportunity to actively engage with its colleagues. Through technology, this was an innovative way to not only thank staff for their response in handling the pandemic, but to sensitively celebrate a decade of providing local community and out of hospital care to the people it proudly serves in the boroughs of Warrington, Halton, St Helens and Oldham, as well as dental services in many areas of Greater Manchester, Cheshire and Merseyside.
What the organisation did
Although the Bridgewater workforce understood why the media spotlight focused greatly on acute providers during the pandemic, the trust realised it was a timely opportunity to remind its own staff about their key role within the NHS family during this turbulent time. As a way of thanking teams for their fantastic work during COVID-19, the trust felt it was also a poignant occasion to mark its ten-year anniversary by producing a joint celebratory event, albeit virtually.
The trust pre-recorded a one-hour, online session thanking colleagues for their contribution over the course of the pandemic. This 60-minute package included a bespoke animation (made in-house) of the executive team depicted as avatars reviewing the 10-year history of Bridgewater as well as them sharing their experience of COVID-19 and how it has impacted their day-to-day life. Staff were involved in the creation of this event throughout (all within COVID-19 guidance). Other footage was created remotely either using Microsoft Teams or recoded phone footage. The result was a true example of having to adapt and think outside the box.
As community services can often be overlooked, Bridgewater wanted to showcase the invaluable work its staff contribute to the community. This engagement activity was all about making sure staff were at the centre of the celebrations. View the event. 
In addition to the pre-recorded thank you event, the trust also created the '#TeamBridgewater virtual platform', to make the organisation even more accessible. This piece of creativity is a web-based virtual reality platform available on desktop, tablet and mobile, which takes you on a journey throughout Bridgewater, including staff members' achievements, photos and stories. Everyone in the organisation was in the creation of the platform by contributing to the content and suggesting what would or wouldn't work. Although the platform is currently an internal staff tool, there are plans to use this externally to help with onboarding, recruitment and training. View the virtual platform.
Results and benefits
A pulse survey was conducted and the following data was received: 
83 per cent of staff said the event made them feel valued as a member of the trust.  
86 per cent of staff said that the event gave a better understanding of the importance of community services in the NHS.  
93 per cent of staff said they would recommend the trust as a place to work. 
These figures show that staff are engaged, valued and enjoy working for the trust. As a result of the thank you and ten-year celebration event, Bridgewater has been successfully shortlisted for the 2021 Nursing Times Workforce Awards in the category, best employer for staff recognition.  
Overcoming obstacles
Bridgewater had never completed a project like this, so it was a new way of engagement for all staff involved. They had also never pre-recorded an all-inclusive staff event remotely, so learning how to use Microsoft Teams in this way was vital in ensuring it all ran smoothly and effectively. Technology has been a triumph in many ways throughout the pandemic with staff having to quickly upskill themselves to make the best out of it. This has been a true example of overcoming technological obstacles to the benefit of the organisation.
Key learning
It's about always making sure that staff are at the heart of everything you do. 

It's about being brave and not afraid to try new things. 

It's about making sure that staff have an active voice in your engagement activity. 

It's about creating inclusive engagement in order to join staff and teams together. For the trust, this was the creation of the #TeamBridgewater approach. 
Take-away tips
There are eight well known golden rules when it comes to successful communications and engagement. Bridgewater use these rules and would encourage others to adopt them:
It's about results and outcomes, not activity.  
Every conversation should begin with, what do we want people to do? If nothing changes as a result of your work, then why are you doing it? 
It's about the organisation. 
Whatever you want people to do, it should be rooted in the needs of the organisation. If you can't show linkage back, it's probably not adding any real value. 
We don't drive with our eyes shut. 
A professional that doesn't know their audience well, what they're thinking or how they might react will be of little use to anyone. 
People have two ears and one mouth – so should organisations. 
People feel more connected and committed in work when they feel they are in conversation. Communication and engagement that is a one-way broadcast isn't just rude, it's ineffective 
Come with data, leave with respect. 
Senior managers love facts and spreadsheets! If you want to make good communication and engagement decisions, you need to try and meet them halfway! 
They may not be the solution to our problems, but they hold the key to lots of answers. 
There is no one size fits all.
We're always told that some kind of technology or idea will totally transform staff communication and engagement. This is yet to be proven. 
Our job roles in communication and engagement put us in a privileged position. We get a chance to change things at work in both small and large ways. 
The above rules are taken from Fitzpatrick L and Valskov K (2014), Internal Communications: A Manual For Practitioners.
View the presentation that Bridgewater gave on this piece of engagement.
Contact details
Mike Baker 
Assistant Director of Communications  
Gill Jolley 
Staff Engagement Lead