Case Study
The importance of board-level support to achieve nursing oversupply
This case study looks at how HUTH achieved an oversupply of nurses and how it attracts young people to new types of roles.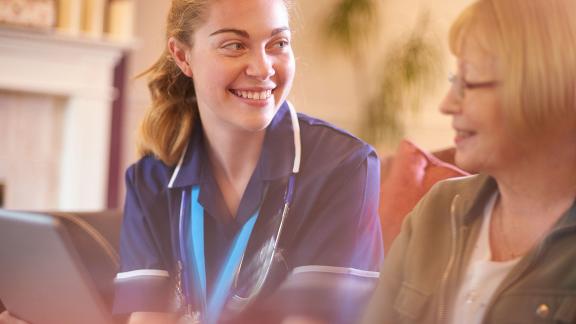 Five years ago, the executive team at Hull University Teaching Hospitals NHS Trust gave its support to develop and increase the trust's workforce through apprenticeships and international recruitment. By establishing links with local schools, Hull College and the University of Hull, and developing marketing and promotional materials, the trust has been able to reduce its nurse vacancy rate, and in September 2021 achieved an oversupply of nurses to help current teams fight the pandemic, continue to reduce the backlog of patients waiting for treatment and be better placed going into winter.  
Key benefits and outcomes
Reduced registered nurse vacancy rate from 8 per cent to 3 per cent.

Achieved an oversupply of registered nurses in September 2021.

200 international nurses joined the trust over two and a half years, with a 97 per cent retention rate.

40 more international nurses are currently completing their training and more are planned to join in November and December.

Innovative partnerships with Hull College for apprentice health care support workers, and the University of Hull for nurse degree apprentices and apprentice nurse associates that commenced in 2017.

Launched a new trust brand based upon staff feedback – Remarkable People, Extraordinary Place.

Improved staff experience by acting on staff survey results.  
What the organisation faced
In 2016, the trust recognised the need to increase its workforce supply. The workforce team was able to gain board support to develop a robust and attractive apprenticeship programme, supplemented by international recruitment.
Over the last five years, the trust has been able to attract and develop new talent. The board, realising its importance, placed workforce supply as a key organisational priority and funded the programme including additional salary costs.
In 2021, with winter pressures approaching, and more staff seeking to take time off due to increased workload following the COVID-19 response, the trust has been able to use its oversupply of nurses to support its workforce and changes in demand.
What the organisation did
The workforce team focused on securing senior-level support early on to develop a plan that focused on recruiting local people, developing current health care support staff to become registered nurses, recruiting overseas, and all being underpinned by a new trust brand.
As part of the new branding, the trust developed several Remarkable People, Extraordinary Place films, which capture staff talking about their lives and what it's like to work in the trust and live in the region. This focus on marketing helped the trust to stand out from others and sell itself as an employer of choice, which was reinforced by senior-level support. 
Over the last five years, the trust had approximately 250 vacancies to fill and had staff leaving every month. By developing a robust and attractive apprenticeship programme, the trust has trained and now employs 53 registered nurses via the nurse degree or nurse associate apprentice programmes, and currently has 59 in training with another 40 commencing later this in 2021. In January 2018, the trust started large recruitment campaigns that included job offers at the point of the interview if the candidates were deemed successful. Existing and new health care support workers who joined the trust as apprentices were also encouraged and supported in their training and development.
The trust focused on developing its relationship with local colleges and universities, which helped to increase the reputation of the educational institutions and attract a more diverse cohort of students aged 16-18 to different career pathways. The trust has also developed links with schools in areas of deprivation through a volunteers programme to drive interest in young people to all healthcare professions.
In parallel to domestic staff being trained and upskilled, the trust also looked at its international recruitment efforts. 200 international recruits have joined the trust over two and a half years, mainly from the Philippines. Newly arrived international recruits would be trained in a four-to-five-week period and then sit their Objective Structured Clinical Examination (OSCE). The trust currently has a 97 per cent retention rate of Filipino nurses, who bring with them a wealth of knowledge and skills, and hold the same values as the trust.
Results and benefits
By developing strong links with local colleges and universities, the trust was able to establish an early and continuous pipeline of young people that are trained and can progress and develop their careers. The trust offers a range of clinical and non-clinical apprentices every year. 
The executive team was very interested in developing the workforce through apprenticeships back in 2016. This continued interest allowed the workforce team to grow its own and has enabled the trust to have an oversupply of nurses.
The sustained focus on workforce supply has led to better staff experience and staff survey results have improved over the last five years. As a result of its efforts, the trust is over established by 30 nurses heading into winter.
Top tips
Involve the executive team and senior leaders, including the finance director to gain early support.

Articulate a compelling vision and consequences of not investing.

Develop formal links and partnerships with local colleges and universities to increase the number of nursing students and placements.

Engage managers and existing staff.