Article
Support information for international nurses and midwives
This page provides a collection of national resources and guidance to support your international nurses and midwives.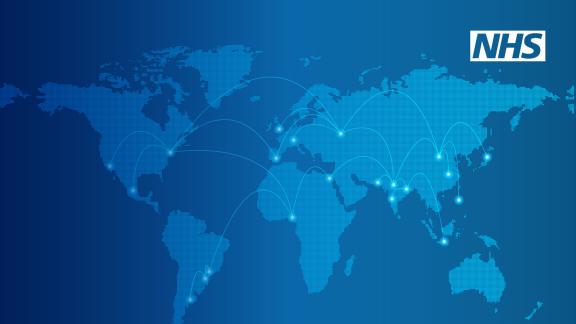 Nurses and midwives arriving to the UK from across the globe are faced with the challenge of adapting to working in the NHS and adjusting to a new culture. This guidance has been brought together by NHS England. 
Welcome to all our international nurses and midwives.
You are key to the NHS workforce and we're honoured to have you as part of the NHS family.
We recognise that coming into a new country is daunting and it can be difficult at times to know where to go for information. Here you will find some information to help you in your role.
Please be reassured your health is a priority. Alongside national guidance, your trust will have implemented a range of training, support and safeguarding to protect your health and wellbeing. We recognise and thank you for your commitment, and value your contribution to keeping our patients safe.
To all my international colleagues who come from right across the globe, I want to say thank you for joining us and for all that you do.

Ruth May, Chief Nursing Officer for England.
I would like to extend a warm welcome to all our international colleagues, we are so delighted that you have chosen to come and share your skills, experience and knowledge with us. Maternity care in England will be so enriched by you joining our team.

Kate Brintworth, Chief Midwifery Officer for England.
COVID-19 vaccination
Frontline health and care staff, including nurses and midwives, are encouraged to receive a COVID-19 vaccination. If you are not yet vaccinated, speak to your human resources (HR) team for support. 
Training and development
There are many training and development opportunities for nurses and midwives within the NHS. Once you have completed your Objective Standard Clinical Examination (OSCE) you can access training via your trust's learning and development department. Your manager and practice development nurses and midwives can also help you with developmental opportunities within your unit. If you are currently in the process of preparing for NMC preparation, your Trust and Regional IR Leads may be able to sign post you to materials that will help you prepare.
Health and wellbeing resources
There are lots of free resources and support available to help you look after your own health and wellbeing while looking after others. 
Read more about the NHS health and wellbeing programme and the support available. 
For advice about health and wellbeing services available at your trust or in your local area, speak to your line manager, occupational health or human resources (HR) department or your Professional Nursing or Midwifery Associates (PNA or PMA). You should receive this information as part of your local induction. Please refer to your trust's health and wellbeing guidance.
The Cavell Nurses Trust helps nurses, midwives and healthcare assistants, both working and retired, when they're suffering personal or financial hardship. This is often due to illness, disability, older age, domestic abuse and the impact of COVID-19.
Staff support networks
There may be networks in your trust or your local community which provide support around disability, religion (including chaplaincy services), ethnicity (including ethnic minority staff networks). You should receive this information as part of your induction, or ask your line manager to connect you with these groups. You may also want to connect with other nurses, midwives and professional groups outside your trust. Twitter and Facebook groups can be a good place to network and share learning.
You can find a list of international nursing associations at the end of this guide.
Risk assessment
Employers have a legal duty of care to protect their staff from harm, injury and illness, and to carry out assessments to measure the level of risk to their workforce. You will be asked to take part in a workforce risk assessment process.
You'll have opportunities to talk to your line manager or occupational health team about any concerns or anxiety you may have, and they will work with you to ensure you are supported to work safely. Please refer to your trust's guidance on risk assessments.
Redeployment
At times in the NHS, including during the COVID-19 pandemic, some redeployment has been required. It's important that nurses, midwives and healthcare professionals work together and flexibly to provide care and skills where they are most needed. If you are asked to volunteer to redeploy to another ward, department or role, talk to your line manager or team leader about any concerns you may have, and to find out what training, if required, will be provided.
Objective structured clinical examination (OSCE)
During induction at your new trust, you will be provided with information about training for, and taking, your OSCE. You will be supported throughout the process by a member of the OSCE team at your trust.
There are now five OSCE test centres with six locations.
NMC OSCE: Test of Competence 2021 - The Nursing and Midwifery Council 
Flexible working in the NHS
Flexible working arrangements help create a healthy work-life balance for employees and their families. The NHS recognises the benefits of flexible working, which include recruiting and retaining the best staff and reducing absenteeism and work-related stress. 
Some of the flexible working options that could be available to you include: 
part-time working 

flexi-time 

compressed hours 

job-share 

term-time working     

career breaks 

working

 from home

annualised hours.
All NHS employees in England and Wales have the right to request flexible working from day one of their employment and make more than one request per year.
If you would like to work flexibly when you arrive in the UK, ask your recruitment representative at the trust you are joining about how to do this.
For more information please see:
Support from trade unions
Trade unions for healthcare workers can support you in lots of ways, including providing access to legal services, immigration advice and other professional services. Contact your local union representatives to find more about the benefits of joining a union.
International nursing associations
The NHS is committed to inclusion, and values the diversity of all cultures. It is important you can connect with people who understand your culture, mindset and your journey and lived experience. We work with the following international nursing associations.