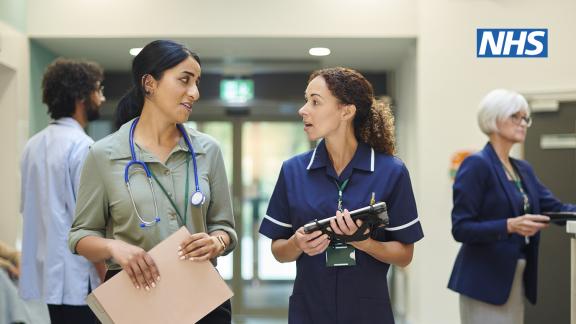 Sheffield Teaching Hospitals NHS Foundation Trust has a closed Facebook group which it encourages newly recruited international staff to use in the period between employment offer and starting at the trust. Read about this good practice in the International Recruitment Toolkit (page 43).

South Tyneside and Sunderland NHS Foundation Trust has developed a comprehensive welcome guide for its new international nurses, midwifes and allied health professionals (AHPs). The guide signposts to people who can help within the trust including practice education and occupational health. It also includes information on local places of worship, things to do in the local area, images of UK currency and tips on the local dialect.

Through effective ICS working, Surrey Heartlands identified that affordable accommodation was one of the key barriers to access for international nurses and launched a pilot project in July 2022 using an online platform designed to improve access of international nurses to affordable accommodation. Staff at Surrey Heartlands can advertise spare rooms available for rent in their property, with room prices capped below the area average to ensure affordability. As of February 2023, the pilot has provided affordable accommodation for 112 nights and continues to grow. The next phase of the project is to launch a free mobile app designed to increase the access of international nurses in Surrey Heartlands to pastoral, bespoke coaching, mentoring, mental and psychological support, signposting to affordable accommodations and services and information to support integration and improve personal sense of belonging in the workplace.

Royal United Hospitals Bath has created a managers guide to supporting international nurses. This guide enables the team members of each ward to understand the journey and role of international nurses joining the team. This also gives junior and senior sisters a brief summary of the clinical support, OSCE programme, and other relevant information needed to help international nurses.
University Hospitals Sussex NHS Foundation Trust has a robust induction and onboarding offer. New international nurses receive dedicated support from existing international nurses who ensure the nurses comfortably adjust to their new environment. Read the full case study to find out more.

West Hertfordshire Teaching Hospitals NHS Trust has partnered with a local charity providing services to the community. Through its community volunteer buddy scheme, the charity and the trust work together to provide one-to-one support to their international nurses, via a buddy system. Nurse buddies help international nurses to become familiarised with the local area, find local services, day trips, and offer support and guidance. Prior to joining the trust, international nurses are asked whether they would like a buddy (via a brief questionnaire) and then the trust works with the charity to pair them up with one. The nurse buddy will contact the new recruit once a week in a way that best suits both parties. The trust received NHS England's Pastoral Care Quality Award in 2022 for the quality of care and support provided for international nurses and midwives joining the trust.

Norfolk and Norwich University NHS Trust has an international recruitment buddy network. All buddies are volunteer international nurses who have obtained their NMC registration. New international nurses joining the trust receive information on the buddy network in their welcome packs. The network is also supported by the professional nurse advocate team and Freedom to Speak Up Guardians. Volunteer buddies are notified of international nurse arrival dates and new nurses' details are exchanged. The buddies will email the new nurses to welcome them to the trust and may also meet them at the airport when they arrive, at their accommodation or at their induction. The trust was also awarded NHS England's Pastoral Care Quality Award in 2022 in recognition of the quality of pastoral care it provides to its internationally recruited nurses and midwives.

In 2022 Newcastle upon Tyne Hospitals NHS Foundation Trust established an international medical graduate (IMG) office to coordinate the work of inducting and supporting IMGs. It revised the induction process so that every IMG, regardless of which directorate they join has the same experience. The induction covers a variety of key touch points starting from when an IMG is offered a role and sets out to give them as much information as possible from the outset.

First day kit: the trust developed its

first day kit

for IMGs to provide information specific to the trust and local area. A link to the kit is sent to new IMGs before they start so they can familiarise themselves before they arrive.

Virtual meeting: this is an opportunity for the IMG office to get to know the IMG on a personal level and what support they will need on arrival.

IMG buddy scheme: directorates are asked to identify a buddy for new IMGs, preferably someone who is an IMG who can help with some of the practicalities of settling into the UK. 

Induction day: new IMGs attend a face-to-face induction day which includes a welcome to UK practice programme from a GMC representative.  

Education supervisor: each IMG is allocated an education supervisor that meets with them within their first two weeks to start career discussions.

WhatsApp: a WhatsApp group offers an informal space for IMGs to get to know each other and build their network.
Sheffield Teaching Hospitals NHS Foundation Trust shares guidance with new recruits to support them with terms and dialect – both clinical terms that they may not be familiar with (for example nil by mouth), and a basic A to Z of medical terms, times and units. New overseas staff are also provided with some examples of local dialect to help overcome language barriers with other staff and patients as much as possible. Examples include things like 'brew' for cup of tea, 'nowt' for nothing and 'ta' for thank you.

The Leeds Teaching Hospitals NHS Trust has introduced cultural awareness training for leaders and managers of internationally recruited nurses. The training is designed to raise awareness of the importance and impact of culture in creating a sense of belonging as well as how this awareness can bring about positive outcomes. This training is delivered in conjunction with race equity masterclasses offered to nursing leaders and managers across the trust.

York and Scarborough Teaching Hospitals NHS Foundation Trust held a week of culture event that featured cultural dress, dance, food, poetry and art. It brought the workforce together to celebrate the Internationally educated staff that play such a key role in the organisation.

#StayAndThrive is a research in action programme which began as a pilot in the North East and Yorkshire and South West regions and launched nationally in November 2022.

Through a series of learning events, a community of action was formed with a collective mission to create the conditions where internationally educated colleagues feel a strong sense of belonging, can thrive in their personal and professional lives while progressing in their careers. The programme has had a positive impact across the two regions and as a result, the community is retaining more international recruits (leaver rates are below national average, January 2022).
Herts and West Essex ICS identified that across the system, some international nurses were not progressing into higher banded roles or were unprepared for NHS recruitment processes despite having the necessary qualifications, skills, and experience.

Supported by NHS England funding, the ICS created a Band 6 development coach role to support the career advancement of international nurses. The purpose of this role was to ensure a holistic approach to the development of the international nurses' experience, to help them to achieve their full potential, wherever that may be.

The success of this role has led to the appointment of three further development coaches in Bedfordshire, Luton and Milton Keynes ICS, Suffolk and North East Essex ICS, and Norfolk and Waveney ICS. The coaches are all qualified domestic or international nurses or midwives who have worked in the NHS, and they provide coaching and mentoring support for international nurses at any stage of their career, including induction. They discuss career development and help to unblock career progression barriers such as a lack of confidence, writing job applications or interview technique, to support their career aspirations.

Torbay and South Devon NHS Foundation Trust offers tailored career progression support for its international nurses. The trust listened to feedback from international nurses who were already working in the trust to understand why some were not progressing in their careers. For new international nurses joining the trust, it was important to understand their motivations and how the trust could support them to achieve their goals. Using this feedback, the team identified three areas of focus: skills, knowledge and showcasing capabilities to support career progression. Some activities include:

promoting the update of CPD to build knowledge

developing leadership skills through the trust's BME leadership programme, which is open to all staff groups across banding

delivering career progression workshops to discuss what roles are available in the NHS and share lived experience and career stories from existing international nurses.

Hull University Teaching Hospitals NHS Trust developed a 'grow your own' programme for international nurses in late 2020. The aim is to reduce workforce vacancies, promote the trust as a great place to work and develop career pathways for existing international healthcare support workers. The programme is supported from board to ward and helps the international healthcare support workers to qualify as registered nurses in the organisation. Six have now received their registered nurse status with more planned for in 2023.