Case Study
Improving staff experience and staff engagement at QEH
Learn how one trust has applied staff engagement techniques as part of its continuous improvement programme.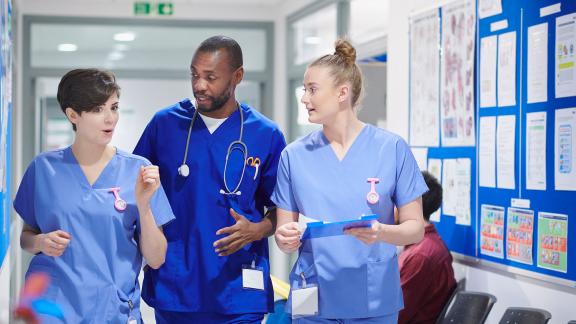 The Queen Elizabeth Hospital (QEH) King's Lynn NHS Foundation Trust is a rural district general hospital in West Norfolk. In 2019, QEH had the worst NHS Staff Survey results in the country. This case study explores what the organisation did and how it applied staff engagement methods to improve its NHS Staff Survey scores.
Key benefits and outcomes
QEH has been recognised as one of the most improved trusts in the country, recognising its exit from the recovery support system (previously called special measures).

The trust has been recognised as a national leader for its work on menopause and supporting staff.

Over 75 per cent of QEH staff know how to access and feel comfortable and confident accessing wellbeing services.
What the organisation faced
In 2019, the QEH had the worst NHS Staff Survey results in the country. As well as significant issues with culture – including rudeness and poor staff behaviours – there was an absence of communication and engagement with patients, stakeholders, and staff.
In 2019 the Care Quality Commission (CQC) raised the following concerns:
"[the trust]… must improve staff, patient and public engagement and communication…"

"Morale among staff was low. Staff did not feel supported and valued."

"…where staff felt able to raise concerns, they felt these were not always listened to or addressed."
What the organisation did
To lead improvements, QEH appointed a deputy chief executive officer with a background in communications and engagement and heads of staff engagement and culture.
The trust made available £100,000 for year one and £160,000 for year two from charitable funds to support programme delivery. Based on insight, and well-received engagement, the nascent staff engagement programme ramped up quickly. 
In 2020, QEH launched its corporate strategy with engagement and wellbeing at its core, with a new staff engagement and culture forum and a clear staff engagement programme focused on the top three priorities each year. Values-based recruitment, appraisal and induction were implemented, alongside behavioural standards, this is now know as The QEH Way.
The QEH staff ideas scheme, Room for Improvement, also enables staff to make meaningful improvements to their own work areas including applying for up to £2,500. Since 2019, £300,000 has been spent on over 130 ideas.
QEH strengthened staff engagement and support during COVID-19 including daily staff briefings, bulletins, and a COVID-19 intranet page, alongside a comprehensive wellbeing programme to support staff. To boost morale, QEH arranged for famous local chefs to cook for staff and created thank you walls displaying cards and messages of support.
QEH vastly improved the way it communicated with its staff and how the organisation made information available, including a dedicated site for staff engagement on the staff intranet, a new staff app, and an improved reward and recognition programme. 
The revamped Team QEH Awards has had record nominations year-on-year. QEH also introduced long service awards, Living our Values, and Team of the Week. Winners feature on the trust's wall of honour. QEH also recognises retirements, provides free food and drink to say thank you at multiple points in-year. The trust also expanded its Freedom to Speak Up Network. 
The QEH staff engagement programme is designed around three core themes – physical, emotional, and financial consisting of the following elements.
Physical health
Subsidised gym membership – for one year for all staff including banks staff and volunteers.
Know your numbers – a twice a month clinic for staff to attend for health checks such as BMI, cholesterol, diabetes and urine dip-stick.
Menopause – QEH gained accreditation with Henpicked as a  enopause friendly employer QEH added this into all of our job adverts, implemented a peri menopause and menopause policy, introduced menopause champions, and a once-a-month staff menopause clinic.
wellbeing incentives – promoted wellbeing days and ran promotional campaigns and competitions to spread awareness.
Emotional health
Staff psychology service – QEH employed aclinical psychologist, a counsellor and a post-traumatic stress disorder/cognitive behavioural   therapist to look after the emotional wellbeing of staff.
Mental health first aiders – trained over 20 staff to become mental health first aiders to offer support and signposting to staff requiring support at a lower level of need.
Wellbeing day – In 2020 all staff were given an additional one day of leave to take as a wellbeing day to support good mental health
Wellbeing guardian – QEH appointed a non-executive director as a wellbeing guardian, whose role it is to hold the organisation to account to the wellbeing programme in place.
Wellbeing passports – QEH introduced wellbeing passports for staff who require additional support to be their best self at work, recognising that staff work in different areas, and that this vital information should go with them to ensure support is continued.
Financial health
QEH introduced a wage and benefits monitoring system, which allows staff access to a percentage of their earnings as they accrue this, helping to prevent staff from going into an overdraft situation should an urgent cost arise.
Finance health clinic – QEH host bi-weekly financial health clinics run by an independent local advice service The Money Advice Hub, staff can either book an appointment or call in to gain advice and support no all aspect of financial health they are also able to issue food bank vouchers to staff.
Crisis loans - staff can apply for a loan of up to £1500 should an urgent need arise the money is then deducted back from their salary.
In recent months the trust has also increased overall support to help staff with cost of living pressures, such as discounted food/meal deals.
Impact
QEH measures the effectiveness of all of these measures as well as general staff experience via NHS Staff Survey, quarterly surveys, feedback pods, culture perception surveys and supplement with continuous evaluation. Local survey data indicate a positive impact in areas such as feeling supported by line managers.
Results and benefits
QEH has evidenced year-on-year improvements in staff wellbeing. Its February 2022 CQC report rated QEH as Good for well-led and core services inspected – taking the trust out of special measures.
The CQC identified that:
staff described an open and honest culture... interacted with patients… in a respectful and considerate way
patients said staff treated them with kindness
the Staff Engagement Programme is an extensive programme to maintain wellbeing of staff 
the trust had a vision for what it wanted to achieve and a strategy to turn it into action.
Overcoming obstacles
One of the main obstacles QEH faced was obtaining the finances to support this work. The trust's charitable fund committee recognised the impact on staff experience to patient care and funded the programme for two years.
Top tips
All roads lead back to leadership; the success of the programme does not sit within the staff experience team but with the wider organisation, managers take a huge part in its success and evolution.

Keep a temperature check on the organisation and evaluate to ensure you are still providing what is required.

Learn from others but also do what is right for your own four walls - don't think that what has been successful elsewhere will automatically be a success for you.

Use the National Quarterly Pulse Survey and NHS Staff Survey to help gather valuable date on effectiveness and make sure that you have key performance indicators that are easy to measure.
Further information
For more information, please contact Amanda-Jane Weir, head of staff experience and wellbeing at The Queen Elizabeth Hospital NHS Foundation Trust via AmandaJane.Weir@qehkl.nhs.uk.