Case Study
Local recruitment initiatives at North Cumbria Integrated Care NHS Foundation Trust
North Cumbria Integrated Care NHS Foundation Trust (NCIC) trialed local recruitment initiatives, creating opportunities for those living in Cumbria.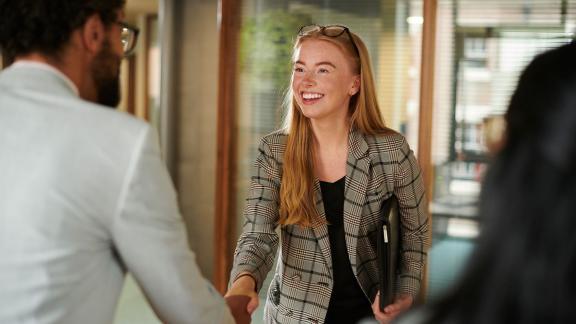 Overview
By creating working relationships with local partners and making connections across across the system NCIC has made itself more visible to its community which has helped to fill vacancies at the trust. NCIC has also worked with training providers to remove the barriers to entry-level applicants.
Key benefits and outcomes
36 entry-level posts filled in one recruitment drive.
Better understanding of the barriers to NHS jobs in its local area.
Increased visibility with local partnerships.
Personalised support for candidates.
What the organisation did
Jane Martin, anchor institution project manager at NCIC made the trust a visible presence with localised partners and the public by making connections with Job Centre Plus, social prescribers, councils, housing associations, community groups and charities. Organisations now approach NCIC directly to work in partnership to support individuals, who might not otherwise have access, on their journey into employment.
While initially resource intensive, local partners are now keen to host NHS recruitment days in the community. These days focus on recruiting local people into local jobs and explain to attendees how support from community is vital to the operation of health and care services.
The trust also runs an eight-week Step into Work course, which supports candidates to acquire their English and Maths Level 2 Functional Skills qualification and Care Certificate and also expedites NHS pre-employment checks. Candidates are then offered a bank role with the expectation that they transition into a health care support worker role not long after.
A recent recruitment drive in West Cumbria resulted in 36 entry-level posts being filled, which has significantly helped fill the trust's vacancy gap. To achieve this, the trust partnered with Job Centre Plus and training provider Inspira to remove barriers to entry-level applicants.
One-to-one support has also been essential for addressing workforce supply issues and allows Jane and her colleagues to understand the barriers to NHS jobs, for example, concerns over working hours and childcare. Eventually, this tailored support becomes self-perpetuating, with family and friends of successful candidates seeking out employment themselves.
Results and benefits
36 entry-level roles were filled in one recruitment drive.. 
The trust increased the organisation's visibility within the community by establishing strong connections with various local partners including Job Centre Plus, social prescribers, councils, housing associations, community groups and charities.
Local partners are now proactively approaching NCIC to collaborate on community hosted recruitment days.
Joint social media campaigns with partners led to a high number of applicants in a short period.
Take-away tips
When creating working relationships with partners across the system, it is important to work with colleagues at multiple levels in an organisation. Jane found that it was crucial to speak to those 'doing the doing' but also those who can enact change on a strategic level.
Some initiatives will incur a financial cost, however with the support of local partners, costs can be minimised or removed completely.
Influencing a change in attitudes across an organisation can be challenging. However, proof of successful initiatives encourages more colleagues to come onboard and share the success of these recruitment initiatives with others.
Social media can be a huge asset when engaging with certain communities as it is their primary method for accessing information and opportunities.
Contact information
For further information on this case study, please contact Jane Martin, Workforce Planning and Projects Manager, jane.martin2@ncic.nhs.uk