Case Study
Recruiting young people into the ambulance service with The Prince's Trust: South Central Ambulance Service NHS Foundation Trust
Learn how one ambulance trust has worked closely with The Prince's Trust to prepare young people to successfully apply jobs in the organisation.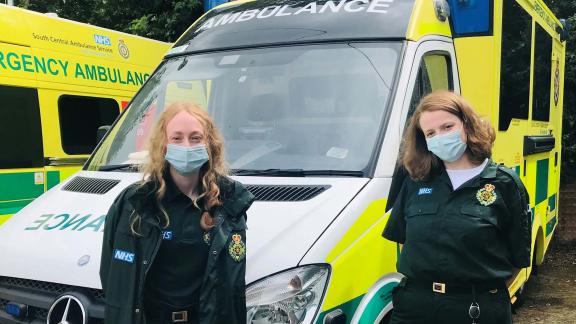 Overview
By partnering with The Prince's Trust and designing tailor-made pre-employment programmes, South Central Ambulance Service NHS Foundation Trust (SCAS) has equipped young people with the knowledge and confidence needed to gain a job within their organisation.
Key benefits and outcomes
Developed a tailor-made pre-employment programme which teaches young people about the values and attributes needed for working at the trust and prepares them for interviews. 
There is a reduction of myths regarding qualifications needed to work in the ambulance service.
Production of a career progression map to show the minimum requirements for each role in SCAS.    
What the organisation faced
SCAS discovered, through feedback, that many of its local young people misunderstood the roles and qualifications needed to work in the ambulance service.
The trust found that there was an increased public interest in working in the ambulance service, due to reality television programmes and the media coverage of the pandemic, but also observed that young people rarely got in touch after career promotional events at local colleges.
What the organisation did
The trust's digital recruitment advisor heard about The Prince's Trust at an NHS Employers webinar in September 2020. An initial meeting was set up between SCAS and The Prince's Trust to discuss how they could work together to build on the public interest for roles. It was recognised that the Prince's Trust pre-employment programmes could help provide a supported career pathway for interested young people, based on teachable skills as well as qualifications such as GCSEs.
The following actions were taken. 
To gain leadership buy-in, a partnership proposal was presented to the Executive Director Board. The board readily agreed to support the recruitment team to partner with The Prince's Trust. 
Recruitment and education teams dedicated time to review each element of the existing recruitment process, reviewing key areas discussed at interviews.
-    They asked themselves questions, such as 'what do we want young people to understand before they get to interview stage?'  
-    They adapted the programme to ensure that its content supported elements of the interview such as equality and diversity. 
-    For candidates who were unsuccessful at interview and aged between 18-30 years old, they provided a personalised rejection response and encouraged them to attend its Prince's Trust programme. 
-    They considered the time of day that young people were most likely to view social media items about recruitment and concentrated social media promotion about recruitment for those times, mainly in the evenings. 
Feedback from young people in other training programmes showed that they valued visual tools such as videos and small group discussions to engage with the content. SCAS used educational YouTube videos to engage young people and a new film was made internally by the education department to show what good and bad patient care looks like. 
It was agreed If a young person met the minimum requirements on their CV, they would be guaranteed a job interview for that role.
SCAS also holds live chats online which are dedicated to promoting a specific role within the organisation. Each chat includes a 30-minute presentation about the role and minimum requirements, followed by a 30 minute live question and answer session. These are promoted via Facebook, Instagram, Twitter, and LinkedIn.
The first 'Get Started' pre-employment programme was delivered by The Prince's Trust in April 2021 to seven young people. The three-day programme teaches young people about the values and attributes needed for the work and prepares them for interviews.
Results and benefits
SCAS has seen the quality and confidence of candidates for roles increase since beginning the Get Started programme. Jobs have been offered to all seven young people who completed the programme in April and candidates scored extremely well in interviews. The trust aims for successful candidates to proceed directly into training and induction courses and to progress from job offer to job start within 8-12 weeks.
Plans have been made to repeat the programme six times a year and link them closely to training and induction courses.
The trust has benefitted from working with The Prince's Trust and found that The Prince's Trust team:
•    shared SCAS's passion for recruiting young people
•    communicated exceptionally well
•    provided a flexible approach and made it work for the trust
•    reached a wide audience with its extensive networks of contacts
•    provided financial support to help young people achieve their C1 driving licence.
"The Prince's Trust team listened to our needs. They were keen to learn about SCAS and our specific requirements for new staff, they provided excellent guidance. We are now excited to be forming a new programme exploring where The Prince's Trust could help us within our own call centres across Bicester, Otterbourne and Milton Keynes."
- Laura Farrow, Senior Recruitment Advisor at SCAS.
 
Overcoming obstacles
Some of the candidates the trust met advised that they didn't think they would be able to apply directly to SCAS, as they just didn't think this would be possible. The Prince's Trust was able to reach out within its networks and promote the opportunities.
One obstacle was the requirement for the C1 element on applicant's driving licences, which can cost up to £1,000. The Prince's Trust was able to help and support candidates who had been successful from their interview with the funding to cover this element, which was a great incentive and helped these young people overcome a significant barrier. 
The trust encountered delays of candidates receiving the C1 entitlement on their driving licences due to the COVID-19 restrictions during the pandemic. Unfortunately, the C1 tests were reduced and a back-log of applications to the DVLA for all driving licences mounted. Candidates were also required to complete a medical examination before obtaining their provisional C1 which could only be provided by a GP or private provider. The Prince's Trust helped SCAS overcome these additional pressures of sourcing support for these candidates by undertaking their own tendering process, so they could nominate providers themselves.    
SCAS required a pool of 30 young people to attend each programme to feed into its training and induction courses. The Prince's Trust is working to achieve this number by using its far-reaching networks to encourage more young people to take part.
"Our Prince's Trust partnership is an excellent way to educate young people in pre-hospital emergency care, delivering this programme virtually provides a safe space for these individuals which inspires them to go further, get better and gain the confidence they need to grow. The core learning content covers a number of subjects we face every day within our service and ends with an overview of career opportunities available, including our new apprentice role.

No longer are we looking to fill jobs but start careers."


- Ian Teague, Assistant Director of Education at SCAS.
Top tips
Start conversations with The Prince's Trust a while before the first programme and prepare to change the content and format to suit your trust.
Start by recruiting into key roles but expect this to be slow and steady to begin with.
Commit time, or even a dedicated team, to follow young people on their journey into their roles.
Keep in contact with The Prince's Trust, they are the experts. Make sure you understand what The Prince's Trust can do for you. Hold monthly meetings with The Prince's Trust team to reflect on progress and make plans.
Work out your end-goal and work backwards. Look at the interview questions and ask 'what preparation and training do the young people need to help them meet the criteria?' Use the answers to adapt the programme content to meet your requirements.
Further information
For more information about the work in this case study, contact Laura Farrow, Senior Recruitment Advisor, South Central Ambulance Service NHS Foundation Trust at Laura.Farrow@scas.nhs.uk