Case Study
Supporting SAS doctor wellbeing at UHDB
Read our case study with UHDB that highlights a wellbeing event the organisation held for its specialty and specialist (SAS) doctors.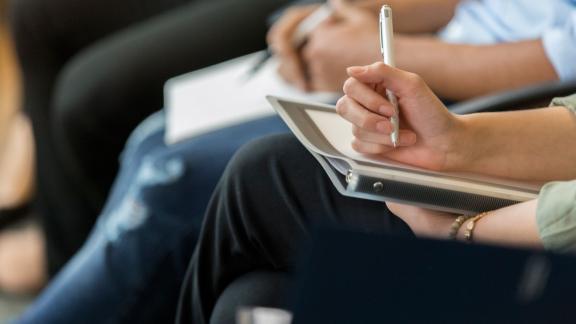 University Hospitals of Derby and Burton (UHDB) was the first trust in England to implement the SAS advocate role in 2021. A wellbeing event was held in March 2023, specifically for SAS doctors to help support and empower the workforce. 
Key benefits and outcomes
Demonstrated the importance of SAS doctors in additional roles.

Supported and raised awareness of SAS doctors.

Encouraged honest conversation between staff groups.

Helped stakeholders understand SAS key objectives.
What the organisation faced
Dr Gauri Sankhe was appointed SAS advocate in 2021. She wanted to promote a high standard of health and wellbeing for SAS doctors and demonstrate to the SAS workforce that the organisation is committed to improving doctors' experience and sharing best practice.
The SAS advocate role is key in maintaining strong levels of engagement and collaboration among SAS staff and provides a mutual benefit for all, including employing NHS organisations.
What the organisation did
Dr Sankhe organised a wellbeing event for SAS doctors. The event took three months to organise with a small team that included a SAS tutor and Mr Ajay Bajoria and Lara Raworth from the medical directors office. They worked together on planning resources for the day and arranging talks from internal and external stakeholders.
The tripartite came together three times a week in those three months to discuss progress and any potential obstacles. They worked on forming the agenda and liaising with stakeholders and took some inspiration from other regional SAS events. This event was slightly different to the regional events as it had a more local approach and the trust's job planning lead and freedom to speak up guardian were among those giving talks on the day.
The topics included presentations on belonging and inclusion, SAS job planning, discussions on an alternative career pathway and freedom to speak up. A health and wellbeing workshop was held during the day where members of the health and wellbeing team provided resources and spoke about support pathways. There were some interesting conversations about easing the pathway for doctors to obtain help, especially after adverse incidents and how to better support neurodiverse colleagues.
Overall, there was talk about paradigm shift regarding the SAS grade in the NHS as a whole.  The British Medical Association (BMA) gave its view on the future of SAS and the specialist workforce, and the medical directors office announced that it will extend support to include SAS in departmental level leadership.
To ensure that everyone had the opportunity to attend it was agreed that SAS doctors would be released from clinical duties where possible.
Support for the event was received from board level which was reassuring and demonstrated that management recognises the valuable work of SAS doctors. Dr Kathy McLean, Chair of UHDB opened the event and continues to advocate for SAS doctors.
Results and benefits
The event was attended by 51 SAS doctors and gave individuals the opportunity to discuss topics and share any personal experiences in a safe, supportive and welcoming space. After the event, the medical director's office saw an increase in queries relating to job planning that showed the face-to-face contact was beneficial in enhancing the working relationships across departments. Doctors felt empowered to speak up during the event and it has opened the dialog to improve processes going forward.
Formal feedback was collated after the event with most attendees being satisfied or very satisfied with the content, delivery, and relevance of each topic. All attendees agreed that the event met their expectations and suggested topics for future events. This has helped provide the organisers with clear objectives when planning next steps.
Overcoming obstacles
Although SAS doctors were allowed to be released from clinical duties to attend the event, it was highlighted after the event that some managers were not aware of this. When planning a future event, the team aims to increase their communications to ensure all do have the opportunity to attend if they wish.
Take-away tips
Take full advantage of your position. Lead the way to carve change within your organisation to improve the working lives of staff.

Having honest and transparent conversations with your employer helps them to understand your goals and gain support to help you achieve those goals.

You can respectfully educate, challenge and facilitate change within your workforce.

Work towards SAS inclusion in departmental leadership.