Conference
Deaf and hard of hearing gathering for health and care colleagues
In March 2023 we held the first ever national gathering for deaf and hard of hearing NHS colleagues.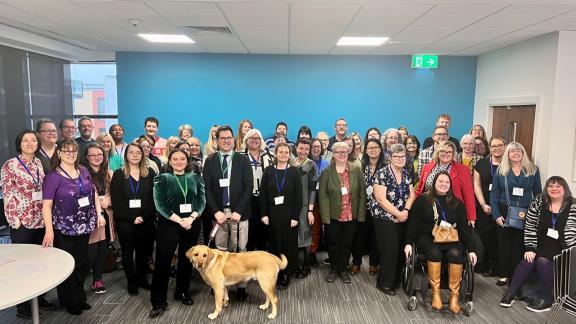 This event, run in partnership between NHS Employers and NHS England, provided a safe space for deaf and hard of hearing health and care staff to come together, to connect, share and discuss inclusion in the workplace. 
1 in 6 adults in the UK are affected by hearing loss. The pandemic brought into focus some of the many challenges facing our deaf and hard of hearing colleagues. This event provided an opportunity to explore some of the current challenges, and to share progress and good practice.
Our aim is to create working environments where our deaf and hard of hearing workforce are empowered to thrive, in line with the NHS People Plan and People Promise.
Key messages
During the session, attendees told us about the need to improve the deaf staff experience in the workplace. There was a general feeling of isolation, frustration and many instances of workplace discrimination shared.
There are simple things that can be done that would make a lot of difference in a short timeframe.  This includes the need for NHS leaders to support the delivery of deaf awareness training for all NHS staff.
In addition, attendees flagged the value that staff networks, workplace adjustments and career development opportunities can bring to help our deaf colleagues feel more supported in their roles. 
We also discussed the idea of establishing a national platform or network for deaf and hard of hearing colleagues. Attendees thought that this type of platform or network would be helpful in allowing staff to connect and support each other and amplify collective voices. Also to share useful information and to help with problem solving and signposting.
Matthew James, head of equality and inclusion and head of retention for the North East & Yorkshire at NHS England said: "This is the first time we've opened up a dedicated face-to-face forum for people working in health care who are deaf or hard of hearing, so we as a workforce better understand the often-hidden needs and barriers that those staff can face, in our efforts to make the workplace inclusive. We also heard about their leadership journeys and qualities that support deaf patients too." 

Sussex Partnership Foundation Trust's Emma Mendes da Costa, who has profound bilateral hearing loss, said following the event, "My wish list is more events like this, more opportunities to connect with each other, but also more national support for deaf staff." 
What next?
Based on what we heard from attendees during the event, several things are happening:
NHS England Equality Team are committed to reviewing the evaluation and outputs from the meeting and aligning these to the NHS Workforce EDI implementation Plan.
NHS England are considering including specific references to EDI for deaf and hard of hearing people in the new EDI improvement plan, around areas such as accessibility at all stages of recruitment.
NHS England Chief Nursing Officer is considering the asks around British Sign Language training and deaf awareness training, beyond the undergraduate curriculum for nurses.
NHS England, working with colleagues in NHS Employers and other similar national networks across the health and social care system, will explore options for establishing a national deaf and hard of hearing network. The aims of this network would be to bring together deaf and hard of hearing staff who see themselves as having a leadership role; and bring about a social movement for deaf and hard of hearing members so they can connect and be empowered to make changes happen in their workplace. 
For further information email diversityandinclusion@nhsemployers.org