Webinar
Nursing associates in community and mental health settings
This webinar featured employers discussing how they have scaled up the nursing associate role in community and mental health settings.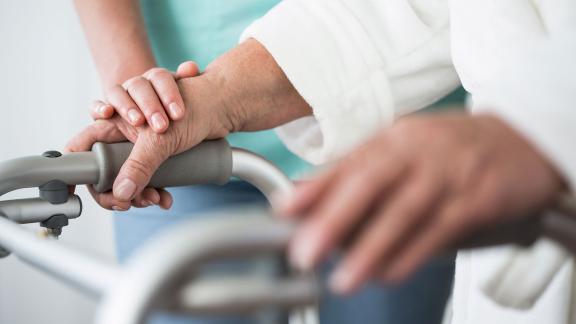 This webinar recording is an opportunity to hear from employers who have been using the nursing associate role in community and mental health settings. Our speakers share the successes of the role and how they support nursing associate colleagues during their training and when qualified.
This is the fourth in our series of webinars celebrating nursing associate colleagues and how the role contributes to the NHS workforce supply. 
Speakers
Caroline Llewellyn, Head of Nursing and Angie Astley, Head of Workforce Planning and Transformation, shared how they have introduced the role at Midlands Partnership NHS Foundation Trust as part of their workforce planning strategies and how the role has been embraced across a variety of services.
Jo Pollock, Preceptorship and Professional Standards Lead

and Myra Whiskar, Apprenticeship Lead,

shared how they train nursing associate colleagues in collaboration with other North Central London partners at Camden and Islington NHS Foundation Trust and the progress they have made with scaling up the role since they were one of the national pilot test sites for nursing associates.
Download the webinar slides:
Watch the recording below. We have also added some questions and answers below that were asked during the session which we did not have time to answer.
Questions and answers from the session
Is it possible to have a link to the recordings for the other nursing associate sessions you've run please? 
Yes, you can find recordings of the deploying nursing associates in different settings webinar and nursing associates administering drugs and IV. 
Questions for Caroline and Angie:
Interested to know more about Court Liaison & Diversion nursing associate role - have come across resistance from services similar to these? The role often focuses on assessment and evaluation and has been difficult to map this to Nursing and Midwifery Council (NMC) platforms for nursing associates. 
Awaiting response from the Court Liaison & Diversion services. 
What was your solution to the maternity leave issue? 
We continue to pay at NHS terms and conditions (Agenda For Change) band 3 for the duration of the maternity leave. 
When deploying band 4 nursing associates did you do so into band 5 nurse posts, therefore losing band 5 nurse posts? 
Each ward or department will review their budget/establishment and determine what skill mix will be required; some have lost healthcare support worker posts, others band 5 posts and added nursing associate and band 6 roles. It is led by the team manager. 
The higher education programmes are full-time over two years and in order to support the staff fully the commitment is enormous. Do the panel think that there is any merit in a longer top-up programme so that the staff are not lost to service full time at band 4? 
The trainee nursing associate (TNA) apprenticeship programmes are split between work and university; not sure how extending the process would be beneficial. The registered nurse degree apprenticeship requires supernumerary status (NMC stipulation) and if the programme were to be extended to include part student nurse/part nursing associate role it could be challenging to slip from one role to another. We have had experience of this approach with the Open University and some of our staff found it quite difficult to have a clear identity. Having a central budget for supporting these individuals to top up to registered nurse definitely helps. 
You had an assistant practitioner role in your slide - what were you going to say about that? 
The assistant practitioner role in nursing is no longer being supported (for new courses) as we are focusing on the Nursing Associate role. All existing assistant practitioner's in nursing are offered the opportunity to do a 12 month top up to nursing associate and we have 10 going through that route. Some staff have decided to stay in role and not top up, and the role is still valued. We are clear on the differences between the two but recognise some overlap. 
Questions for Jo and Myra:
Have you been able to retain your nursing associate workforce? 
We have been able to maintain the small number we have since 2020. Three of these are currently being supported to undertake their registered nurse top-up with mental health nursing. We have another five who have just graduated and we have been able to retain four of these. The other has gone to a GP surgery within the North Central London partners group. 
How did you go about educating the staff and management about the new role and where it fits with the team's established roles? 
Ongoing process but have done presentations on the trainee nursing associate training, their scope of practice while training as well as the nursing associate role when qualified and scope of practice. Have 1:1 meetings with managers as well as seniors and use line management to raise with the Executives and have presented to trust-wide meetings. I think until all teams work with nursing associates, it will continue to require input to answer any questions, to problem solve how they can fit within the team and to assist with identifying what roles they can undertake and the level of supervision they may need. 
Have you qualified NA's taken on any roles related to the Mental Health Act (i.e. reading Section 132 rights) 
This isn't possible at the moment as the Mental Health Act is prescriptive with their definition of who can undertake this role. I do think it needs greater clarity going forward and, with an expanding Nursing Associate workforce, this will need to be reviewed and a conversation started with the body responsible for the Mental Health Act. 
We are interested to hear how you are managing the cost pressures for the registered nurse top-up apprenticeship due to amount of release time / supernumerary time required, as have found this difficult to manage. 
We are working with a 60/40 split – 60 per cent supernumerary and 40 per cent in numbers. We have access to funding currently although this has not been agreed to be continued past this first cohort. We used to second staff to complete training which we no longer do so this pathway has replaced that. It is a cost pressure but the Trust is clear on its remit to support the development of its own staff.