Conference
Supporting talent pipelines in the NHS
Join our free online workforce supply conference taking place Wednesday 7 September to understand more about supporting talent pipelines in the NHS.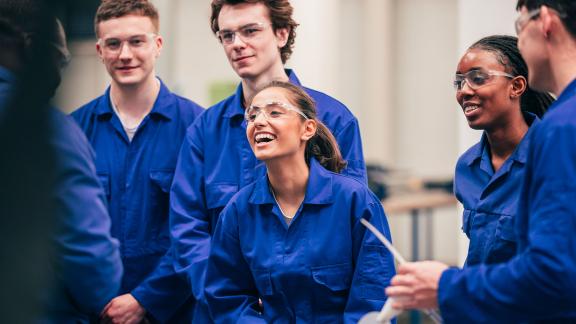 The wide range of sessions offer an opportunity to hear from speakers from across the NHS and wider health system to share their good practice and experience with others, building on the topics discussed last year.
Why should you attend?
The aim of the day is to provide an opportunity for delegates who can influence strategy and drive change, including HR, workforce, education, OD and learning leads, to hear about some of the different approaches available to strengthen workforce supply.
These ideas are actions that organisations across the system are taking to meet commitments in the NHS People Plan and Levelling Up White Paper, including topic areas of growing your own workforce, inclusive recruitment and developing skills to encourage employers to think about how they may apply these locally and the impact this could have.
Conference agenda
There will be 12 sessions with up to 30 speakers across the day split into speakers on the main stage and breakout sessions. Our speakers will share how they are supporting the workforce supply agenda.
9:30 - 10:00

Virtual event open

Explore platform and build agenda

10:00 - 10:40

Chairs welcome and sharing apprentice's experience

Daniel Mortimer, Chief Executive NHS Employers

Harry Hannaford

Eleanor Mears

Welcome to the conference and housekeeping. In this session we'll hear from two Trainee Nursing Associate's about their apprenticeship experiences in the NHS and their plans to develop from their role to Registered Nurses.
 

10:40 - 11:20

The UK labour market and using data to inform local recruitment strategies

Caroline Waterfield, Director of Development and Employment at NHS Employers
Tony Wilson, Director of Institute for Employment Studies

We will explore data through the Institute for Employment Studies to look at the recent shifts in both local and national labour markets, and how this impacts on recruitment and retention in the NHS. As well as considering how to prepare responses to current trends with both short and long-term solutions.

11:20 - 11:30

Break

11:30 - 12:30

City wide approach to T Levels

Kate O'Connell, Director of Leeds Strategic Workforce & Health and Care Academy

Gina Yates, Head of Careers, Work Experience and Progression at Leeds City College

Kirstie Kohling, Assistant Principal at Notre Dame Catholic Sixth Form College

Jude McKaig, Operational Manager at Leeds Community Healthcare NHS Trust

Allie Varley, Senior Project Nurse at Leeds Teaching Hospitals NHS Trust

In this session the speakers will present as a collective to reflect the collaborative nature of their T Level project which is delivered in health and care across the city of Leeds.


Leeds Health and Care Academy will be joined by two of their education providers to share how they work together to deliver the T Level across Leeds and two local employers will join that hosts industry placements to these students.
 

Developing the non-clinical workforce

Ben Falk, Director of Operations at Guy's and St Thomas' NHS Foundation Trust

Caroline Lowe, Workforce HR System Manager at NHSE/I

Guy's and St Thomas' are investing time and resource in developing non-clinical staff through raising awareness of this staff group within their workforce. They will share details of their Love Admin campaign they run and the impact this has had.


NHS England and NHS Improvement have launched the Estates and Facilities Apprenticeship Challenge with Health Education England, which sets the ambitious target of 1,000 new apprenticeship starts. They will be sharing how they are supporting employers to reach this target.
 

Recruiting from your local community

Lisa Banton, Assistant Director at NHS Employers

Ciara Luscombe, Programme Lead at NHS Employers

Angela Barker, Office for Health Improvement and Disparities

Hannah Vincent, Widening Participation Manager at Northern Care Alliance NHS Foundation Trust

This session will be a good practice webinar for practitioners outlining the Health Anchor principles for inclusive recruitment and health improvement with resources that will support recruiting from your local community.


Office for Health Improvement and Disparities will share how to use local data for maximum impact in inclusive recruitment and Northern Care Alliance will demonstrate good practice in how they adopt these methods to recruit care experienced young people.
 

12:30 - 13:00

Lunch

13:00 - 13:40

Workforce redesign in the ambulance service

Claus Madsen, Associate Director of Education & Organisational Development at Yorkshire Ambulance Service NHS Trust

Gavin Austin, Senior Programme Lead, Yorkshire Ambulance Service NHS Trust

Yorkshire Ambulance Service has been leading the way in developing new ways of working to meet their organisational systems to develop and retain staff. They will be sharing details about their pilot project on rotational paramedics across the system, how they have developed this and will share experiences from the frontline.

13:40 - 14:20

Flexible apprenticeships across an ICS

Ruth Auton, Head of Learning & Organisational Development, Northumbria Healthcare NHS Foundation Trust

The North East and North Cumbria Integrated Care System (ICS) has recently been awarded flexible apprenticeship status, which is one of only 15 organisations to be selected and the only health and care system in the country to receive this. They will share their plans to roll out this new flexi-job apprenticeship scheme across the system this year.

14:20 - 14:30

Break

14:30 - 15:30

Young people and career engagement

Kelly Turkhud, Vocational Education Manager at Doncaster and Bassetlaw Teaching Hospitals NHS Foundation Trust

Kat Millmore-Davies, Education Outreach Worker at Solent NHS Trust

Doncaster and Bassetlaw will be introducing their Foundation School which aims to widen participation of young people from the local communities to ensure the Trust has a pipeline for future growth, which will in turn have a positive socio-economic impact and health benefits.


Solent have been proactively engaging with young people through education outreach. They will share their approach to how they engage with local schools and colleges about the vast array of careers in the NHS.
 

Staff development and retention

Liavel Vargas, Practice Development Lead at Nottingham University Hospitals NHS Trust

Emma Wadey, Deputy Director of Professional Nurse Advocate Programme at NHSE/I

Dawn Grant, Higher Development Programme Lead at HEE

Anita Esser, Head of Education at University Hospital Southampton NHS Foundation Trust

Nottingham University Hospitals have developed a rotational preceptorship model for newly qualified registered healthcare professionals. They will be sharing how they have developed this and how it has supported retention and career progression opportunities for staff.


NHS England and NHS Improvement will be sharing details of the Professional Nurse Advocate programme available and how this supports retention of nurses in their career.


The Higher Development Award is a personal development programme for support workers that enables clinical and non-clinical support workers to develop their skills and knowledge. Health Education England has funded this successful programme across London for a few years and this is now being rolled out nationally. They will share successes of the programme in the South and how others can get involved.

Recruitment initiatives to fill workforce vacancies

Duncan Armfield, General Manager Training and Education at Wrightington, Wigan and Leigh NHS Trust

Steven Colfar, International Recruitment Lead at Wrightington, Wigan and Leigh NHS Trust

Cate Morgan, Professional Development Lead Nurse at Cambridge University Hospitals NHS Foundation Trust

Debi  Andrew, AHP Strategic Workforce Lead at Cambridgeshire and Peterborough NHS Foundation Trust

Wrightington, Wigan and Leigh will be talking about their approaches to recruiting international midwives. They work as part of a North West collaboration to fill vacancies with international recruitment and will share the challenges they have faced and how they overcome these.


We will then have two trust perspectives from the East of England on how they support healthcare professionals to return to practice. Cambridge University Hospitals will discuss the employer led model to recruitment they have taken to successfully recruit return to practice nurses and midwives for years and Cambridgeshire and Peterborough is joining to share what they do from an allied health professional perspective to support individuals back into registered roles regardless of whether this is in their trust or the wider health and care system.

15:30 - 15:35

Break

15:35 - 16:15

Levelling up as an anchor institution

Michael Wood, Head of Economic Partnerships at NHS Confederation

Kevin Garrod, Anchor Programme Manager at Mid and South Essex NHS Foundation Trust

NHS Confederation colleague will run through the key aspects of the Levelling Up white paper and Mid and South Essex will share the development of a Youth Partnership programme to scale up activity to help improve pre-employment opportunities for young people, in particular those from disadvantaged backgrounds.

16:15 - 16:30

Closing remarks

Daniel Mortimer, Chief Executive NHS Employers

Chairs closing remarks for the conference and round up of the sessions. 
Feedback from last year's event was overwhelmingly positive and we look forward to welcoming new and familiar faces to the next conference in September. 
How to book
'It was empowering to hear the speakers deliver the content of their talks with such enthusiasm and belief in what they had achieved and that it has, and is, making a huge difference. The conference gave me a renewed sense of direction for leading on similar projects.'
- Conference Attendee 2021