Article
Anaesthesia associates
Information for employers on the anaesthesia associates practitioner role and how it fits within the NHS.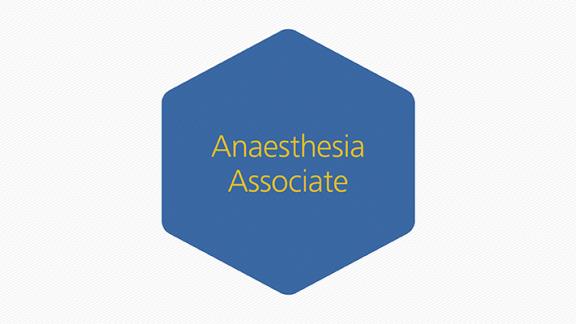 More information on the anaesthesia associates practitioner role, including what training and qualifications they have and how they work within the NHS.
What are anaesthesia associates?
The anaesthesia associate (previously known as physicians' assistants (anaesthesia) (PA(A)) role was first introduced in 2004 and is now established within many NHS hospitals. These are highly trained and skilled practitioners that work within an anaesthetic team under the direction and supervision of a consultant anaesthetist.
What can anaesthesia associates do?
The role encompasses pre-, intra- and post-operative care. Under the direction of a consultant anaesthetist, the anaesthesia associate may participate in:
assessment of patients before the operation to check their health
discussion pre and post-operative care
planning of anaesthetic care for patients (to be agreed with the consultant anaesthetist who oversees and is responsible for patient care)
delivery of anaesthetic or sedation under the supervision of a consultant
assessment of patients after the operation to ensure that they are recovering well
resuscitation in case of emergency.
Some employers train experienced anaesthesia associates to perform nerve blocks or other monitoring procedures for some operations (this is subject to local agreement).
What training and qualifications do anaesthesia associates have?
Anaesthesia associates have completed the Postgraduate Diploma at the University of Birmingham. The programme is studied over 27 months, full-time which includes 24 months of academic study and clinical training, followed by three months of supervised practice.
The course comprises 12 modules which introduce trainee anaesthesia associates to the clinical practice of anaesthesia, applied physics, the anaesthetic machine and monitoring principles.
To enrol on an anaesthesia associate programme, students must already hold an undergraduate degree, usually in a biomedical science field or have at least three years of clinical experience gained in theatres.
How do anaesthesia associates fit into the NHS workforce?
The introduction of anaesthesia associates is a viable way for employers to maintain and enhance services. They also enhance the working lives of other members of the perioperative team by freeing them up to work outside of theatres.
Further information
We have published an infographic  a case study from the Northern Care Alliance NHS Group, a case study from Aintree University Hospital NHS Foundation Trust  highlighting the key things employers need to know about the role.
Access a webinar about anaesthesia associates.
You can also watch our film below for an introduction to the role.