Video
Candidate Monitoring System demonstration and FAQs
A demonstration of how the system works, FAQs and the data sharing agreements needed.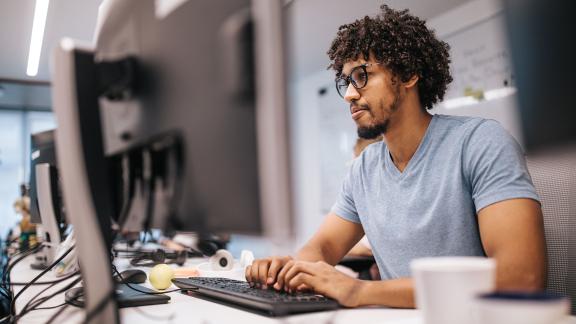 We held this webinar to demonstrate the Step into Health candidate system, which all organisations pledged to Step into Health have access to once they have returned a Data Sharing Agreement.
Use the system to contact interested candidates from the Armed Forces community.
The webinar speakers are:
Chair: Olivia Desmond, Step into Health programme, NHS Employers
Stephen McCarroll, Cite digital agency
Rob Stead, Data protection manager, NHS Employers
Download a copy of the webinar slides:
To take forward your ongoing commitment to Step into Health we ask you to review the documents below and return the Step into Health Data Sharing Agreement and the pledge certificate. We will then grant you access to the system.
For a full overview of the Candidate Monitoring System, see our user guide.
Answers to questions asked during webinar
Users invited to sign up to Step into Health must complete the registration form before their details are saved. If a user ignores the invitation email and does not register within defined period the system will delete their details.

No, the system is only intended to be used by persons over 18 years old, specifically those in the adult armed forces community and NHS staff. 

Yes – to go alongside the launch of the tool we have a full comms plan to promote within the Armed Forces community. Any messaging via social media routes or websites can be shared by all employers.

The tool will enable us to track where members of the Armed Forces community heard about Step into Health.

Yes – we have engaged with them throughout the design process to ensure the tool meets their needs.

Currently we are not exploring a link to TRAC/NHS Jobs as the majority of the interventions recorded by our tool will cover the pre-employment side of a candidates journey. Once they apply for roles and are offer TRAC/NHS Jobs adequately cover this.

Yes – once we have organisations returned pledge certificates and data sharing agreements we can send these over.

We will be spot checking the information provided by those registering with the tool. The questions asked at registration plus our comms messages should limit this from happening.

It is not uncommon for joint controllers to have different legal basis. I mentioned the example of police and local authorities to use CCTV images for different purposes. NHS Confed will use legitimate business interests.

A ghost account is defined in the DPIA (describe scope of processing). A ghost record is snapshot of a user who has been registered on the system at some point but contains no identifiable or personal information. The ghost record only contains information that supports reporting purposes such as whether the user took part in a work placement or fulfilled a position within the NHS. This is to ensure the system is only storing relevant information on users, while anonymising personal data.

(Privacy Notice) This is standard wording on NHS Confed websites. Unless the NHS Confed was acting as an employer it is unlikely that there are any legal requirements.

The NHS Confed privacy notice is specific to this website. I would expect that your own recruitment privacy notice will describe how candidate data is processed.

A subject access request is a requirement of data protection legislation. The subject is requesting to see all the data that may exist, not just that on the tool, an organisation holds.

We will have a code of conduct attached to the tool, guidelines for employers to operate within. As the NHS operates under a culture of respect we would hope that all comments would have a constructive nature. Any inappropriate comments can be reported to the NHS Employers team.

Yes – you will be able to quick register people onto the new tool as shown in the demonstration. All data of outcomes that has been provided to NHS Employers historically will also be added in.

The website functionality will not change. Information days will still be able to be advertised but we are looking to enhance the careers information available to potential candidates.

Yes, as part of the registration process we will ask them to agree to their data being shared and how it will be used.

The single point of contact will be using the system and ensuring the data sharing agreement is being followed. They can sign on behalf of the employer as long as that follows the employer's processes.