Article
Care certificate
The care certificate aims to equip health and social care support workers with the knowledge and skills needed to provide safe and compassionate care.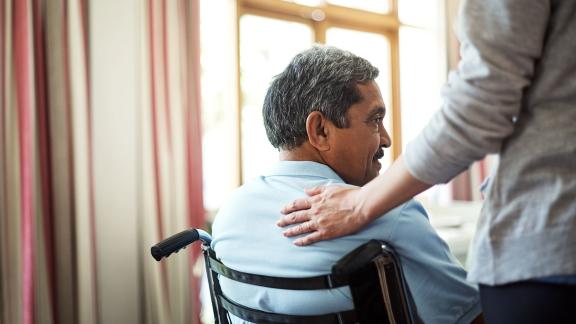 Launched in March 2015, Skills for Health, Skills for Care and Health Education England worked in partnership to develop the Care Certificate, which was developed as part of the Cavendish Review.
The Care Certificate is aimed at equipping health and social care support workers, including healthcare assistants, assistant practitioners, and nursing associates with the knowledge and skills which they need to provide safe and compassionate care.
To do this, individuals will need to complete the Care Certificate within the first 12 weeks of beginning the process and meet all of the 15 care certificate standards (pdf).

Each standard is underpinned by a learning and assessment criteria, and include topics such as duty of care, working in a patient-centred way, and communications.
Many employers are now offering the care certificate as part of their apprenticeship programme or T Level industry placement.
Accelerated Care Certificate
To meet the needs of staff as a result of the COVID-19 pandemic, the Accelerated Care Certificate takes a blended approach to learning and uses a mix of existing e-learning resources and practical competency-based learning. Due to the demands of the pandemic, the Care Certificate will be accelerated to deliver an induction programme and training for colleagues, while maintaining the high quality of the qualification. You can access the Accelerated Care Certificate e-learning programme, through an account with e-learning for healthcare (e-LfH).
Resources and further information
For more information on supporting you with delivering the care certificate in your organisation, there are a number of resources available on the Skills for Health website, including e-learning packages.
The NHS Electronic Staff Record (ESR) also has a range of tools and functions which enable employers to enter, store and analyse historical and current information about their workforce- including information on the Care Certificate. Access the ESR website for some practical suggestions about how to manage this process.
Other organisations, such as the National Skills Academy for Health and National Numeracy Challenge have also developed resources to support employers to deliver the care certificate.
Skills for Life and Functional Skills
Health Education England (HEE) has created this toolkit for employers (PDF) to help assess and understand the current learning levels of their support workforce and signpost them to the most appropriate resources to meet their individual learning needs.
There is a range of resources available to help develop your support staff on the Skills for Health resources page which extend beyond English and Maths skills to include ESOL, ICT and digital literacy, and other work skills.
From April 2020, HEE is also funding access to bksb software that supports Functional Skills learning for 1 year. The learning can support the development of maths, English and ICT skills and help prepare employees looking to take a functional skills qualification. Further information is available on the HASO webpage.