Case Study
Higher Development Award: A personal development programme for support workers
Find out how NHS organisations are supporting their healthcare support workers' personal development.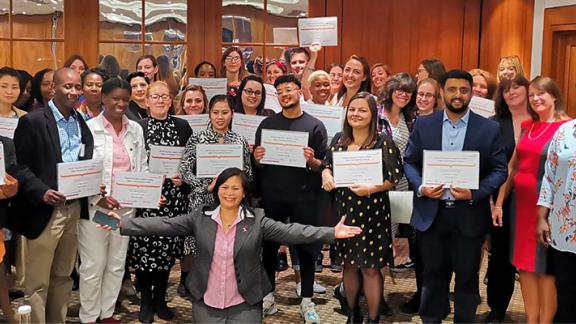 The Higher Development Award (HDA) is a personal development programme for support workers that enables clinical and non-clinical support workers to build on their knowledge. It gives them tools to increase awareness of how their role can improve patient outcomes. The programme is free and has been designed to meet the ever-growing needs of complex health and social care systems and to enable healthcare support workers (HCSW) to experience and understand leadership, decision making and problem solving.
Key benefits and outcomes
The HDA aims to equip support workers with the skills, techniques, tools and knowledge to improve personal confidence and capability, unlock leadership skills, enhance functional

and digital skills

and improve patient experiences and outcomes.

The programme results in either an Institute of Leadership & Management recognised award or level two or three qualification in Leadership and Management alongside the HDA qualification and Functional Skills Qualifications, if not already achieved.

100 per cent of learners felt that their objectives for attending the course had been fully or mostly met.
Key tangible benefits include an increase in confidence and self-realisation that support workers can develop within their roles and make improvements to their service areas.
Growth of the programme
The HDA was developed in 2016 with education and training leads and HCSWs in North West London. They wanted something to follow the Care Certificate for support workers and to bridge the gap between completing the certificate and moving on to progression opportunities within their clinical practice.
Many HCSWs want to progress in their careers or become more knowledgeable in their current roles. The learning outcomes of the course focus on personal learning needs which underpin the organisational pathways for all clinical and non-clinical support staff. The programme can be accessed by learners who may have various career or role aspirations but don't have the confidence or self-efficacy to consider other study options. 'Being the best I can be whilst acknowledging my potential' is the tagline for the programme.
It has been funded by Health Education England since its development, with several NHS trusts hosting the programme. During 2019 a more sustainable model of funding and delivery was sought with Lambeth College, so a transition of the course has been made to them.
The ongoing model of engagement with employers and further education colleges across the country has seen significant partnerships being forged to deliver the programme. 
What is the Higher Development Award?
There are various modules included dependent on the particular programme, with functional skills and coaching being a core part of the course. Each programme is run over six days across a six-month period or nine days for learners accessing the full level three diploma.  A key part learners undertake is the service improvement project. This involves establishing a project that they can work on and implement within their area to make improvements, they then present this back to their peer group at the end of the programme to complete the learning cycle and build confidence.
The programme results in an Institute of Leadership & Management award or level two or three qualification  in Leadership and Management alongside the HDA qualification and Functional Skills Qualifications, if not already achieved.
Overcoming obstacles
Learners joined the programme for a variety of reasons, including the need to achieve their functional skills qualifications, to build confidence and knowledge of the working environment and to develop their careers with a focus on transitioning to the other levels of the HDA and ultimately into nursing associate or nursing roles.
Some of the learners' key considerations before joining the programme:
Level of flexibility they were allowed in order to remain in their role while studying. There is only six study days for the award or nine days for the diploma and additional learning is undertaken in their own time.
How the programme will help them to continue to provide the best possible care to patients.
What progression opportunities the programme could provide and how it could offer a platform to take that next step. 

"London North West University Healthcare NHS Trust is actively supporting any HCSW development and it was no question that the HDA provides a fantastic learning opportunity to enable learners using the HDA and its elements for upskilling of existing skills and learning new ones" – Ralph Schafer, Practice Lead

 

"We are delighted to partner with the NHS on the development and roll out of their HDA programme locally - Nottingham University Hospitals, QMC and City Hospitals initially. 

We will be working to upskill and develop NHS staff in a workforce development programme that will enable staff to progress in their careers, take on apprenticeships and unlock opportunities in nursing, dental and other specialisms to help the NHS plug skills gaps and resource shortages in the years to come." - 

Lisa Wilson, 

Director, 

Nottingham College
Results and benefits
The programme has become a sought-after development programme with a number of intakes per year across the providers offering the course, which includes about 20 learners per cohort. Since the programme was developed, more than 450 learners have gone through the programme in London alone and it is now expanding into other regions.
The notable benefits to support workers completing the programme include time management skills, increased confidence, understanding of learning styles, peer support, preparation for education to progress and personal development. These are all useful to the support workers in their areas and it also prepares them for apprenticeship opportunities, as around 30 per cent of learners go onto apprenticeships which may be nursing associate, nurse, allied health professional or paramedic pathways.
The programme evaluation to date shows 100 per cent of learners felt that their objectives for attending the course had been fully or mostly met. The course content, teaching methods and the continuous processes of self-reflection have yielded good outcomes including improved capability, increased confidence and self-belief. The HDA has facilitated some participants to progress onto more senior roles.
In December 2020, the programme won the Nursing Times award for Best Workplace for Learning and Development. Plus in March 2020, Lambeth College won the bid for innovation funding for employment and skills of £200,000 from the London Mayor to support the delivery of the course - a first for a health-based training programme.
Next steps
In January 2021, the HEE Talent for Care team began a scoping exercise to scale up the programme across the country. A national steering group has been implemented and initial discussions about funding and modelling elsewhere have begun.
The roll out of the programme has been very successful across London and this has spread into Wessex, where they have built on learning from the London project and developed a community of regions collaborating on how it can now be best developed across Wessex as well. They received funding for two cohorts which covers course fees, awarding body fees, a co-ordinator for the project and administrative support, which has successfully been delivered in the region.
The ongoing model of engagement with employers and further education colleges across the country has seen significant partnerships being forged to deliver the programme.
Alongside this, there are colleagues working together to adapt the programme to expand across the country. For example, two of the main NHS trusts and further education colleges have joined forces in Nottinghamshire and will be delivering a regional programme in 2022. While the Nursing Workforce Transformation team at Hertfordshire and West Essex ICS has started to develop a programme for their region working with Oaklands College in Hertfordshire.
"Vision West Nottinghamshire College is pleased to be working in conjunction with Nottingham College and local NHS Trusts to support learners at each of the levels to hone their skills, improve confidence levels, achieve a nationally recognised qualification and nurture development for the future" -

Nick Maidment, 

Apprenticeships Manager (Retail & Business), 

Vision West Nottinghamshire College

 

"Implementing a service project in their clinical areas and this is the most important element of the programme as they don't realise that they can come up with these ideas and implement from start to finish to make improvements in their work area. This is what gives the learners the confidence boost they need for their personal development" – Cess Quiambao, Head of Apprenticeships
Takeaway tips
Understand what is already available within your organisation to support HCSW education and training.

Establish who you need to partner with and which providers you can source in your locality in order to deliver the HDA programme.

Ensure you have a dedicated project coordinator and informative communications to share across your organisation to engage HCSW and their managers.

Support your support workers with the time to fulfil the course by ensuring line managers know the value of the HDA qualification. Pre planning of the curriculum, study days,  assignment due in dates really help with time management and support for managers and learners.
Find out more about this work on the Higher Development Award website.
If you would like to explore options in offering the programme within your organisation, please contact the Talent for Care team.
Read more about supporting and upskilling HCSWs using the healthcare support worker learning and development roadmap.