Article
Clinical placement supervision models
Learn about different supervision models and how they benefit your team and placement students.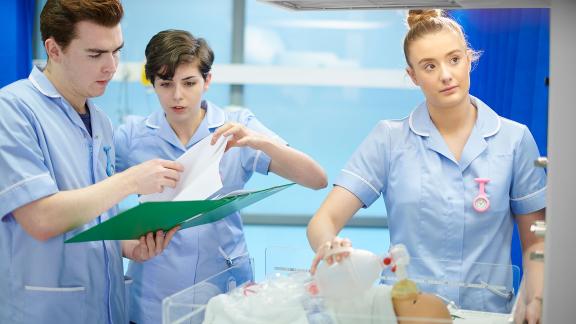 Supervision is an action and process where a person (the supervisor) has been given overarching responsibility for the support, training, learning and development of another individual (the supervisee) to help ensure the individual meets the needs of the role. In this instance the individual would be the placement student.  
There are a variety of placement supervision models available, however not all of these models are suited to every NHS organisation, team or placement student. We have compiled a list of different learning models to help you consider and select the ones most suited to your needs and requirements.  
The CLiP model 
Collaborative learning in practice (CLiP) is the most commonly used model. It has been designed to enhance student placement experience by allowing for peer-to-peer support by other students in different year groups and ensuring that care whilst on placement is overseen by a practice supervisor/assessor but organised and delivered by the student. This learning model offers a very hands-on approach, giving students the most realistic experience; helping to boost confidence and increase leadership and clinical practice skills.   
We have compiled information from a presentation delivered by James Paget University Hospitals and The University of Plymouth's CLiP resource to give you an insight into how the CLiP model works: 
a group of students are taken on by a team/ward and are encouraged to take the lead in their practice, caring for their own patient group and supporting the learning through identified daily learning outcomes

students are coached by a registered staff member with additional mentor support (40 per cent access time)

students are allocated practice assessors/supervisor for formal assessment who will work with the student to develop the initial learning plan 

students are allocated to a team on shifts, the practice supervisor is responsible for a group of patients, however, the care is primarily organised and delivered by students 
the practice supervisor will coach the students for all the relevant activities and accept delegation of care as appropriate 

first, second and third-year students work collaboratively together on wards in caring for their group of patients; supporting, learning and advising each other 

third-year students can also mentor first-year students. 
Benefits
Enables high quality supervision and coaching in the current climate of staff/supervisor shortages and increasing demands on nursing time. 
Helps placement students develop more confidence in decision making and ability in the role; giving them a good placement experience, which can boost future recruitment. 

Allows for more placement capacity if there is peer-to-peer support, instead of 100 per cent access time for mentors and registered supervisors. 

The whole team/ward is part of the placement students' learning environment, giving students more exposure to different areas and roles in a ward for example reception, estates and facilities, other clinical professionals etc. This gives students a larger and more realistic view of patient care and patient pathways.  
Hear from staff at James Paget University Hospitals NHS Foundation Trust talk about the successes of using the CLiP model on their wards and how they implemented the coaching model to benefit their students, staff members and double placement capacity. 
Synergy model 
This practice placement model is adapted from the CLiP model and is bespoke to Greater Manchester. It has been developed by NHS trusts in the Greater Manchester area in partnership with their local universities. The model is based on the concept of coaching compared to mentoring to enhance the confidence, competence and performance of students through hands-on care.  
In the coaching model, a student will still be allocated a named mentor, but on a day-to-day basis be coached by a suitably experienced practitioner who is not necessarily a mentor. This means that there are times when the named mentor may be present in the clinical area without acting as the coach. The practice learning area will be supported by a practice project lead / practice education facilitator and university link lecturer who act as a source of expert advice and challenge to students, mentors and coaches. 
Synergy is made up of three key principles which each have their own benefits: 
Having coaching conversations - adopting a coaching style to practice learning provides learners with the opportunity to take responsibility for their own knowledge acquisition. The coaching approach to practice learning adopts a stronger focus toward self-directed learning and personal responsibility for learning and identifying goals and objectives. 

Peer learning, learning with and from each other – allowing students to build confidence together through sharing knowledge, seeking advice and supporting one another when challenges arise. 

Learner participation in service delivery – allows for students to feel involved and empowered in making decisions; helping them become excellent practitioners in the future.   
More information on the model can be found on the University of Salford website, which includes resources on their three key principles, placement survival guides for students and model evaluations.  
Long-arm supervision model 
Long-arm practice supervision refers to the process of supporting students in placements in line with professional body requirements. The model requires a supervisor to be located at a distance to the clinical practice learning area, but is available for support for the placement student. This means that the long-arm practice supervisor will not be with the student on a day-to-day basis so another named member of staff would support the student whilst they are on shift.
This gives the student chance to work independently on placement in areas that do not have registered healthcare professionals, for example, social care, whilst still gaining support at arm's length. The long-arm supervisor will discuss a learning plan with the student at the beginning of their placement and will arrange dates of future meetings to enable the supervisor to assess the student's competence. 
Benefits
Gives placement student independence, increases students' confidence in their abilities and their own time management giving them a good placement experience, which can boost future recruitment. 

Increases placement capacity as long-arm supervisor can take on more students at a distance. 
Allows rotational opportunities for students in different services, giving them a greater depth of experience and knowledge from across the system. 
The Devon Training Hub (DTH) has been piloting the long-arm supervision model within their clinical placement expansion programme for nursing and allied health professional (AHP) placement students within their primary and social care services across Devon. The organisation used this in areas where they had few registered practitioners who were able to support from a distance but not on a day-to-day basis. The concept allowed for non-registered health and care practitioners, who were part of the placement setting team, to support students through day-to-day supervision, whilst the long-arm practice supervisor worked closely with a higher education institute (HEI) tutor to provide profession-specific supervision and learning outcomes.
This meant the model allowed for the expansion of placement capacity despite not having high numbers of registered members of staff, as members of non-registered were the ones who would be supervising students on shift. To give the students the best experience on placement, the long-arm practice supervisor, placement setting team and HEI tutor worked collaboratively to keep each other in the loop, discuss any challenges and look at areas to support each individual student; ensuring they meet their learning outcomes and competencies. Watch our expanding placement capacity webinar to find out more about how DTH implemented this into their primary and social care services.  
Find out more on our expanding placement capacity web page.  
We have also compiled a list of alternative supervision models from a webinar held by Health Education England.
2:1 or Dyad model 
This learning model reflects two students to one educator and allows for peer learning for students. The model can also be increased to a 3:1 model or more, depending on staff resources and availability, which is useful to organisations who have fewer members of supervisory staff but want to offer more placements.  
Split placements (placements that splits over two or more settings) can also be offered within this model, where students are able to have part of their placement at one organisation and then the rest at another organisation or service. The model then becomes two organisations/services to one student. This could be splitting their placement over the week or even through the day for example, in one service in the morning and another in the afternoon. The student can still be on placement but can receive an enhanced experience through having more opportunities to learn in different areas.  
Benefits
Having two students to one supervisor increases placement capacity. 
Students can work closely with one another, build relationships and can support each other in learning and making decisions which helps boost confidence. 

The split 2:1 model allows organisations who are not able to take on a student placement full-time to still have the ability to have a student on placement and potentially build their future workforce. 
Extended Days model 
This model is suited to ward and community-based settings, where students follow a 12-hour shift pattern. It is especially useful to services which have 24-hour care settings. It proposes that students have three 12 hour-shift placements over the week, with the start of the day being on the ward alongside nursing staff and then student moves into their professional specific areas and back to the ward in the evening for evening duties.  
The breakdown of the 12-hour shifts are: 
7am–10am on the ward 

10am–4pm students working in professional specific areas e.g. AHP, therapy 

4pm–7pm on the ward 
Benefits
Students are able to see the bigger picture when it comes to caring for patients, getting an insight into how wards run in the day and evening, which helps increase learning. 

Students working in different areas can gain more knowledge and confidence in ways of working and where their role fits into the team. 

If services run on reduced staff during weekends, it can be possible to use student placements during these times (providing there is a supervisor on shift), to give students an insight into how the service runs on a weekend and to also support staff shortages.  
TECS placement model  
Since the COVID-19 pandemic, many NHS organisation have been using technology to provide patients with services and care as a result of the decrease in ability to see all patients face-to-face. The Technology Enabled Care Service (TECS) model is a form of remote service delivery, supporting services who use technology in various forms to deliver care. The model provides placement students with a remote based setting, aiming to give them exposure to new digital skills and giving them more opportunities to observe in clinical areas. 
Benefits
Any area of care using remote services can give a student a placement, giving more students opportunities to work with your organisation, helping with future recruitment aspects.  

TECS allows for more students to be able to watch and participate in the same service delivery, tackling placement capacity challenges. 

It is likely that remote services will be a future way of working, so giving students additional digital skills can be useful for the future workforce; helping build confidence in using technology to provide care. 
Placement students can gain more knowledge in specialised, clinical fields where they may not have been able to observe physically in the past. 
Considerations 
The most important part of selecting a supervision model is to ensure that the model works for the service, the team and the student. This means whichever model you pick should be reviewed regularly to ensure educators, supervisors and assessors are supported in supervising students effectively for example, in mentoring, giving feedback, delivering learning plans and that students feel like the model is working well for their learning. Each model can also be adapted to what your organisation needs, what resources you have and what needs certain students many have, so it is also recommended that partner universities are also consulted in the review process to ensure they are supporting the student and your ways of working too.