Blog post
The Devon Alliance - a collaborative approach to international recruitment
Read how Devon Alliance for International Recruitment has continued to expand into other professions over the past year.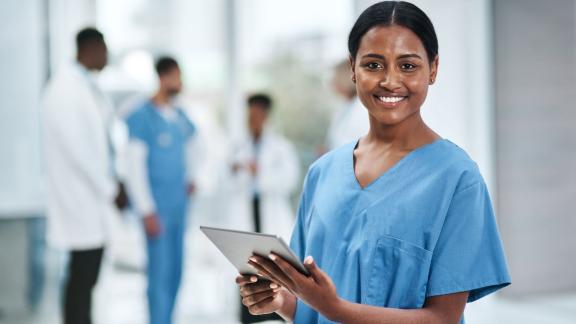 Tracey Collins is international nursing and workforce lead at Devon Alliance for International Recruitment. In this blog she shares her thoughts about expanding collaborative international recruitment model to wider health and social care roles across the integrated care system (ICS).
At the Devon Alliance for International Recruitment (the Alliance), we work in partnership with six NHS trusts and are supported by NHS England funding.
In the past year, since the publication of our case study by NHS Employers, we have continued to grow and develop our system approach and to support our local health and care organisations with a steady supply of skilled international recruits. Working collaboratively across the system has proven to be an efficient strategy, making it easier to navigate processes and to create innovative solutions.
In an increasingly competitive market, we knew we had to stand out from the crowd. During the first few months we focused on developing our brand, networking and promoting ourselves on social media. To achieve this, we developed a comprehensive strategy including our own website to encourage people to live and work in Devon, webinars, and our own YouTube channel. This work was done internally, so we could ensure the best use of funds.
We have expanded recruitment into other professions, such as allied health professionals (AHPs) and midwives, and also across the ICS into social care roles. We facilitated our first face-to-face campaigns in Dubai where we interviewed high-calibre applicants across all of the professions and are currently scoping and planning our first long haul overseas campaign.
The Alliance is currently engaged in a first-phase social care pilot which aims to support colleagues with the international recruitment of care workers and nurses. We currently work with 42 independent social care providers, matching skills and competencies to find the most suitable candidates. Understanding the nuances of social care and specific needs of each provider has been a new learning experience for us, so stakeholder engagement and building relationships is key.
We use our clinical and recruitment expertise to be able to flex according to specific demands and requirements for each provider. This includes sifting through CVs to find the niche skills that providers need, and a one to one discussion with the candidates to find applicants that meet all the criteria required. This requires strong communication and collaboration skills, and the development of new working relationships. Having a clinically-led model helps us understand the language employers use when describing skills and competencies
At Devon, we believe cultural readiness and pastoral support is vital when welcoming our new international recruits. We also work alongside providers to ensure individuals are prepared for the cultural difference of coming into the UK. Our successful candidates receive a digital online passport, which gives as much information as possible about coming to live and work in Devon.
Our recruits go through a thorough preparation process, which includes pre-deployment webinars and educational modules, and a post-arrival check-in with the team. In addition, our social care recruits also complete a booklet, which is shared with residents, patients, and the employer so they can get to know more about the staff member to help raise awareness among staff, residents, clients and the community to ensure as smooth as possible transition into Devon.
We also bring everybody together fortnightly into a sharing best practice meeting, so that the providers can hear what we do within the Alliance and share learning across the system.
We're keeping records, lessons learned, logs, and surveys from staff to ensure we have enough data to carry out a comprehensive and effective evaluation of the project. As we move forward, we will  continue to share our learning and expertise to support colleagues across the region and other systems.
For more information, please contact Tracey Collins international nursing and workforce lead via email.