Case Study
Establishing a collaborative international recruitment alliance
Read how the Devon Alliance for International Recruitment worked collaboratively to embark on its international recruitment journey across the system.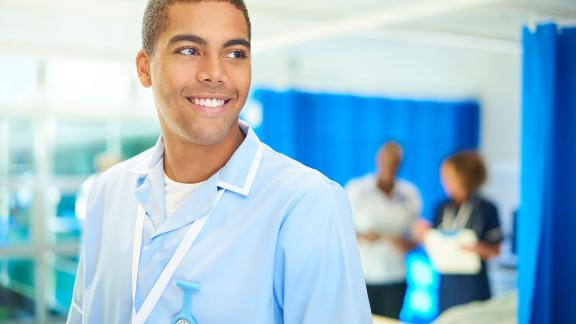 Overview
The Devon Alliance for International Recruitment (the Alliance) is a partnership of six NHS trusts supported by NHS England and NHS Improvement funding. It was established as a collaborative model for international recruitment focused on reducing costs and eliminating waste in the system.
So far, 146 overseas nurses have come to Devon, and plans are underway to expand this model to wider health and social care roles across the integrated care system (ICS).
Key benefits and outcomes
146 nurses arrived between July and October 2021.

One Devon integrated care system (ICS) approach to international recruitment.

Pooled resources aided productivity and there is a streamlined process.

Maturity in costing model, where partners share system leveraged benefits to create low cost/no cost service provision.

Maximised international recruitment expertise across the system.
What the organisation faced
In 2020 the Devon ICS was starting to take shape and the NHS trusts in the system were well-experienced with individual international recruitment programmes. With the formation of the ICS, a decision was made to bring international recruitment together into one central system for the six trusts across the system, sharing resources and creating a single approach.
What the organisation did
The Alliance placed a focus around building a direct applicant platform to enable recruitment at a low/no cost to the NHS by reducing waste and unnecessary agency spend.
Building a multi-disciplinary team was pivotal in getting the Alliance off the ground. Experts across a wide range of specialties joined forces including senior registered nurses, recruitment experts, the commercial team, and those with international recruitment experience. Marketing and web design experts developed successful social media campaigns (#nursingindevon), which promoted the brand and raised awareness of opportunities across the Alliance.  
Establishing clear roles and responsibilities across all partners was essential. The Alliance is responsible for advertising, marketing, and shortlisting of candidates supported by a catalogue of interview assessments linked to areas of experience, while interviews and objective structured clinical examination (OSCE) training were delivered jointly with partners. In addition, the team conducts pre-qualifying calls to establish the reasons why a candidate wants to work in Devon and their preference for a specific hospital or area of work.
Critical to success is having early, ongoing and robust pastoral care. For the Alliance, this included direct communications, one-to-one seminars, and weekly webinars with partners on topics such as OSCE preparation and international nursing associations which were attended by senior leaders.
Results and benefits
From July to October 2021, the Alliance has deployed 146 nurses from the Philippines, India, United Arab Emirates, Jamaica, and Zimbabwe. The high number of quality applications received is supported by the time invested in creating a clear brand and online marketing.
The Alliance is now looking to expand recruitment into other professions both within healthcare roles, such as allied health professionals and doctors, but also across the ICS into social care. Work is also ongoing to create clear linkages to cultural awareness and aspirational leadership, as well as creating a survey to gather feedback on the nurses' experiences throughout the process for continual improvement.
Overcoming obstacles
Setting up a system-wide collaborative for international recruitment while the NHS was, and still is, responding to COVID-19 has not been without its challenges.
Getting commitment on demand plans to build a consistent approach while managing multiple stakeholders was difficult at first. This early commitment was an essential part of the process, and without it, the Alliance found it difficult to manage expectations of nurses in the pipeline and caused delays in terms of deployment. However, through constant communication and escalation through the necessary governance channels, the Alliance has been able to articulate a robust delivery plan in terms of supply, partnerships, marketing and pastoral requirements. 
The Alliance is currently in the process of securing its future sustainability to ensure it has the flexibility and agility to meet the needs of the system through data, workforce planning, a building its brand.
Take away tips
Establish a multi-disciplinary team involving clinical, HR, and commercial areas.

Secure clear roles, responsibilities and workforce planning targets early on from all partners.

Develop a stakeholder engagement and a robust communication strategy built on current international recruitment expertise across the system.

Create a unique brand, as audiences will be considering positions across multiple private and public sector organisations, both domestic and international.

Clearly map and define processes that enable teams to work at pace while at the same time uphold a positive candidate and partner experience.

Create online learning and repositories, monthly forums, and ongoing operational check ins overseen by robust governance frameworks and ways of working across partners.
Contact information
For more information, please contact Tracey Collins, Devon international nursing workforce lead, tcollins@nhs.net, or Steve Shaw, international recruitment manager, steve.shaw8@nhs.net.