Blog post
Finding hope, possibility and connection
Lisa Falkingham on episode 1 of Do OD podcasts: Doing OD in the NHS, featuring Glenda Eoyang discussing OD in a time of uncertainty.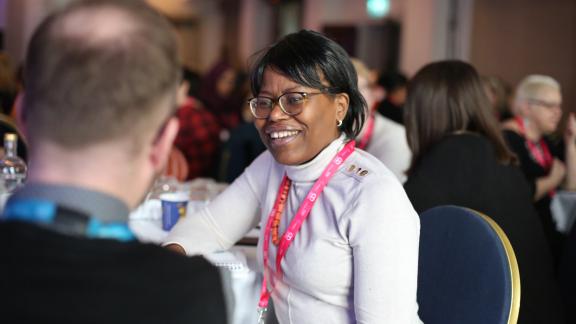 Earlier this year, we launched a new series of Do OD podcasts: Doing OD in the NHS. The first episode of the series featured Glenda Eoyang discussing OD in a time of uncertainty. This episode inspired and resonated with Lisa Falkingham, senior OD manager at Bradford Teaching Hospitals NHS Foundation Trust.
The podcast began with a simple question, 'how can OD make a difference in the NHS and the wider world?'
I was curious and then when I listened, I was hooked! 
"I've used podcasts to fill my time on long commutes and when I've been stuck in traffic. A strategy employed to overcome my frustration at 'wasted time'. Sometimes they make me think, sometimes they help me make sense and sometimes they highlight areas of new discovery, this had all three. I heard myself shouting Yes – that's it! That's what I've been encouraging and doing! I was stirred up"
So what was it - the power of questions, inquiry, possibility, pace and slowing down?
It's ok not to have the answers, the simplicity of direction in the here and now; seeing patterns to help to understand; developing adaptive capacity and stepping into structural power; helping people breathe again through inquiry; a frame of what happened to you, what's current and what's possible is enough to make a change. 
I felt resonance as this person I didn't know described my practice in OD, a practice that has been questioned, feared, embraced and rejected at different moments, by myself and those I have the privilege to work with. In a moment I felt connected, validated and hopeful.
Working in OD as an internal consultant can at times be a lonely and isolating place. For someone who has always been a team player, it can be a tough position to reconcile. It's also a gift and one of my personal mantras is 'some of life's gifts can come very badly packaged'. I am, like so many of my peers and colleagues, a lifelong learner and know that working through challenge dissonance and discomfort leads to growth, greater understanding and confidence. I also know that how I work can feel weird, I have had many conversations with a trusted mentor about the weirdness index (find out more on page 9 of this article) and being weird enough to stand out and make a difference, but not so weird you fail to make connection.
This made me think about my practice and I know, because I am told, that the way I work makes others think, it creates the space to breathe and determine what's possible. There is freedom in not having the answers and never more so than now, is that needed. Working in complexity is our new 'normal' and the discovery that there is a whole raft of work and a group of people in this field is exciting. I am looking forward to more discovery, connections and sense making.
"I would encourage anyone who is working in OD and may experience a feeling of being alone or isolated, to reach out to the wider community, such as Do OD, local and regional networks or an individual who has inspired you or made you think. It has made such a difference to me, who I am and how I turn up as a practitioner."
Thank you to Do OD for bringing this wisdom to the fore, and Glenda I can't wait to meet you. I have lots of questions and my hunch is the possibilities are endless!
You can access Glenda's episode along with the rest of the Do OD podcast series here.
Get in touch
If you have been inspired, or something has raised your curiosity, please do email us as we would love to hear from you.
Do OD is a partnership between NHS Employers and NHS England.