Article
Gender pay gap reporting
Find out more about the mandatory gender pay gap reporting for employers with 250 or more relevant employees and how to comply.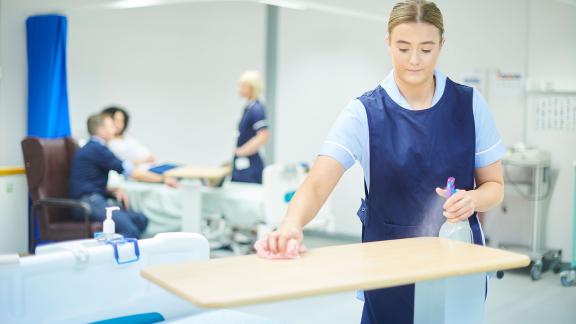 The NHS Terms and Conditions of Service ensure that pay within the NHS is consistent with the requirements of equal pay law.
In 2018, it became mandatory for all public sector employers with more than 250 employees to measure and publish their gender pay gap (GPG) information on the government website and their own.
Equal pay is a legal obligation under the Equality Act 2010, use our checklist to ensure your organisation is compliant.
Six-month suspension to the enforcement of gender pay gap regulations
Due to the impact of COVID-19, the Equality and Human Rights Commission (EHRC) has announced that Employers have until 4 October 2021 to report their data for 2020 to 2021. The details from your payroll as they were on 31 March 2020 or 5 April 2020. These are called 'snapshot' dates.
The EHRC is encouraging employers to report as soon as possible, but no enforcement action will be taken providing they report by 5 October 2021.
Our practical guide
Reporting your figures is the first step, but developing a narrative and action plan alongside this each year will help you identify those causes which are specific to your organisation and are influencing your gender pay gap.
We have created a practical guide to addressing your gender pay gap, designed to help you with reporting and support you to develop a narrative and action plan to help you tackle your gap. Download the guide in full to get started.
Our advice
Make sure to include gender pay gap reporting when planning your annual activity.
It is important that you include on your website a narrative and action plan, as outlined in our practical guide.
Some organisations have done this in the past and found it invaluable to concentrate efforts on narrowing the gap over future years. In the narrative, it may be helpful for you to include the following:
Numbers of staff (headcount rather than whole time equivalent) as well as the required percentages. This will help NHS Employers gather a more accurate overall picture of outcomes.
Percentages calculated within each band.
Percentages of those under Agenda for Change pay scales should be shown separately from those on medical pay scales. This will show if there are any differences in the GPG between pay of doctors and non-medical staff.
Any explanations as to why some gaps are relatively wide.
Action plans, including access to promotion, flexible working and leadership initiatives.
The EHRC is responsible for monitoring GPG reporting compliance, has produced some advice and guidance on closing the gap. The Government Equalities Office has published guidance which sets out effective actions that employers can take to improve the recruitment and progression of women and close their organisation's gender pay gap. Recommendations include:
assessing candidates based on actual tasks they would be expected to perform in their role, and make interviews more structured to avoid unfair bias creeping in
encouraging salary negotiation by showing salary ranges, as women are currently less likely to negotiate their pay than men
introducing transparency to pay, promotion and reward processes.
What employers need to do
Work through our practical guide to report your figures for this year. The guide will take you through:
six steps to gender pay gap reporting
how to address the challenges, including the importance of narrative and explaining your figures
an action plan template
a self-assessment checklist.
Employers with 250 employees and over will need to publish the following information annually for all employees who are employed under a contract of employment, a contract of apprenticeship or a contract personally to do work. This will include those under the NHS terms and conditions of service, medical staff and very senior managers.
All calculations should be made relating to the pay period in which the snapshot day falls. This year, those dates are 31 March 2020 or 5 April 2020.
The figures produced should be published by the organisation on its own website in a way which is accessible to both employees and the public. The results must remain on the website for three years. The same information must also be uploaded onto the government website and organisations must be registered before they can upload their reports. Please note that registering on the government website may take a few days to complete so give enough time to input the information.
How to calculate the quartiles
Determine the hourly rate of pay and then rank the relevant employees in rank order from the lowest to the highest.
Divide those employees into four sections, each comprising an equal number of employees to determine the lower, lower middle, upper middle and upper quartile pay bands.
Show the proportion of male and female employees in each band as a percentage of the total employees in each band.
Legal requirements
Capsticks has outlined the legal requirements in this briefing note (PDF), in particular how to treat clinical excellence awards and additional programme activities, as well as clarification around who is defined as an employee.
Next steps
Produce the legally required figures, using the ESR reports.
Agree a prioritised action plan, gain input from diversity and inclusion leads and other stakeholders across the organisation including networks and staff-side organisations.
Involve departments such as communications, recruitment, learning and development, and organisational development (OD) to help deliver the actions.
Gather learning and good practice from other organisations that are leading the way
Gain sign-off for the action plan from the board.
Share your report and proposed actions with all staff and staff-side organisations.
Communicate progress and achievements within and beyond the organisation.