Video
Inspire, attract and recruit webinar
The recording and slides from our Inspire, attract and recruit webinar are now available.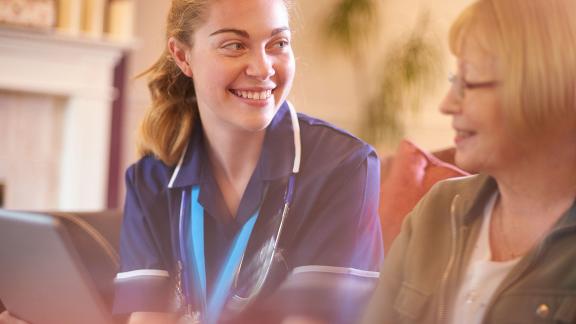 Our Inspire, attract and recruit webinar showcased and explained how our toolkit of the same name can support NHS employers in recruitment. The webinar also included three good practice presentations from speakers covering how they inspire, attract and recruit staff.
Victoria Hage, programme lead for domestic and international recruitment at NHS Employers, started the webinar with a walkthrough of the Inspire, attract and recruit toolkit. Vickie highlighted how the toolkit, through prompting questions, signposting to resources and through good practice case studies, can support employers to improve all aspects of their recruitment.
Vickie then handed over to Gillian Cairns, Suzanne Lang and Denise Owen who presented on how East Lancashire Hospitals NHS Trust has inspired people from communities who previously hadn't considered a career in the NHS into bank and substantive roles after first completing a pre-employment programme with the trust.
Aasha Cairns from Surrey and Borders Partnership NHS Foundation Trust and co-founder of @FlexNHS, spoke about flexible working from a personal and policy perspective. Aasha also discussed the benefits of flexible working and what NHS organisations can do differently to encourage flexible working arrangements, and use the right of staff to request flexible working from day one of their employment as an attraction tool. 
Tracy Campbell presented on Tameside and Glossop Integrated Care NHS Foundation Trust's recruitment in a day event, where candidates were taken through each stage of the recruitment process - including job offer, in one day. Tracy discussed how they successfully marketed the event and how they created an environment where candidates could give the best account of themselves.
A full recording of the webinar can be watched below, and the slides can be downloaded.