Article
International nurses during COVID-19
This resource provides a collection of national resources and guidance to support your international nurses during the COVID-19 pandemic.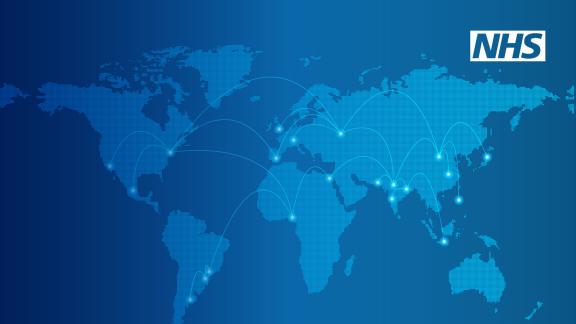 Nurses arriving to the UK from across the globe are faced with the challenge of adapting to working in the NHS and adjusting to a new culture, while supporting the response to the COVID-19 pandemic. This guidance has been brought together by NHS England and NHS Improvement. 
Welcome to all our international nurses.
You are key to the NHS workforce and we're honoured to have you as part of the NHS family.
We recognise that coming into a new country is daunting and it can be difficult at times to know where to go for information. Below is a list of some of the national health and wellbeing support available to you, together with information on travel, getting your COVID-19 vaccination and wearing personal protective equipment (PPE).
Please be reassured that although we are in the middle of a pandemic, your health, wellbeing and safety at work is a priority. Alongside national guidance, your trust will have implemented a range of training, support and safeguarding to protect your health and wellbeing.
This is a very challenging time, and we recognise and thank you for your commitment, and value your contribution to keeping our patients safe.
To all my international colleagues who come from right across the globe, I want to say thank you for joining us and for all that you do.

Ruth May, Chief Nursing Officer for England. 
Travelling to the UK
From 30 November 2021, fully vaccinated people under travel to England rules must self-isolate and take a PCR test before the end of day two after they arrive in England. They may leave self-isolation if their PCR result is negative. Lateral flow tests will not be accepted.
If you are not fully vaccinated under travel to England rules, you will need to take a COVID-19 test on or before day two of your quarantine period. Tests will be taken in your own accommodation. You need to take a COVID-19 test on or after day eight, unless you got a positive result from your day two test. If you get a positive result from your day two or day eight test, you must quarantine for ten days whether you are fully vaccinated prior to arrival in England or not.
COVID-19 vaccination
Frontline health and care staff, including nurses, are a priority group to receive the COVID-19 vaccine in the UK. This includes bank, locum and agency staff. All NHS must be fully vaccinated against COVID-19 no later than 1 April 2022 to protect patients.
You will receive your vaccination from your trust, even if you aren't yet registered with a GP and don't have an NHS number. Speak to your human resources (HR) team if you have any questions or concerns.
Regular COVID-19 testing is available for patient-facing NHS staff who don't have symptoms.
Joining the Nursing and Midwifery Council (NMC) temporary register
The Nursing and Midwifery Council (NMC) register shows who can practise as a nurse or midwife in the UK, or as a nursing associate in England. The NMC has reopened a temporary emergency register in response to the COVID-19 pandemic for nurses placed in England. International nurses who have not yet achieved full registration with the NMC are being asked to join.
Joining the temporary register is voluntary. To be eligible, you must work for a registered health or care provider in England, and work alongside a nurse who is on the full NMC register. If you are eligible to join, you'll be sent an invitation. If you don't receive this, please speak to your line manager.
If you join the NMC temporary register, you can work as a temporary registrant and be paid the NHS Agenda for Change band 5 pay rate and perform further nursing care.
You are encouraged to continue working towards passing your objective structured clinical examination (OSCE) and applying to join the full NMC register. You don't have to pay a registration fee and can opt out of the temporary register at any time.
For evidence of English language competency, the NMC will accept the OET@Home test as well as both the paper and computer based IELTS Academic test delivered at a test centre.
However, the NMC will not accept the IELTS indicator test. Test scores are valid for two years.
Health and wellbeing resources
There are lots of free resources available to you to help you feel supported.
The comprehensive health and wellbeing offer for all NHS staff can be accessed via the NHS England website. This includes:
For advice about health and wellbeing services available at your trust or in your local area, speak to your line manager, occupational health or human resources (HR) department. You should receive this information as part of your local induction. 
Please refer to your trust's health and wellbeing guidance.
Staff support networks
There may be networks in your trust or your local community which provide support around disability, religion (including chaplaincy services), ethnicity (including ethnic minority staff networks). You should receive this information as part of your induction, or ask your line manager to connect you with these groups. You may also want to connect with other nurses and nursing groups outside your trust. Twitter and Facebook groups can be a good place to network and share learning.
@teamCNO on Twitter supports and informs nursing, midwifery and care staff.
@WeNurse on Twitter connects nurses to share information, ideas, knowledge and 

support.
You can find a list of international nursing associations at the end of this guide.
Personal protective equipment (PPE) guidance
PPE is available across all healthcare settings. You will be given appropriate PPE, as well as training and support in using it, when working in clinical settings, as well as face masks for non-clinical settings.
Please also refer to your trust's guidance on PPE.
Risk assessments
Some people are more vulnerable to serious illness and death from COVID-19.
These include older people, people with a disability, pregnant women and people from some ethnic minority backgrounds. Employers have a legal duty of care to protect their staff from harm, injury and illness, and to carry out assessments to measure the level of risk to their workforce. You will be asked to take part in a workforce risk assessment process.
You'll have opportunities to talk to your line manager or occupational health team about any concerns or anxiety you may have, and they will work with you to ensure you are supported to work safely. Please refer to your trust's guidance on COVID-19 risk assessments.
Redeployment
It's important that nurses, midwives and healthcare professionals work together and flexibly to provide care and skills where they are most needed. If you are asked to volunteer to redeploy to another ward, department or role, talk to your line manager or team leader about any concerns you may have, and to find out what training, if required, will be provided.
Objective structured clinical examination (OSCE)
During induction at your new trust, you will be provided with information about training for, and taking, your OSCE. You will be supported throughout the process by a member of the OSCE team at your trust.
All three OSCE test centres remain open. They continue to operate in line with Covid-secure measures.
All OSCE candidates must carry out COVID-19 lateral flow tests before travelling to the OSCE test centres. You must not travel if you feel unwell or have a positive or inclusive COVID-19 test result. Test centres will reschedule free of charge.
The NMC has advised that there are a number of exam slots available. If you have any issues with booking or attending tests, then email: toc@nmc-uk.org.
Training and development
There are many training and development opportunities for nurses within the NHS. Once you have completed your OSCE you can access training via your trust's learning and development department.
Flexible working in the NHS
Flexible working arrangements help create a healthy work-life balance for employees and their families. The NHS recognises the benefits of flexible working, which include recruiting and retaining the best staff and reducing absenteeism and work-related stress. 
Some of the flexible working options that could be available to you include: 
part-time working 

flexi-time 

compressed hours 

job-share 

term-time working     

career breaks 

working

 from home

annualised hours
From 13 September 2021, all NHS employees in England and Wales have the right to request flexible working from day one of their employment and make more than one request per year.
If you would like to work flexibly when you arrive in the UK ask your recruitment representative at the trust you are joining on how to do this.
For more information please see:
Raising concerns
Usually your line manager will be your first point of call, but if you don't feel you can speak up to them or use other formal routes, then you should refer to your local Freedom To Speak Up Guardian, who will be able to offer guidance and support. You can also speak to a union representative (see support from trade unions section).
Support from trade unions
Trade unions for healthcare workers can support you in lots of ways, including providing access to legal services, immigration advice and other professional services. Contact your local union representatives to find more about the benefits of joining a union.
International nursing associations
The NHS is committed to inclusion, and values the diversity of all cultures. It is important that you can connect to people who understand your culture, mindset and your journey and lived experience. We work with the following international nursing associations.