Article
International nurses during COVID-19
This resource provides a collection of national resources and guidance to support your international nurses during the COVID-19 pandemic.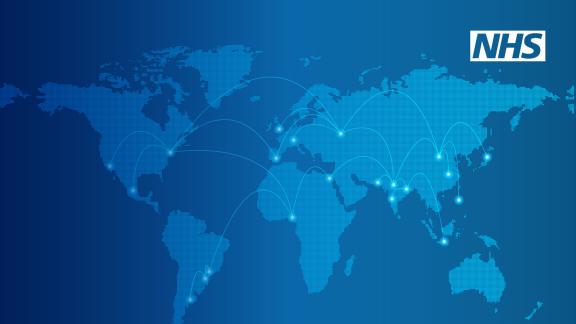 Nurses arriving to the UK from across the globe are faced with the challenge of adapting to working in the NHS and adjusting to a new culture, while supporting the response to the COVID-19 pandemic. This guidance has been brought together by NHS England and NHS Improvement. 
Welcome to all our international nurses.
You are key to the NHS workforce and we're honoured to have you as part of the NHS family.
We recognise that coming into a new country is daunting and it can be difficult at times to know where to go for information. Below is a list of some of the national health and wellbeing support available to you, together with information on travel, getting your COVID-19 vaccination and wearing personal protective equipment (PPE).
Please be reassured that although we are in the middle of a pandemic, your health, wellbeing and safety at work is a priority. Alongside national guidance, your trust will have implemented a range of training, support and safeguarding to protect your health and wellbeing.
This is a very challenging time, and we recognise and thank you for your commitment, and value your contribution to keeping our patients safe.
To all my international colleagues who come from right across the globe, I want to say thank you for joining us and for all that you do.

Ruth May, Chief Nursing Officer for England. 
Travelling from a red-list country
From Friday 23 April, nurses taking up new employment in NHS organisations may be able to use a hospital-managed quarantine service when traveling from or through red-list (travel banned) countries rather than the government's Managed Quarantine System. This will depend on whether your employing trust is able to meet certain government criteria.
On arrival you will be provided a welcome pack with practical information and wellbeing advice from your trust.
Visa extensions
Temporary measures have been put into place by the Home Office to extend the visas of all regulated healthcare professionals (nurses included) across the NHS for one year where their visa is due to expire between 1 April 2021 and 30 September 2021.
If you have lived in the UK for a continuous period of five years, you may be eligible to make a late application for EU Settled Status.  Learn more about the scheme and if you are eligible to apply at GOV.UK. 
Travelling to the UK
From Monday 18 January 2021 you must have proof of a negative COVID-19 test to travel to England. You must take the test three days before you start your journey.
You will need to take a COVID-19 test on or before day 2 of your quarantine period. Tests will be taken in your own accommodation.
You need to take a COVID-19 test on or after day 8, unless you got a positive result from your day-2 test.
If you get a positive result from your day-2 or day-8 test, you must quarantine for ten days.
COVID-19 vaccination
Frontline health and care staff, including nurses, are a priority group to receive the COVID-19 vaccine in the UK. This includes bank, locum and agency staff.
You will receive your vaccination from your trust, even if you aren't yet registered with a GP and don't have an NHS number. Speak to your human resources (HR) team if you have any questions or concerns.
Regular COVID-19 testing is available for patient-facing NHS staff who don't have symptoms.
Health and wellbeing resources
There are lots of free resources available to you to help you feel supported.
The comprehensive health and wellbeing offer for all NHS staff can be accessed via the NHS England website. This includes:
For advice about health and wellbeing services available at your trust or in your local area, speak to your line manager, occupational health or human resources (HR) department. You should receive this information as part of your local induction. 
Please refer to your trust's health and wellbeing guidance.
Staff support networks
There may be networks in your trust or your local community which provide support around disability, religion (including chaplaincy services), ethnicity (including ethnic minority staff networks). You should receive this information as part of your induction, or ask your line manager to connect you with these groups. You may also want to connect with other nurses and nursing groups outside your trust. Twitter and Facebook groups can be a good place to network and share learning.
@teamCNO on Twitter supports and informs nursing, midwifery and care staff.
@WeNurse on Twitter connects nurses to share information, ideas, knowledge and 

support.
You can find a list of international nursing associations at the end of this guide.
Personal protective equipment (PPE) guidance
PPE is available across all healthcare settings. You will be given appropriate PPE, as well as training and support in using it, when working in clinical settings, as well as face masks for non-clinical settings.
Please also refer to your trust's guidance on PPE.
Risk assessments
Some people are more vulnerable to serious illness and death from COVID-19.
These include older people, people with a disability, pregnant women and people from some ethnic minority backgrounds. Employers have a legal duty of care to protect their staff from harm, injury and illness, and to carry out assessments to measure the level of risk to their workforce. You will be asked to take part in a workforce risk assessment process.
You'll have opportunities to talk to your line manager or occupational health team about any concerns or anxiety you may have, and they will work with you to ensure you are supported to work safely. Please refer to your trust's guidance on COVID-19 risk assessments.
Redeployment
It's important that nurses, midwives and healthcare professionals work together and flexibly to provide care and skills where they are most needed. If you are asked to volunteer to redeploy to another ward, department or role, talk to your line manager or team leader about any concerns you may have, and to find out what training, if required, will be provided.
Objective structured clinical examination (OSCE)
During your induction at your new trust, you will be provided with information about training for, and taking, your OSCE. You'll be supported throughout the process by a member of the OSCE team at your trust.
Training and development
There are many training and development opportunities for nurses within the NHS. Once you have completed your OSCE you can access training via your trust's learning and development department.
Raising concerns
Usually your line manager will be your first point of call, but if you don't feel you can speak up to them or use other formal routes, then you should refer to your local Freedom To Speak Up Guardian, who will be able to offer guidance and support. You can also speak to a union representative (see support from trade unions section).
Support from trade unions
Trade unions for healthcare workers can support you in lots of ways, including providing access to legal services, immigration advice and other professional services. Contact your local union representatives to find more about the benefits of joining a union.
International nursing associations
The NHS is committed to inclusion, and values the diversity of all cultures. It is important that you can connect to people who understand your culture, mindset and your journey and lived experience. We work with the following international nursing associations.