Article
The NHS and The Prince's Trust: building your workforce conference - resources
Information and resources from our conference held on 1 March 2022.
Our online conference, held in partnerships with The Prince's Trust and Health Education England, brought together a range of expert speakers who shared their research and experience of working with young people.
Plenary sessions
Our co-chairs Andrew Ridge, director of health and social care at The Prince's Trust and Danny Mortimer, chief executive at NHS Employers opened the conference and encouraged delegates to celebrate success, share learning and 'steal with pride' ideas and approaches to bring more young people into the workforce.
Andrew was joined by a Prince's Trust health and social care young ambassador who spoke about how the COVID-19 pandemic gave her the opportunity to change her career path, from hospitality to the NHS, with the support of The Prince's Trust, leading to two promotions and a better work-life balance.  
Emma Butterworth, impact manager at The Prince's Trust, presented research from the King's Fund that shared insight into the opportunities and challenges for young people in the health and care workforce and shared some key areas for delegates to consider when recruiting young people. 
See more of the King's Fund research presented by Emma
We were also joined on the mainstage by Cristiana Orlando, research fellow at the Institute for Employment Studies (IES). Cristiana outlined the findings from the latest IES youth-centred research on young people's views of good quality work and support, the quality of their experiences in work, and the impact of the pandemic. Delegates were encouraged to consider the impact of the pandemic on young people's confidence and the need to support them to apply for roles.
Breakout sessions
The morning and afternoon of the conference was split into breakout sessions covering good practice case studies and workshops for delegates to choose from. Our workshops were extremely popular with delegates, and we produced some resources below to capture this learning.
Nurturing young people's health and wellbeing 
Joel Gujral, founder & chief executive officer, and Paul Yung, chief operating officer from MYNDUP, ran a workshop that highlighted how MYNDUP is partnering with The Prince's Trust to provide free virtual health and wellbeing sessions to young people enrolled in health and social care courses. The discussion was captured in this visual summary and can be used as an A4 poster in your organisation to help you consider your local approach.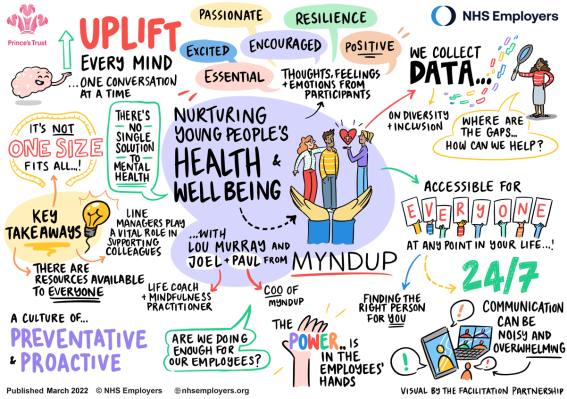 Engaging and attracting young people to careers in the health and care sector 
Alexia Lovell, youth development lead and Sophie Rix, marketing manager at The Prince's Trust shared their expertise for engaging with and attracting young people to job roles. Laura Farrow, senior recruitment advisor at South Central Ambulance Service, encouraged delegates to steal her top tips with pride. See our visual summary of this workshop for hints and tips to help you reach more young people.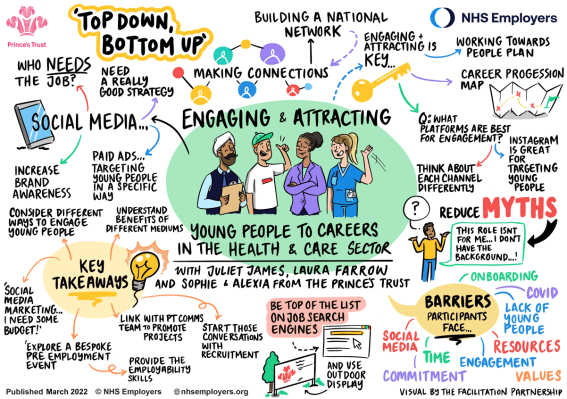 Preparing young people to successfully apply for jobs
Our final workshop was led by Sarah Wales, youth development lead at The Prince's Trust who outlined their mission to help young people transform their lives by developing confidence and skills. Prince's Trust programmes are flexible and bespoke and lots of time is invested in getting to know the young people, their interests and motivations to ensure they are ready for a role within the health and care sector. You can use this visual summary to review your organisation's processes.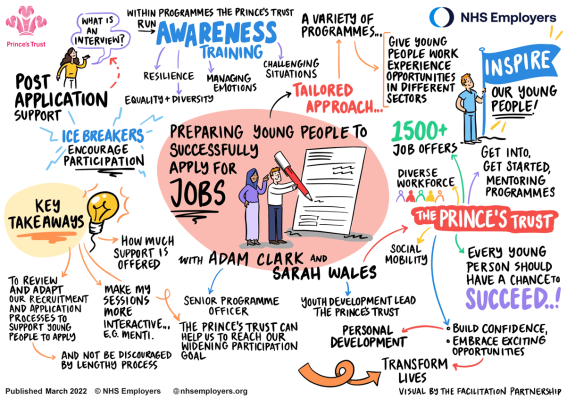 Thank you to The Facilitation Partnership for capturing the workshops in the form of unique graphics.