Blog post
Refugee Employment Programme in North West London
This blog describes how a dedicated recruitment project is helping refugees to find work.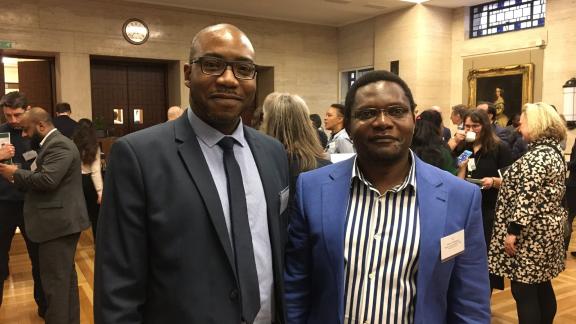 West London NHS Trust colleagues Nathan Christie-Plummer, deputy workforce director (left), and Anthony Sembatya, programme manager (right), tell us about the development and delivery of successful initiatives that offer career prospects to refugees living in local communities.
How it started
The project began around 18 months ago when the trust's chief executive, Carolyn Regan, had the idea after a number of refugees living in the area contacted her to enquire about gaining employment within the NHS. Today it is now being delivered across the North West London Integrated Care Board (NWL ICB).
Refugees are a valuable part of our community, and some have previously obtained skills from health and medical backgrounds which can contribute to roles in the NHS.
The differentiating factor of the programme is that it does not focus solely on refugee doctors or nurses. We recruit clinical and non-clinical staff, which means that people who wish to work in a range of roles can all be supported towards employment through this programme. In addition, there are eight NHS trusts across NWL delivering the programme. This gives job seekers more options. We have worked hard to provide different types of support and opportunities to refugees who are keen to find a rewarding career path.
Recruitment fairs
More than 100 refugees from countries such as Ukraine, Afghanistan and Syria attended our initial recruitment fair in November 2022, which we believe to be the first refugee-focused event held in London. There was a wealth of career information, support and advice available at the fair from a variety of different local organisations. Face-to-face interviews took place on the day and around 25 per cent of the candidates were offered work placements. A further event in May of this year attracted a similar number, with the same rate of attendees successfully acquiring jobs. Although these are very positive results, we want to continue improving on this.
While we have successfully recruited doctors and nurses through other means, the recruitment events are designed to target those people who'd like to work in unregulated professions in the NHS. It's quicker and simpler to place individuals into entry level roles as they don't need to wait months, potentially, for professional registration checks to be processed. 49 refugees have been assisted with finding work as health care support workers, in administrative and facilities roles, and some as volunteers.  
Employment checks assurance process
It can difficult to place refugees and asylum seekers in jobs, partly due to a lack of required documentation for the pre-employment checks process, but we don't want there to be barriers when the right kind of people are available and willing to work. We have applied several steps to help to streamline the checks process by using some permitted flexibilities:
undertake a risk assessment based on the type of role and responsibilities

ask the individual to complete a model declaration form

ascertain whether a role requires a DBS check as not all roles are eligible for one (and in some situations employees can be supervised instead)

seek character references if an individual cannot provide employment references – for example those who have been housed in hotels since their arrival to the UK will be known to hotel management staff, who may be willing to provide a character reference.
Other schemes
It's really important to connect with local businesses and providers to promote their services and help to engage with refugees.
We actively encourage refugees to sign up to volunteer programmes. NWL NHS trusts and voluntary sector partners received 156 expressions of interest for their volunteer opportunities at the refugee volunteer recruitment event organised by the programme in September 2023. Many of the participants were refugees and asylum seekers currently accommodated in local hotels, usually very isolated with no social links to the community.
Volunteering in the NHS and with the programme partners can help enormously with their employability progress as it demonstrates commitment to finding a career and at the same time the individual can learn skills and integrate themselves in the local culture, which in turn builds their confidence and widens their social network. Trusts are actively involved in the Volunteer to Career programme which provides managed pathway for volunteers to find careers in the NHS. It is mutually beneficial as we are developing talented people and broadening the diversity of our workforce. 10 refugees who participated in our earlier recruitment drive are already working in the NHS. 
We've also implemented the Step into Work programme of support which assists with CV building, making job applications and interview skills. Currently there are 15 people using this resource and we hope it will lead to them finding employment within the community.
Future ambitions
We aim to reduce the waiting time for refugees who are enrolled on the programme to start working in the NHS and another intention is to increase pastoral support for individuals that have already started working with the NHS.
We'd like to encourage trusts within all ICBs to take on some of the refugee volunteers, especially those living locally, and we'll continue to work together with other London ICBs to recruit suitable refugee candidates nearer to where they live.
Naturally, we'd be happy to support any programmes that wish to replicate what we are doing in NWL.
Further information
Refugee Employment Programme :: North West London ICS (nwlondonicb.nhs.uk)
Anthony Sembatya can be contacted via wlm-tr.nwl.volunteers@nhs.net