Article
Staff experience in the NHS
This page details why staff experience is so important and how employers can bring the NHS People Promise to life.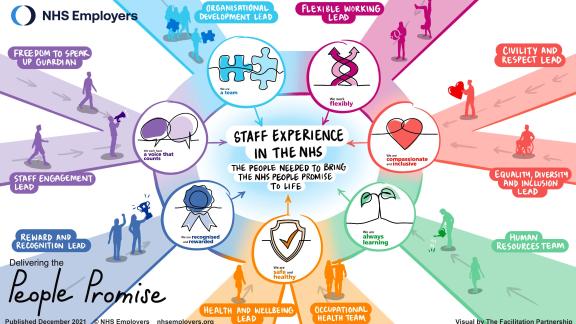 When excellent staff experience is achieved, staff become inspired to be the best people they can be at work which in turn delivers the best patient care. To achieve excellent staff experience employers must create an environment where staff can succeed, feel valued, supported, and encouraged.
 
Why is staff experience important?
The COVID-19 pandemic has placed a significant burden on the NHS workforce and brought staff experience to the forefront. While the importance of supporting NHS staff to give better outcomes for patients has long been recognised, the pandemic has forced employers to critically re-examine how they support the whole experience of NHS staff.
Despite the relentless pressures of COVID-19 on NHS trusts, we have seen innovation, transformational change, and real improvements to enhance the experience of staff. Employers have acted quickly and effectively to facilitate a supportive, compassionate, and positive experience for their NHS staff.
It is vital that the NHS does not revert to old ways of working, but continues to build on lessons learned and ensure that the NHS People Promise is a lived reality.
'This is a promise we must all make to each other – to work together to improve the experience of working in the NHS for everyone.'
 
Bringing the NHS People Promise to life
The NHS People Promise explores seven elements that would make the greatest difference in improving the experience of NHS staff in the workplace. We have created a visual (above) to capture how, when these seven elements are combined, meaningful staff experience can be achieved. Leaders and line managers across the NHS play a key role in bringing these elements to life. 
Our visual details the key elements that can influence, shape and bring the NHS People Promise to life. When people work together collaboratively, they can shift cultures, challenge ideas, maximise impact and make a lasting difference to the experience of NHS staff.
This graphic above is not prescriptive, and we understand that each organisation may not have a person responsible for each of the promises or one person that is responsible for more than one promise. However, we wanted to show that when all of these roles are combined including leaders and line managers staff experience can be achieved, it just might look a little different in each organisation.
 
Staff Experience in the NHS: routes to retention
On Tuesday 5 December 2023, our annual staff experience conference will explore how a positive workplace experience is crucial to staff retention and a renewed priority for workforce leaders under the NHS Long Term Workforce Plan.
Through this full-day, virtual event, we'll delve into the key themes of what good work looks like, how to better support employees, and the practical measures employers can take to help staff remain and thrive in the NHS.
We'll also look at the key role NHS leaders have to play in ensuring staff experience is at the forefront of their organisation's strategic priorities and everyday working practice. 
This free-to-attend event is open to anyone working in NHS provider organisations or integrated care systems who support or have an interest in staff experience. Bookings are open now.
We have collated key learning and insights based on examples of adaptation and innovation showcased by NHS trusts during the COVID-19 pandemic. The information and resources can be used to help strengthen local approaches within organisations to ultimately enhance staff experience.