Blog post
Team talk - the foundation for staff engagement
NHS Employers policy manager Steven Weeks reflects on the benefits of a team-wide approach to staff engagement in the NHS.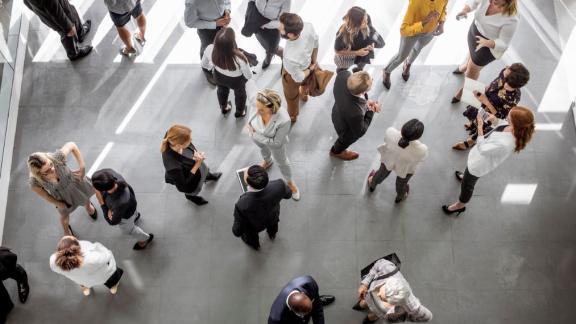 Engagement at team level is the bedrock of all successful staff engagement. Most people work in teams and their day-to-day interactions are with their immediate colleagues and manager, rather than with the wider directorate or organisation.
NHS teams can be quite large, involve disparate occupations and may not always have a strong team identity. More positively, they do usually have a common purpose and tend to meet on regular basis to discuss team issues.
Much has been written on the nature of teams in the NHS and the particular challenges of effective teamwork and engagement in the NHS context. Indeed, our recent NHS Employers case study highlighted the success of Lancashire Teaching Hospitals in developing its innovative Team Engagement and Development (TED) tool, specifically focused on promoting and measuring engagement within and across teams.
Team engagement can also of course be measured through data from the NHS Staff Survey, as well as NHS England's People Pulse.
NHS Staff Survey scores for team working are relatively positive compared to other sectors of the economy, but there is wide variation in team engagement scores, both between and within organisations. Data on team engagement can also be limited, depending on how it is collected locally.
A new approach
Encouragingly though we are seeing effective team engagement approaches developed or implemented across a number of NHS organisations. Examples include:
A development programme for line managers to improve their ability to lead in an engaging way implemented across a range of NHS trusts in 2018 and reflected in the NHS leadership Academy Leadership model and improvement leader tools developed by NHS England.

Trusts using evidence-based, team working diagnostic tools to understand and shape team dynamics.

The use of team-based discussions such as quality and safety huddles, team briefings and quality circles.

Introducing team-based listening conversations on key issues, more recently often focssing on retention.

Harnessing online communication tools to support communication in teams which are dispersed or have no physical base, such as community services and ambulance trusts.

The widely used patient care framework of Schwartz Rounds has also been shown to have a positive impact on team engagement.
The role of OD
A broader approach to developing and supporting teams and team working is set out in the Do OD TEAM Toolkit, which has been widely used in the NHS and is mentioned in the NHS Long Term Workforce Plan. Local Organisational development (OD) teams have also developed tools to specifically support team engagement and development.
OD interventions can be very effective at team level and OD colleagues are often expert facilitators for team discussions - playing a role of trusted third parties who can support open and effective discussions.
Team-based award schemes and recognition programmes can also reinforce the sense of collective identification that supports staff engagement. These operate in many organisations and examples can be found on our case study home page.
Team engagement - some top tips
Use available data to understand potential issues - team engagement levels can vary widely, so learn from areas of your organisation with above average engagement as well as focusing on those with challenges.

Review data on engagement within the team to ensure colleagues from all staff groups feel engaged.

Line managers have a key influence here – by providing support and training you can enable them to better support team engagement.

Use tried and tested tools to support team development and engagement, for example, the OD team development toolkit or the TED tool.

Team engagement can also be developed through quality improvement activity e.g. team huddles and Schwartz Rounds

.

Recognise success at a team level. This can be informally or through staff recognition schemes at team and corporate level.
More information on the tools and approaches in this blog are available on request. We are also keen to increase our resources in this area, so if you have a great example of a local team engagement initiative, please get in touch.