Article
UHB's work with The Prince's Trust sees decade of success
Learn how University Hospitals Birmingham NHS Foundation Trust has worked with The Prince's Trust to recruit and retain more young people.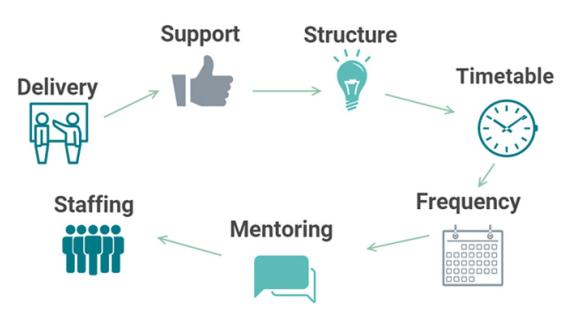 University Hospitals Birmingham NHS Foundation Trust (UHB) initially established its 'learning hub' as part of its corporate social responsibility strategy. The aim was to increase workforce supply from the local community by delivering training to unemployed people.
In 2012, senior HR staff looked to The Prince's Trust to help them make best of the learning hub and realise its aims. A successful partnership between the two organisations was formed which has now been maintained over 10 years.
Benefits of working with The Prince's Trust
Established, well-known organisation with a good reputation and kudos. It helps open doors to connect young people and with managers at other NHS organisations.
Local and national networks provide an easy way to make connections and partnerships with other trusts.
Knows how to engage with young people in outreach. "They bring a lot more than we could alone" (Rachel Burton, Work Programme and Careers Manager).
Uses a wide variety of social media channels and platforms which are restricted in NHS organisations. All their communications are geared towards the target audience of young people such as through Instagram and TikTok.
Centrally located and modern office in Digbeth, Birmingham which attracts young people.
How the partnership works
The Get Into Hospitals pre-employment programme is mostly delivered by UHB staff who have adapted the content to use trust-specific knowledge, policies and recruitment drives. (In most partnership NHS trusts, The Prince's Trust delivers all the training.)

The Prince's Trust supplies the young people, organises, and supports the Get Into Hospitals programme. A Prince's Trust executive worker is allocated to each programme.​

Young people train at the central Learning Hub and undertake work experience in any of the partnered NHS trusts in the area.​

A taster day is provided two weeks before the programme starts to ensure young people are informed of identity and reference requirements.

The Get Into Hospitals programme runs for eight weeks, consisting of two weeks in-house classroom-based training, followed by work-based activities either as work placement or in a simulated environment, followed by interviews.​

As an innovative and positive response to covid which prevented work placements from taking place, a training room was transformed into a simulated environment to replicate a hospital bay within a ward. The outcomes remained positive/successful.​

UHB runs six Get Into Hospitals programmes per year.

The Prince's Trust provides attendees with mentoring throughout the programme and for six months after completion. This complements UHB's own pastoral support.​

UHB employs a dedicated tutor to deliver Prince's Trust programmes to increase workforce supply.​

Through Prince's Trust co-location funding, an additional engagement coordinator has been recruited to actively work in outreach to attract young people to Prince's Trust programmes. The coordinator provides one-to-one support for every young person on the programme.
Employment results
More than 250 of those taking part in the programme to date have been supported into employment. The majority have found roles in health and social care settings, with around 150 employed directly by UHB.
Job roles for those employed by the trust include healthcare assistant, theatre support worker, imaging assistant, administration and facilities support.
"From this course I have secured two jobs offers, both are healthcare assistant positions. I am so excited to start and I genuinely believe I wouldn't be in this position if it wasn't for the programme."

'CM', UHB Get into Hospitals participant.
Retention rates
UHB reports that 87 per cent of the young people who gained employment at the trust through Prince's Trust programmes were still working there 12 months later.
"I have been delivering the Get into Hospitals programme for almost five years. I love working with the young people, helping them see their own potential... when they start to believe they are able to find suitable employment in the sector."

Joanne Saunders, educator at UHB.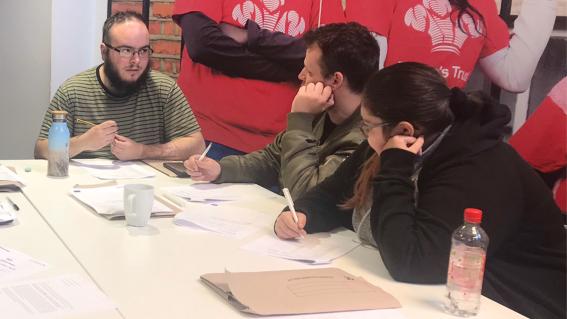 Young people take part in a Get into Hospitals programme session at UHB.
Adapting during the COVID-19 pandemic
Programme delivery was adapted during the pandemic to adhere to social distancing guidelines. A UHB survey revealed that young people preferred face-to-face contact over virtual programmes.
UHB changed the programme to allow young people to attend in either the morning or afternoon, twice a week for up to eight weeks. Some sessions were run at Prince's Trust's central Birmingham office but work experience was not possible during these times. UHB appreciated The Prince's Trust's highly flexible approach throughout this time. 
"Before joining the programme I felt very helpless. I had my children and for years was not able secure employment. Words cannot describe how thankful I am for the opportunity... for changing my life and helping me get the job of healthcare assistant."

'KH', UHB Get into Hospitals participant.
Contact information 
For more details about the work in this case study, contact Rachel Burton, Work Programme and Careers Manager at University Hospitals Birmingham NHS Foundation Trust, at Rachel.Burton@uhb.nhs.uk.