Case Study
How Kettering General Hospital NHS Foundation Trust offered listening support to staff seven days a week
Kettering General created confidential drop-in face to face support for their staff.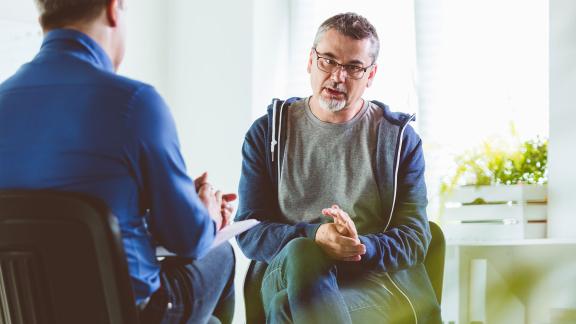 Overview
In July 2021, Kettering and Northampton General Hospitals joined to become University Hospitals of Northamptonshire NHS Group. There are in excess of 10,000 employees, around 4,000 employees at Kettering General Hospital. 
For this case study we spoke to Sarah Fereday, acting health and wellbeing manager, about how her team at Kettering General implemented a confidential listening service for staff that has cover seven days a week.
Key benefits and outcomes
Staff were able to access support face to face without appointment times or a waiting list. 

Offering the service onsite in the workplace has helped staff stay in work, rather than waiting for a referral from home. 

A business case put forward to the Investment Management Committee was successful, meaning the service will continue. 

Shortlisted for a Health Service Journal (HSJ) award- NHS Communications Initiative of the Year for the systemwide Northamptonshire Health Care Partnership's Virtual Wellbeing Festival 2021. 
What the organisation faced
Sarah Fereday completed an MSc in Mindfulness and Compassion; her assignments and research were focused on the evidence base for the efficacy of mindfulness interventions for staff wellbeing in the workplace. Following her systematic review on the evidence, Sarah completed a mindfulness pilot for KGH colleagues one day a week for 3 months initially, collating the evidence following the sessions. The mindfulness sessions were offered in the workplace for clinical and non-clinical colleagues, 70 per cent of whom reported feeling more relaxed, calmer, focused and less stressed after just one short mindfulness session.  
When the pandemic hit, government guidance continued to change and evolve as more became known about COVID-19. National wellbeing support offers were available, however it was clear that a proactive onsite wellbeing service was needed. 
What the organisation did
The We Care Café was launched - a dedicated space for staff to get a drink and have a break away from the workspace, to get headspace and a change of scenery. The plan was that health and wellbeing staff could signpost colleagues to relevant services from the café. 
Because it was quite an open plan space, the space didn't lend itself as well as initially anticipated as a confidential setting. Two weeks later in April 2020 the Open Office was launched, which now provides a seven-day listening service. The office is on a main corridor near reception making it visible and accessible for colleagues. 
In its first week, it opened for five days to mirror the Care Café opening times. When the service proved in demand, they decided to staff the office seven days a week to reach staff working over weekends too. The listening service has been open every day since. 
The service was promoted to staff via private Facebook groups, posters on noticeboards (helpful for those who do not always have access to computers), and newsletters sent by the comms team to all staff.  
A health and wellbeing task and finish group was established, set up specifically to respond to the wellbeing needs of staff during the pandemic. Colleagues with particular experience or interest in health and wellbeing were approached to help but were not necessarily trained counsellors or therapists.  
Listening staff can refer and signpost to other services, such as the Employee Assistance Program, which is a free 24/7 counselling support line, with the option of having virtual 1:1 counselling sessions. They can also signpost to the psychological support hub 'Stronger Together.'  
The team applied for and received funding from NHS Charities Together for a secondment position of Open Office wellbeing coordinator for six months for 30 hours a week. As waves of the pandemic progressed, they knew they would need more support as colleagues were sent back to their day jobs as services started to resume.  
The director of people and the acting health and wellbeing manager wrote and presented a business case to the trust's Investment Management Committee.  On setting up the Open Office, it was clear that data and evaluation of the service would be invaluable. Anonymised data was captured in terms of numbers of attendances, length of time in the service, themes and whether colleagues were from a clinical or clinical area.
Results and benefits
As of the end of October 2021, 2,275 attendances had been seen through the listening service with a range of different issues, whether just to chat through a terrible day, or those going through a crisis. COVID-19 has magnified issues but not all problems are necessarily related to the pandemic or to work and colleagues with difficulties not related to work were also able to seek support. 
In a time where a lot of services moved online, the listening service was in person. Colleagues didn't need to book a time and could just drop in. When there were so many restrictions on day-to-day life, it made a big difference to be able to access support face to face with no waiting list when it was most needed. 
From the start, the team collected data, knowing this would be important to provide evidence of how well the service had been used. Because it's a confidential service they needed to capture data on attendances, themes, and which days and times were most popular. 
Initially they saw a high volume of attendances, but short appointments. More recently they're starting to see fewer attendances but those colleagues who do seek support have been using the service for longer periods of time. This was anticipated as the pandemic evolved.  
Several colleagues that came in have returned to say thank you. One colleague had been experiencing anxiety but wanted to remain at work so was referred for some IAPT (Improving Access to Psychological Therapies) sessions that they described as "life changing."  
"[We're] helping people stay at work. And that's huge. People tell us that we're making a difference, whether that's in the moment, listening to them, or whether it's doing those onward referrals." 
Sarah took part in a Virtual Wellbeing Festival, doing a live session, as well as inputting into the rest of the event. They were shortlisted for NHS Communications Initiative of the year at the Health Service Journal Award for this event.
Overcoming obstacles
Staff who helped with the service initially were moved back to their regular roles after the first wave of the pandemic – this put the service under some pressure, but demand meant that a strong business case for more funding could be developed.
Takeaway tips
Sarah says, "don't be afraid to start somewhere and do something! It will evolve and change over time but starting is the most important thing. 

Not all NHS services will be seven days a week but try and offer times that fit in with the hours that work for your trust. 

Offering a flexible drop in approach can be helpful -– this success was down to being face to face with people that needed help there and then. 
External partnerships with Northamptonshire Health and Care Partnership and Northampton General and Northampton Healthcare have been invaluable.
Future plans
Working collaboratively with Northampton General to set up a Support Our Staff (SOS) service, for colleagues that have experienced a potentially traumatic event in the workplace.
Contact details
For further information on this case study please contact Sarah Fereday, acting health and wellbeing manager, Kettering General Hospital NHS Foundation Trust via kgh-tr.mindfulness@nhs.net