Case Study
How a local college partnership boosted T Level success
University Hospital Southampton NHS Foundation Trust (UHS) collaborates with local colleges to provide tailor-made Level 3 qualification programmes.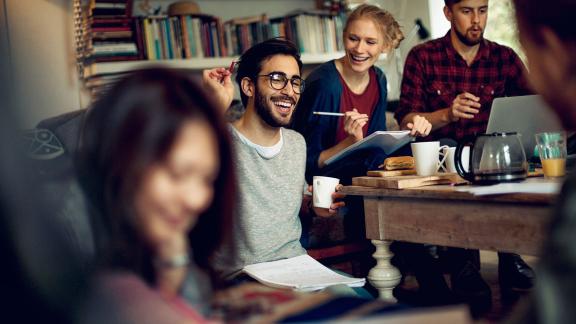 Overview
The NHS Long Term Workforce Plan sets out how the NHS will address existing and future workforce challenges by recruiting and retaining thousands more staff over the next 15 years.
To implement the plan, employers are finding new and innovative ways to provide the new health and care T Level placements for local college students. There are many ways to approach this new qualification and design the delivery of its placements. UHS share their experience of planning for Level 3 programmes and placements.
UHS created a plan to give college students the best chance of developing the right skills and behaviours. This enabled them to pass their T Level course and equip them for future roles in their organisation. 
The plan included:
Growing as an anchor institution by encouraging local people to consider careers and education with the trust.
Three local colleges were approached to build partnerships and widen participation in the local community.
Getting involved in the student selection process for Level 3 programmes to ensure the students met the values of the trust and were suited to roles in healthcare.
Offering teaching sessions relevant to working in clinical practice.
Helping to prepare colleges to move towards providing T Level programmes from 2024 with placements in theatres, therapies, maternity and adult and child clinical ward areas.
In the above audio clip Nicola George, Learning in Practice Facilitator at UHS discusses their experience setting up the placements.
The trust approached a local college that they had previously worked with to run a trial with their students using T Levels as a model. They found the key to a successful placement was communicating clearly with the college and being as involved as possible.
The trial was initially for industrial placements in four week blocks spread across the student's two years of study. The trust was involved with joint recruitment to the course and used this to create close links with the course leads.
They initially worked with a small group of students so that they could be properly prepared for their placements and be aware of the work of the trust. This included making sure they had passed DBS checks and had passed occupational health checks.
The focus was originally to place them in nursing and ward areas. However, the trust realised that the students had broader interests including therapy support work and midwifery so tried to expand into a wider variety of areas.
Key benefits and outcomes
Students often want to work at UHS after completing their placements there. This helps managers meet potential future employees and shape them to become part of the workforce.
Students receive thorough induction and specialist training from hospital staff, which equips them with essential skills and knowledge of different roles available in the NHS before they start their placement. The trust also guides them with training on job applications and form completion. Students must complete core competencies and gain a care certificate to work on the staff bank as a therapy or healthcare support worker. The trust agreed with the college that they would offer successful students a guaranteed interview for a healthcare support worker job.
Existing support workers are upskilled to support these students while on placement and can go on to gain additional mentoring qualifications. 
Recruiting from the local community helps keep student and staff travel costs to a minimum.
What the organisation did
The above audio clip is a quote from Nicola George, Learning in Practice Facilitator, UHS where she states "[It is] Important to offer a range of placements. I think those students as Zoe said they don't always know what they don't know. It's key for us to give them that variety so that they have the opportunity to see some of those other healthcare professions. It's definitely key for us to work closely with the colleges. It is key for us to provide some specialist training to support the college staff. It works really well."
Results
Since the inception of the trials in 2020, 100 per cent of Level 3 students have remained in health-related jobs or courses after completion.
"It didn't use more resources. It is about seeing the benefits. It's about how can we extend what we already do and use the resources we already have. There is no specific post for this. There is no specific extra money for this. It is about working differently. It is about partnership, how can we benefit each other rather than about money because there isn't any." Nicola George, Learning in Practice Facilitator, UHS.
Takeaway tips
Select local colleges so students have minimal travel time and future local recruitment is prioritised.
Invest the time to create strong partnerships with colleges.
Get involved from the beginning and influence the curriculum. Provide an induction that embraces professionalism and embeds the need for reflective practice. Get involved with recruitment onto the programmes and interview students with the college.
Design a co-ordinated, collaborative, and planned approach to teach essential skills. UHS uses role play scenarios to equip students with experience of  unexpected situations on the wards. They also use a simulation suite to teach key skills such as learning how to wash patients safely using silicone dummies.
By being employer led not college led, it was possible to set clear expectations for all and ensure colleges enter a practice agreement with your organisation.
Obtain a single point of contact with the course lead at the college. This helped clearer communication and meant decisions could be made faster.
Consider offering only block placements. Pilots showed that this approach provided the continuity needed to benefit staff and students. 
Obtain buy-in from education teams and act centrally to organise and facilitate placements across the hospital. This reduced administration and allowed a wider variety of placements to be offered.
Organise links between colleges to maximise teaching opportunities. UHS is currently exploring how to share education sessions where they can deliver a teaching session to two colleges at once.
Provide pastoral care for those on placements. It is important to be welcoming and provide the right support. At UHS, each department providing a placement has an allocated education lead to provide pastoral support for the student.
"The work links in really well to the NHS Long Term Workforce Plan. We need to grow more staff coming into the NHS. This is a really brilliant opportunity to grow our domestic pipeline, our local workforce. Really incentivise the young adults in our local community into the NHS. They want to come and then stay with us and stay within the area. I think it is a really sterling example about some successful recruitment opportunities." Zoe Oram, AHP Education Lead, UHS.