Case Study
Jobs and careers roadshow event
Suffolk and North East Essex Integrated Care Board (SNEE ICB) used a roadshow bus to offer jobs, training and advice to its local residents.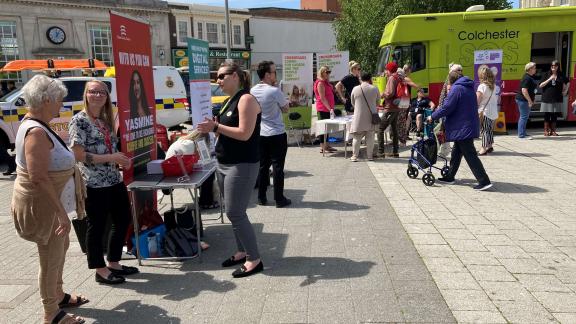 Overview
To address the barriers to good employment in its community SNEE ICB hosted a jobs and careers roadshow, bringing information on employment and training directly to local residents.
Key benefits and outcomes
The bus creates opportunities for partners to connect and build relationships outside of the roadshow.
Community members are signposted to local employment support and training opportunities.
What the organisation faced
SNEE ICB recognised that its local community faced barriers such as access to housing, job and family insecurities, digital illiteracy, limited public transport, and a lack of understanding about good employment opportunities.
What the organisation did
To address these challenges, it commissioned a well-known local organisation's bus to establish a jobs and careers roadshow event, providing locals with information on employment support and training opportunities:
Upskilling and learning partners (Adult Community Learning (ACL) Essex, Colchester institute) offering educational resources.
Recruitment partners (Police, Coast Guard and Ambulance services, local care homes, holiday parks) highlighting job opportunities.
Training partners (Tendring District Council, McDonald's) providing vacancies and apprenticeships.
Support and advisory partners (Digital Essex, Department of Work and Pensions, Citizens Advice Bureau) offering guidance.
SNEE ICB takes responsibility of the bus, including costs and digital marketing, without requiring contributions from partners.
Recruitment events are advertised via social media, local community Facebook groups as well as providing flyers to display in local businesses.
The roadshow operates between school drop-off and pick-up hours, making it convenient for parents to access the service.
Partners are encouraged to bring visually attractive material like Police and Ambulance vehicles, to engage families and young people.
SNEE ICB collects data through an engagement questionnaire at the end of each roadshow. Information tracked includes age ranges, the number of people supported, and advice provided. This data helps identify service gaps and recruit new partners.
Kerrey Goosetree, Population Education, Training and Employment - Lead, shared an example of the positive impact the roadshows have had:
"A lady first attended a roadshow, where she had a conversation with the Colchester Institute and took away their prospectus. Months later she returned to share the good news that her son had started a course there. She said this opportunity gave him a sense of purpose and direction and his family dynamics improved as they noticed changes to his attitude."
Take-away tips
Showcase opportunities to the community and be adaptive to meet their needs.
Include partners that bring a visual impact.
Have flexibility with where and when the bus is stationed, to accommodate those that may have children.