Case Study
Implementing a digital LCEA system
A case study on how Manchester University NHS Foundation Trust successfully navigated its Local Clinical Excellence Awards following a merger in 2017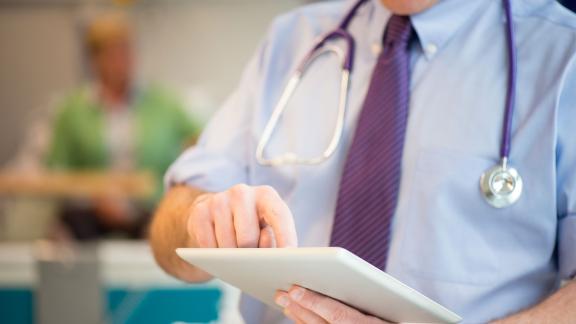 Following the merger of two NHS trusts in 2017, the newly formed Manchester University NHS Foundation Trust became the largest acute provider in England. Financial pressures stemming from the merger led to some missed Local Clinical Excellence Awards (LCEA) rounds, leading to a disengaged consultant workforce. This newly established trust came up with a digital solution to successfully navigate its LCEAs in a fair and streamlined way, in order to re-engage the consultant workforce.
Key benefits and outcomes
The implementation of a digital system replaced a paper-based process. Applications and assessments are completed on the online portal. It also provides a reporting system to monitor the number of applications by ethnicity, gender, and less-than-full-time (LTFT) working.

A streamlined process that had a training package to make the process simpler and less time consuming.

Engaging consultants that had not previously applied for LCEAs.

Enhancements to the scoring process aligned domains to organisational values and behaviours.
What the organisation faced
A merger between two trusts saw the creation of Manchester University NHS Foundation Trust (MFT) in October 2017, the largest acute provider in England. Each legacy organisation had had its own values, culture and processes. This included the award of LCEA, which were resource-intensive to run and inconsistent in their delivery. Financial pressures had led to some rounds being missed, and many consultants felt disengaged from the process which in turn was viewed negatively.
This contributed to widening gender and ethnicity pay gaps, in-line with a national trend, as older white male consultants who worked full time continued to be the main beneficiaries of the awards scheme, and others felt discouraged from applying. The organisation set out to develop a process that was streamlined, integrated and fairer for the 1,200 consultants in its workforce.
What the organisation did
A task and finish group was set up by the trust and included a medical director as the chair, a corporate director from an operational background, a senior medical workforce manager and a equality and diversity lead with subject matter expertise, associate medical directors who hold national CEAs and members of the local negotiating committee (LCN).
After identifying the need for change, the first step was to engage the consultant workforce in the early proposals. The organisation had direct conversations with consultants, in places and at times that were convenient for the doctors. Management wanted to understand what their thoughts were on the current awards process, to identify if and how they engaged with it, and if not, why not. Other key stakeholders at every level, including non-executive board members and junior doctors, contributed to the discussion. This gave the trust detailed information to help build a compelling case for change and identify the necessary interventions.
The trust proposed several substantial changes to its LCEA policy and process that were not difficult to negotiate with the LNC, outlined below.
Changing from a paper-based to an electronic system
After a tendering process, the trust commissioned an external organisation (Corporation Pop) to develop a bespoke IT system based on its requirements. The new portal aimed to address many of the issues of the previous ways of working and was launched in time for the 2018-19 round.
Corporation Pop designed the portal to meet the requirements of the LCEA application, scoring and reporting system and fit the award process. The system was assessed to ensure it was secure. The company also provided an onsite training session. The portal can be modified to accommodate any award changes and contract updates.
The organisation decided to change the focus of the five LCEA domains (set out in the 2018 LCEA guidance). This was based on feedback around the domains' structure favouring some specialties over others, and difficulties that some consultants had in providing evidence against some of them, which resulted in inequity of access to the awards.
The leading and managing domains were merged to make one, and an additional domain was added to ensure that consultants' values and behaviours were considered in their application (the expectation being that they could demonstrate alignment with the trust's organisational values).  
The system was also made more flexible for consultants, so that an applicant could select any one domain for submission of more evidence through the mechanism of allowing this one domain a higher word count than the others. This allowed applicants to add more weight to a specific area in which they felt particularly strong.
The application process was streamlined for consultants
The system provides benefits such as spelling and grammar checking, and a word count check, which has been beneficial to all and particularly those consultants for whom English is not their first language. It is accessible anywhere with a secure internet connection and has the option to save and return. This web-based accessibility was particularly beneficial to LTFT consultants with less access to the workplace.
An improved reporting function
The trust could monitor applications over time, with a focus on highlighting patterns and gaps in terms of the diversity of all applicants and the successful; thus making much-needed improvements in this area. The system reduced the administrative burden of sorting through hundreds of award applications.
Several enhancements were made to the LCEA scoring process:
The 0,2,6,10 system set out in the 2018 LCEA guidance was changed to a linear score 1-10 with development of guidance for scorers.

Consultants who would not apply for the LCEAs, as they were ineligible (such as those who already held NCEAs), were invited to be scorers.

A broad representation of the trust was sought for the pool of scorers, including managers, other clinicians, academics and non-consultant grade doctors.
Communications from the group medical directors were sent out to highlight the benefits to the new system and encourage engagement.
A programme of myth-busting and training was rolled out
This was to support consultants who hadn't previously engaged in the process, to understand how to improve their chance of getting an award.
Results and benefits
Streamlined process for all
The new portal reduced the burden of the process for consultants applying for awards and all those involved in administering it.
System administrators can open and close a round with push of a button. Scoring applications can be navigated and monitored easily which helps immensely with keeping the application round on track.
Reporting functionality is accurate and customisable
A spreadsheet produced directly from the system can be filtered and manipulated into tables, charts, and graphs. The filters show applicants and award winners by age, gender, ethnicity, specialty, and full-time equivalent (FTE). This provides the trust with information to make changes needed to encourage all consultant groups to engage in the awards process. It can also demonstrate scoring by domain. Once the scoring process has been completed a report can be produced for payroll. Due to the simplified system, there was a huge spike in applications in the first round. A library of anonymised successful applications is available for anyone who needs to see and review them (as per local policy), reinforcing the open and fair nature of the process.
New process broadens domains
The trust can now easily upload applications on the intranet demonstrating what excellence looks like. Applicants have been able to align organisational values and behaviours and demonstrate how treating colleagues and patients with dignity and respect is important in the applications.
The system improved the quality of applications. The character/word count is visible for each domain so that the consultant is aware as they complete their application. Guidance was provided by previous applicants and award winners on what makes a good application. Training of scorers ensured a fair scoring system. Transparency makes an enormous difference to applicant confidence in the system; award winners can be published from the system and all applicants have access to anonymised successful applications.
Overcoming obstacles
The merger of the legacy organisations to form MFT resulted in a review of all policies and processes, which gave MFT the opportunity to change the current paper-based processes into one new system. MFT engaged widely to myth-bust and overcome the cultural challenges associated with introducing a new system.
There was also a cost for setting up the new system, and a business case was produced and presented to the medical director that detailed how the new system would reduce hours of administration time in working through paper applications and would reduce paper and printing costs.
Takeaway tips for others
Engage the consultant workforce and provide resources on award eligibility, how to apply and the scoring process.

Be open about intentions and process.

Provide FAQs and myth-busting communications.

Use reporting mechanisms to review application diversity.

Secure an IT system to reduce time and effort that is required to deliver an award round.
Further information
For more information, please contact Christine Tudor, group medical workforce manager, Manchester University NHS Foundation Trust via 03003309444.
You can also contact Corporation Pop via info@corporationpop.co.uk or on 01618380808.