Conference
OD in the NHS VIII- holding on to hope
In March 2021, Do OD hosted their first virtual conference, read a summary and access new resources from the day.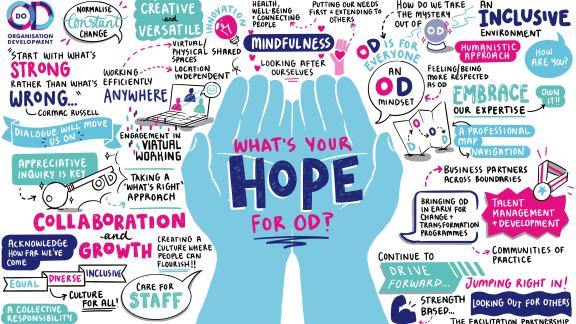 On 3 March 2021, Do OD hosted their eighth annual conference. It was their first ever virtual conference, with 850 registrations and over 600 people joining on the day.
The event hosted 30 speakers, three keynote sessions and 18 breakout sessions. Feedback has been overwhelmingly positive and attendees took inspiration and learning away from the workshops and discussions.
Take a look at the highlights video from the main stage sessions below.
Main stage sessions
The day started with a welcome from Prerana Issar, chief people officer at NHS England and Improvement. Prerana thanked the OD community for their fantastic work over the last year and talked about the need for sustainable activity recovery and workforce recovery over the coming months, with OD and people professionals being key to supporting people recovery.
Paul and Karen ran a large group intervention which gave participants the opportunity to explore OD work before, during and (hopefully) after COVID-19, considering the opportunities and challenges that lie ahead and thinking about how we can support each other through more change. The discussions were captured by Ellie Chapman from The Facilitation Partnership in this visual summary. 
The afternoon started with a main stage session led by Tom Simons, chief HR and OD officer at NHS England and Improvement, who is leading the Future HR and OD Programme. He was joined by Caroline Waterfield, director of development and employment at NHS Employers. Tom talked about how we can build on our strengths and experience to be part of co-creating the vision for HR and OD, so that we can continue to make a positive impact on our colleagues and patients. The ambitions of Future HR and OD are to set a vision for the future and understand where we are today. Find out more about the programme on the Future HR andOD website.
The final keynote session was a conversation between Mee Yan Cheung Judge, Quality Equality Ltd and Glenda Eoyang, Human Systems Dynamic Institute who brought their vast experiences and expertise to share with us their learning and insights during these challenging global times. How can we hold onto hope for change? When we recognise the emotional cost of doing OD, how can we look after ourselves and each other so that we may continue to support our NHS colleagues in the best possible ways? Mee Yan and Glenda answered some of the big questions about hope and shared personal insights and experiences which were hugely appreciated by our OD community. They talked about the importance of working together to create a positive future, of looking after ourselves and doing what energises us, so that we can collectively work towards our goals. 
As well as the main stage sessions, attendees could choose from various workshops and chill out spaces which ranged from topics on OD in a virtual space, health and wellbeing in OD and OD and the climate emergency. See a visual summary of the event which captures the story of the conference and its key themes to help share ideas and learning in your organisation.
New resources
We launched three new resources at the conference, our updated Team Toolkit, a guide on doing digital OD and our new guide to Do OD - who we are and what we do.  
Twitter highlights
We reached over 536,000 people on Twitter through #ODintheNHS, view some of the highlights on our Twitter moment.
A big thank you
Thank you to everyone who attended the conference! It was a fantastic day with so many inspiring speakers and interesting sessions- we hope you got a lot out of it. Thank you to all our speakers and workshop leaders, the conference wouldn't have happened without them.
Below are just some of the amazing quotes from our evaluation:
"Excellent, knowledgeable and engaging speakers - all of which I would listen to again."
 "Great sessions full of passion and energy."
"I went away with new thinking to apply and left feeling inspired and invigorated by all the sessions and speakers."
"This has opened my mind to think of my future as an OD practitioner."
"Great creative and restorative space in which to reflect, connect and looks at new ways to take action."
"This is the first day in a long time I have not felt alone (I am a lone OD Practitioner in my organisation)."
"Being new to OD and the conference itself, it was extremely thought provoking and insightful. Lots of tools and concepts to reflect on and take forward."