Webinar
The psychological safety of staff webinar
On day two of EQW2023, we hosted a webinar on supporting the psychological safety of staff in the NHS.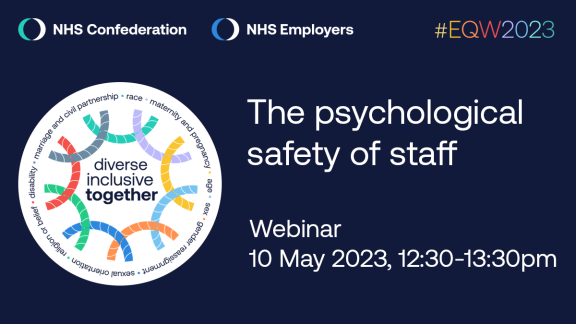 On Wednesday 10 May, we hosted a webinar as part of Equality, Diversity and Human Rights Week (EQW2023), focusing on the psychological safety of staff and how to create a positive workplace culture in the NHS. The webinar was led by Paul Deemer, head of diversity and inclusion at NHS Employers. We had a number of panelists join us, who shared valuable insights and tools for supporting your team's wellbeing, including:
Sophia Kalpaka - Senior Managing Consultant, Delta Alpha Psi
Azmi Peerun - Head of Workforce EDI and Wellbeing, Mid and South Essex Integrated Care System
Aliya Rehman - Staff Experience Programme Lead, NHS Employers.
During the webinar we discussed:
The benefits of psychological safety in the workplace.
Specific behaviours and actions managers and leaders can take to create a culture of psychological safety.
Strategies that can be used to foster open communication, trust and collaboration in the workplace.
How to create a more inclusive and positive culture in the workplace.
Top tips
Access our top tips on how to create a psychologically safe workplace that improves staff experience and wellbeing.
Slides and recording