News
The national Clinical Impact Awards are open for entry
Employers should encourage and support their consultants to enter for a NCIA. Find resources and information to support you.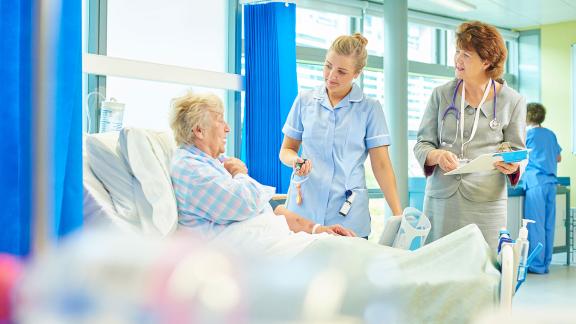 The newly reformed national Clinical Impact Awards (NCIAs) are open for entry and close on the 22 June 2022.
To support employers with communicating the awards and to provide further information on the reforms, the Advisory Committee for Clinical Impact Awards (ACCIA) has produced a suite of resources. Please engage with and share these resources in order to encourage applications from eligible consultants.
Resources
How employers can support consultants to apply for the NCIAs
This resource provides the key steps employers need to take to support its consultants, which include registering your organisation, raising NCIAs at appraisal discussions and reviewing and support applications. Employers can also access an employer guide to help manage the process.
Summary of the reforms and benefits for consultants
This poster provides a headline summary of the key areas of the reform. Use this resource to support your messaging to consultants and print out to share across your organisation.
The awards have been reformed to broaden access to the scheme, make the application process fairer and more inclusive, and ensure the scheme rewards and incentivises excellence across a broader range of activity and behaviours.
Delivering greater diversity into the NCIAs
A key element of the NCIA reforms is ACCIA's commitment to improving diversity. This resource aims to dispel some of the common misconceptions concerning the scheme that may discourage applications from previously under-represented groups.
NCIA 2022 applications now open poster
This is a poster that employers can print off and raise awareness of the awards across the organisation.
Access all the resources from ACCIA's website.
If you would like ACCIA to contact you about the NCIAs and provide you with further information, please use this form.
Know your local clinical excellence awards (LCEAs) from your national Clinical Impact Awards (NCIAs)
The national scheme and the local scheme are different.
Local clinical excellence awards
LCEAs are run by trusts locally each year. They award consultants who perform excellently within their role at a local level / in their organisation. Employers have a commitment to deliver the LCEAs, as set out in schedule 30 of the 2003 terms and conditions of service for consultants, and doctors employed on these terms are contractually eligible to apply for them.
Access further information on the LCEAs.
National Clinical Impact Awards
NHS consultants can apply for NCIAs via an annual competition administered by the Advisory Committee for National Impact Awards (ACCIA). NCIAs seek to recognise and reward the unique and specialised role that NHS consultant doctors, dentists and academic GPs play as senior clinical leaders and the impact their work can have at a national level.
Find out more on the ACCIA website.