Guidance
Next steps for employers running LCEA rounds in 2022
Information for employers on the next steps for local clinical excellence awards (LCEA) arrangements from April 2022 and schedule 30.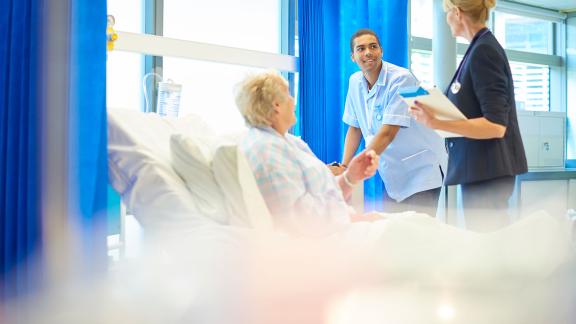 In the absence of a nationally agreed scheme design, employers now need to establish how their LCEA scheme will work for them. This marks a significant shift, from national prescription to local ownership of the awards.
National position on LCEAs following negotiations
As we were unable to reach agreement in our recent national negotiations for a new LCEA scheme design, a reversion to the contractual arrangements in schedule 30 of the 2003 terms and conditions of service for consultants applies.
From April 2022, employers must still run awards rounds every year and now you have some flexibility about how the scheme is run locally. 
Variations to previous arrangements can be implemented in consultation with your joint local negotiating committee (JLNCs). This should be a process of incremental improvement, and we hope that it will offer opportunities for you to incentivise and reward this vital part of your workforce in ways which works for your trust, and your doctors.
Schedule 30 requirements 
There are some fixed contractual requirements, as set out in schedule 30 such as: 
awards must be non-pensionable and non-consolidated
the need for processes for appeals and reviews of pre-2018 awards.*
  
*The contract does stipulate that reviews of pre-2018 consolidated awards need to be carried out. The underlying principle being that we move towards a state of rewarding current excellence. 
We are hearing from employers that this might be difficult in 2022 because of the resource commitment required to make it happen, but also because it risks disengaging those consultants who may lose some of their award following a review. There is some scope to agree a variation to the contractual requirement by postponing the reviews if you can agree this with your JLNC. 
Please read our briefing, produced in partnership with Capsticks. It provides further information about contractual requirements and the expectations on employers in terms of delivering their LCEA scheme under new arrangements.
Funding of the awards
The minimum investment level is to be calculated using this (much simpler) formula:
FTE x £7.9K* 
*(not including national insurance contributions)
There is no longer an 'investment ratio' or a cumulative element to the calculation. However, some complexity does remain when taking into account the costs of maintaining existing LCEAs, i.e. awards granted prior to 1 April 2018.
Before new awards, the following must be paid from this pot:
Pre-2018 existing LCEAs.
Costs associated with any necessary reversions for consultants who have lost national clinical impact awards.
Any new LCEA of greater than one year's duration that are paid beyond April 2022.
There will be variation in the amount of funds trusts have available to spend. This may affect your flexibility to run schemes in some areas, as some organisations will have many pre-2018 awards to pay out before they can invest in new awards. This trend is not expected to last long term and all pots should increase over the next few years as consultants, with old style awards, retire. 
As part of our support offer to you, we are working with our analysts to confirm the exact calculations you will need to make locally to determine your pot for new awards. We hope to publish something in May 2022. 
Update to schedule 30
Schedule 30 currently contain some outdated terms. We are in the process of updating it, but this requires agreement from the Trade Unions at a national level, which we are waiting for before we can publish a clearer version. 
What employers need to do now
Employers need to start developing plans for their new arrangements now. 
During our engagement events we urged employers to consider what funding they have available in the pot this year, and recommended that they now work with their boards, non-executive directors (NEDs) and local negotiating committees (LNCs), to consider how they would like to run rounds (both this year and in the future). 
You should be able to calculate your minimum investment levels, and begin conversations with your boards, NEDs and LNCs about how you want to use this money to incentivise and drive excellence among your consultant workforce. We have shared a slide pack with all the attendees of the engagement events to help this activity. Please get in touch via doctorsanddentists@nhsemployers.org if you would find this helpful. 
In terms of designing new LCEA arrangements we have discussed three broad options with employers:
Run a scheme based on 2018-21 guidance (with some adjustments locally to address the issues which we know exist with the old arrangements).
Distribute available funds equally among eligible consultants (with enhanced access criteria).
Agree a whole new approach to reward (which meets the contractual requirements as well as the needs of the organisation).
Within all these options, employers are urged to consider:
How much money you have to invest in new LCEA awards.
What organisational priority areas you can use this in to incentivise activity.
How you can ensure fairness and equity through your LCEA process and outcomes.
How you can improve diversity in LCEA engagement, applications and outcomes.
These will be useful conversations to have with your senior leadership and consultant workforce which will form the basis on which you start to design your new LCEA approach. 
Feedback from our engagement sessions
In April and May 2022, we engaged directly with around 70 NHS organisations to discuss the outcome of negotiations and the next steps, as well as gather some insights into how organisations were going to run awards round this year.
Due to the lack of nationally agreed guidance and the time and resource needed for transition to new arrangements (as well as the ongoing impact of the pandemic), there is a strong preference for a version of equal distribution this financial year.  

While we understand and acknowledge the rationale in doing so for this year, we would have reservations about its use as a long-term solution. It is not in the spirit of the awards and their intended purpose, which is to reward excellence.

Therefore, we would recommend that you consider equal distribution as a transitionary arrangement, with some proportionate and reasonable access criteria, which could drive improvements in areas where it is needed, such as engagement in job planning and statutory/ mandatory training requirements.

This would also support the transition to the new arrangements which you would hope to agree in your trust for awards rounds from 2023/24.

A minority of NHS organisations we have engaged with have expressed that they intend to run competitive awards rounds from 2022-23, and some are considering a hybrid approach. The hybrid approach may entail a payment to all eligible consultants who meet a minimum set of criteria as well as a competitive round element. All of these options are feasible.
Further information and resources to support
Over the first half of 2022-23, we will be producing written resources and tools to help employers establish what is in their pot, and what remains to invest in new awards after the necessary expenditure. We will also be developing guidance to help employers consider the design of their local LCEA arrangements and guidance to support with navigating the conversations and planning for their new approach to LCEAs.