Article
Black History Month 2022
October is Black History Month, find out what events are taking place across the NHS and access race equality related resources.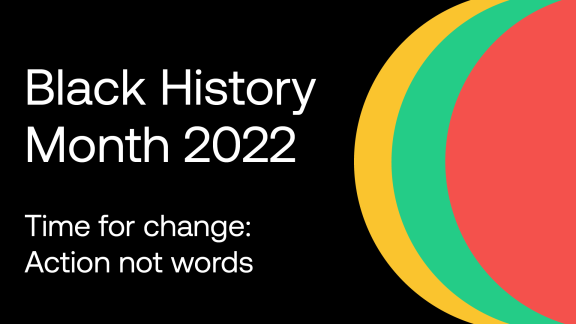 Black History Month honours the achievements, culture and history of black people. NHS organisations across the country are celebrating the month with face-to-face and virtual events.  
The theme for the month is 'Time for change: Action not words'.
Addressing discrimination and disparity is essential, unfortunately, discrimination leads to talent being wasted and poor staff experience leads to poorer outcomes for patients and communities, so it is vital tackling this issue is at the forefront of every NHS organisation.  
Detailed below is a summary of statistics, examples of activities that are taking place during Black History Month across the NHS and a list of resources and organisations that can provide support to improve race equality. 
The NHS is the fifth largest employer in the world, with one in five workers of BME heritage.  

Black people make up 6.5 per cent of NHS staff. 

The proportion has increased but currently, only 10 per cent of NHS board members are from BME backgrounds.
White staff are still 1.5 times more likely to be appointed for a job than BME staff.

5.2 per cent of the medical workforce and 6.6 per cent of the non-medical workforce in the NHS are from a black background

1.3 per cent of very senior managers working in the NHS are black

2.5 per cent of Band 9 managers identify as black

3.6 per cent of senior doctors, 7.1 per cent of junior doctors and 3 per cent of other doctors are from black backgrounds

Figures taken from the NHS Workforce Statistics (March 2020 data).  

Learn about the NHS Workforce Race Equality Standard (WRES) and how NHS organisations can address race equality issues

The NHS Confederations' BME Leadership Network is holding two face-to-face events on 12 October 2022 at the QEII Centre in London. These events are for members of the network. If you would like to join this free network please complete their sign-up form and register for the events via the links below:
 

BME Leadership Network members' meeting - 5-6.30pm
An opportunity for BME Leadership Network members to come together and discuss plans to address the recommendations from the Shattered Hopes report, including details of their new mentoring programme. 
'Race, science and the NHS' with Dr Adam Rutherford - 6.30-9.30pm
Lord Victor Adebowale is hosting an evening with author and broadcaster Dr Adam Rutherford.  Adam will draw on themes from his latest book 'Control: The Dark History and Troubling Present of Eugenics' to discuss the potential impact of new gene-editing techniques and how scientific racism and eugenics ideology, both past and present, have contributed to racism within the NHS and wider society. 
         

NHS England is hosting a Workforce Race Equality Standard (WRES) session about WRES data to action - 6 October, 12.30-2pm. 

The webinar will focus on the findings of the most recently published WRES data and specific actions we can all take to improve the outcomes and experiences of our staff.


 
The NHS London Leadership Academy -  The academy are hosting a series of events during the month, including sessions on the impact of Windrush and what the experiences of black leaders can teach us all about belonging. 
 
The Royal College of Nursing - The RCN is holding a series of free online and face-to-face events during October, including a session on justice and wellbeing. 
 
Barts Health NHS Trust is running a series of online events:  
North East Ambulance Service - Where racism comes from and how to recognise and respond to it - This virtual event is taking place on 12 October, 12-1pm and is open to all Ambulance service employees nationally.

NHS Shropshire, Telford and Wrekin is relaunching its Primary Care Ethnically Diverse Network on 6 October, 7pm at Shrewsbury Town Football Club. 
 
The Northern Care Alliance NHS Foundation Trust is holding a Black History Month Conference on 15 October, 10-2.30pm in Bury. 
 
The HSJ are publishing their annual

Top 50 most influential black, Asian and minority ethnic people in health during the month.

 

The official Black History Month UK listing

- Everything you need to know about Black History Month, including an extensive range of events taking place across the UK.

NHS Confederation's BME Leadership Network

 -

The network exists to strengthen the voice of black and minority ethnic leaders and to support health and care organisations to meet the needs of all communities. The network welcomes new members and supporters, and is open to both BME and non-BME senior leaders. Join the network.
Resources to tackle racism and discrimination -

 NHS Employers has collated a range of 

useful resources

 which can be used to help aid conversations and to implement change.

Workforce Race Equality Standard (WRES) 

- Since 2015 all NHS organisations have been required to demonstrate how they are addressing race equality issues in a range of staffing areas.

Shattered hopes - The NHS Confederation's report into black and minority ethnic leaders' experiences of breaking the glass ceiling in the NHS. It shares reflections on the lived experience of senior black and minority ethnic leaders in the NHS.
Addressing shattered hopes blog - Rob Webster and Fatima Khan-Shah share their aspirations for addressing race inequality in the NHS, and the steps that are being taken in the West Yorkshire Health and Care Partnership.
Unequal impact of COVID-19 report -  A report published by the NHS Confederation on research into the impact of COVID-19 on people with protected characteristics, with recommendations for health and care systems.
Health on the Line: To be more representative means doing things differently - A podcast featuring 

Matthew Taylor, chief executive of the NHS Confederation and

 

Ifti Majid

, chief executive of Derbyshire Healthcare NHS Foundation Trust and co-chair of the NHS Confederation's 

BME Leadership Network

.
The NHS Race and Health Observatory (RHO), which is hosted by the NHS Confederation and supported by NHS England and NHS Improvement, has been set up to investigate the impact of race and ethnicity on people's health. The RHO has published an infographic highlighting ethnic health inequalities in the UK, to coincide with Black History Month. 

Ethnic health inequalities and the NHS

– This report

 published by NHS Race Health Observatory argues that the NHS has not made significant progress in reducing ethnic health and more needs to be done.

How NHS organisations are supporting black and minority ethnic staff through COVID-19 and beyond

– This report

 published by the NHS Confederation includes

examples of how NHS organisations and integrated care systems have supported BME staff, following COVID-19 risk assessments.

Perspective from the Frontline: The Disproportionate Impact of COVID-19 on BME Communities - Published by the NHS Confederations' BME Leadership Network.

Strengthening NHS board diversity

- This report overview published by the NHS Confederation explores the steps needed to strengthen the diversity of NHS boards in England.

Aspirant ethnic minority nursing and midwifery leaders programme

- Developed

 in the Midlands region

to support future ethnic minority nursing and midwifery leaders to develop leadership skills.
Get involved 
Organisations are encouraged to run their own local campaign to not only celebrate the achievements of BME staff, but also to educate, raise awareness and help create a more inclusive culture.
During October keep an eye on our website and Twitter using hashtag #BlackHistoryMonth as we join in the celebrations, share stories and resources.

Should you have any queries please contact diversityandinclusion@nhsemployers.org