Article
Black History Month 2023
October is Black History Month. Find out what events are taking place across the NHS and what your organisation can do to improve race equality.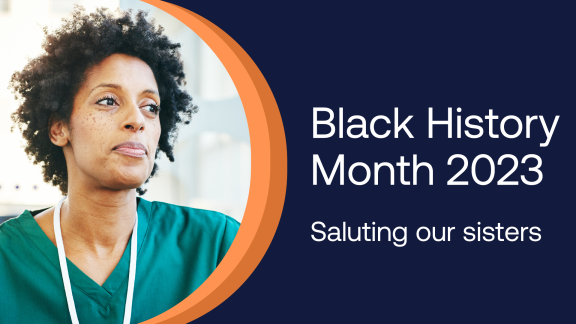 Black History Month is an opportunity to recognise and celebrate the invaluable contributions of black people to society and to the NHS. It also serves as an opportunity to inspire and empower future generations. This year, Black History Month is dedicated to honouring the achievements of black women who are often forgotten.
The theme of 'Saluting our Sisters' highlights the crucial role that black women have played in shaping history, inspiring change, and building communities. Across the NHS events are taking place to showcase and celebrate the work of pioneering black women in health care. 
Joan Saddler OBE, director of partnerships and equality, NHS Confederation said; "As we 'Salute our Sisters', we celebrate those pioneers from across Britain and the 'British Empire' of old, who made the NHS possible. We especially celebrate those who have overcome institutional racism to become its leaders today.

We also acknowledge the huge contribution made by our invisible sisters, undertaking many of the unglamorous and unappreciated jobs in our own workplaces. Let's take a few minutes to thank them all as a key driving force powering the NHS." 
Sam Allen, chair, Health and Care Women Leaders Network said; "As we celebrate this year's Black History Month with the theme 'Saluting Our Sisters', we're reminded of the significant contributions made by black women in healthcare and the importance of recognising and celebrating their achievements.
The Health and Care Women Leaders Network will continue to honour and support the remarkable black women working in the healthcare sector. They have not only provided essential care but have also been advocates for underrepresented communities, enriching the healthcare sector.
Black History Month is more than just a reflection; it's a call to action. Let's remember the past, celebrate the present, and work towards a future where all women can succeed, regardless of their background."
Black History Month provides an opportunity for leaders to declare that the NHS will not stand for racism going forward. Racism, inequality, injustice within the NHS must be treated as a never-event, not par for the course.
Get involved
Organisations are encouraged to run their own local campaign to not only celebrate the achievements of BME staff, but also to educate, raise awareness and help create a more inclusive culture.
Join the conversation on X (formerly Twitter), follow @NHSE_Diversity, @NHSC_BMELeaders, @HCWomenLeaders using hashtag #BlackHistoryMonth #SalutingOurSisters as we join in the celebrations, share stories and resources.
Should you have any queries please contact: diversityandinclusion@nhsemployers.org