Blog post
Compassion for inclusion and the link to belonging
Our blog from the People Directorate at NHS England and Improvement discusses the importance of feeling a sense of belonging in the NHS workforce.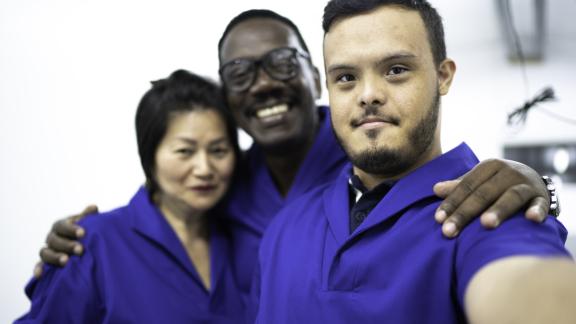 In this blog, Laura Simms, equality and inclusion system influencer lead in the People Directorate at NHS England and NHS Improvement, explores the importance of belonging to ourselves as a radical act of compassion, alongside the need to belong to others or a place.
Last year I wrote an article for a leading global coaching and leadership publication. I reflected that 2020 had been the year of all years; profound loss, acute and painful reminders of the inequity of human experience, ongoing deep learning, and reflection for all, amongst a backdrop of a changed world. Some of the facade of life has fallen away. The things that kept us distracted from real issues: consumerism; bright, shiny, and noisy distractions no longer seem the same, a bit like gaudy decorations, long after a celebration is over.
Does that resonate with you?
As we face a period of recovery, both of services and people, what about now?
The NHS People Plan priorities are rightly ambitious, with a clear focus on what it means to belong, leading beautifully into the NHS People Promise and the theme of 'We are compassionate and inclusive'.
It is the 'compassion' in the compassion and inclusion theme that may hold some of the answers to that belonging.
I co-authored a paper in 2018, which explored compassionate leadership in the context of loss and grief, as part of a wider regional project. It found an ask from leaders for 'permission to be human'. This seems at odds with the recent public perception of healthcare staff as superheroes, reinforced by the weekly clapping.
If we are to leave behind the mask and cape, how do we survive, thrive, deliver ambitions, plans, and help the NHS to recover, all whilst staying human? So, what does all this have to do with compassion and inclusion?
Compassion has been defined as 'a sensitivity to suffering in self and others with a commitment to try to alleviate and prevent it' (Professor Paul Gilbert, Compassionate Mind Foundation, after Buddhist traditions). In Gilbert's definition, the verbs stand out to me, 'alleviate and prevent'.
Yet if we are intolerant of our own distress, we may not be able to tolerate the distress of others. We need a culture which actively encourages compassion, including to oneself.
For me, compassion also means belonging. Trusting our authentic selves to the world, without having to adapt to fit others' ideals or expectations of us.
We commonly see the words 'compassion and inclusion' used together, but I suggest that we might helpfully reframe this to 'compassion for inclusion'.
Compassion to help us to pause and truly hear others distress and lived experiences, and act upon what we hear.
Compassion turned inward, to challenge the stories we've told ourselves about not being enough or doing enough, including the stories society has told us, that we have to date believed.
Compassion for self-accountability. When we are learning how to be a better ally to others, wrestling with our own power and privilege and the discomfort of defensive fragility. Forgiving our past selves, whilst we learn to do better, now and for the future.
Compassion to foster the courage to help us to hold others to account and allow us to recognise and set healthy boundaries.
Caring too much can cause burnout, according to some schools of thought, but the research curated by Trzeciak and Mazzarelli, for their book Compassionomics, suggests that in matters of compassion, '.. the real antidote to burnout is leaning in rather than pulling back', and this has been my experience.
I have actively been leaning into compassion for many years now, and I have been fortunate to participate in, and later develop compassion practices. These practices provide a way of working with compassion and gaining balance: compassion in vs compassion out.
Compassion from self to others, others to self, and self to self. Common habits run through all of the practices: asking questions that matter; listening with a quiet mind; appreciating from the heart, and it is the combination of these habits that makes the difference.
These practice structures provide safe spaces to explore the meaning of compassion through connection, and despite over 30 years in healthcare, I have learnt so much through them.
During the pandemic, we even distilled existing compassion practices down to 10 and 5 minute pause spaces. Professor Michael West described these as both "delicate and powerful". Other longer practices are also now freely available, and mostly housed in one place.
The last 12 months has been the year of all years, however the call for us to be more compassionate and inclusive has been getting louder and louder, even before the pandemic, and especially now.
Compassion and inclusion - a very special human promise.

Follow Laura on Twitter @Laura_J_Simms
Further information
NHS England and NHS Improvement has published guidance on holding health and wellbeing conversations and also information to support the wellbeing of our health and care workforce.

In addition, take a look at NHS Employers' top tips for supporting your managers, emotional wellbeing toolkit and tips for health and wellbeing conversations.